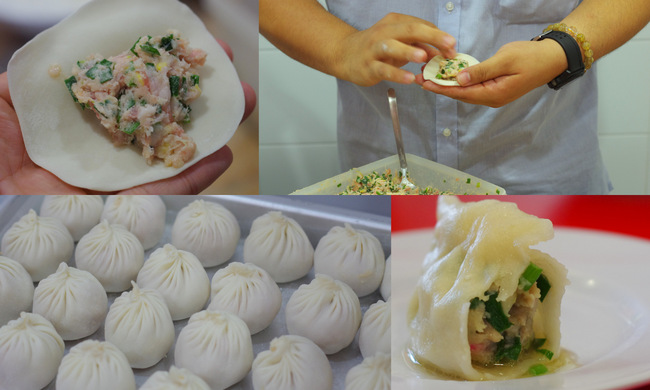 For 25 years, home-grown restaurant Jing Hua has been reliably serving customers with its trademark xiaolongbao and jiaozi. The restaurant was founded by Mr. and Mrs. Han, a Singaporean couple who are masters in the highly traditional and rigid craft of dumpling making. The family recipe has since been passed down to Guo Guang, their eldest son, who has been involved in the business since his adolescent years.
I had the pleasure not just in sampling Jing Hua's specialties, but also in making them during one humid Saturday afternoon. To the untrained eye such as mine, it all seems easy… at first. But there are actually several techniques involved that I previously was not aware of. The key to making a great dumpling lies on folding the dough and closing the upper layer of the skin while ensuring one's hands don't get wet. The ratio between the dough and the meat should be just right for the flavour to seep through. Needless to say, my attempt at dumpling making failed terribly and I realised I'm a better eater than maker. So you can imagine my relief when I heard that we were done and could actually proceed to eat the dumplings we made, and then some!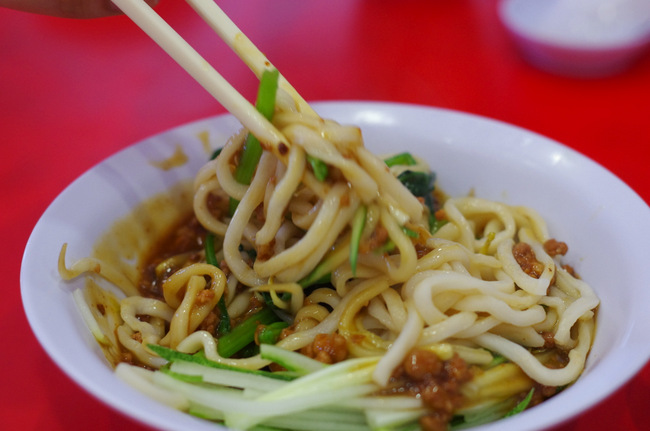 We started off with the Noodle with Minced Pork and Soya Bean Sauce (S$5++). I liked how this came with a lighter serving than usual of soya sauce, which would have otherwise overpowered the varied flavour of the ground meat, cucumber and the tinge of peanuts mixed with the noodles.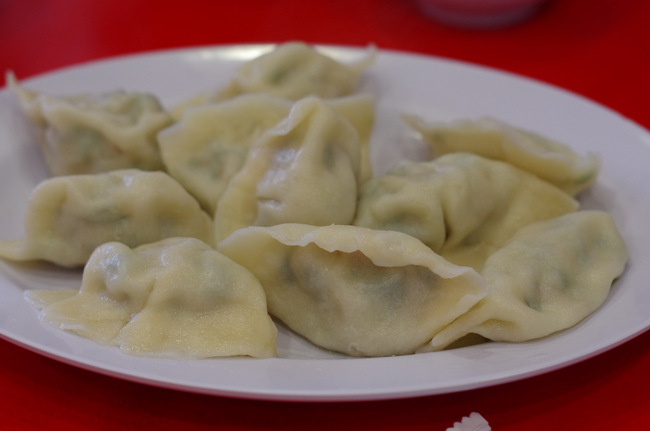 Then came the Mixed Seafood and Pork Dumplings (S$8++) or jiaozi. This was undoubtedly my favourite for the day, never mind that they served the ones we made which looked a tad malnourished, along with the plump ones that carried Jing Hua's seal of approval. The dough was extremely chewy and soft enough not to sidetrack the juicy and tasty filling inside.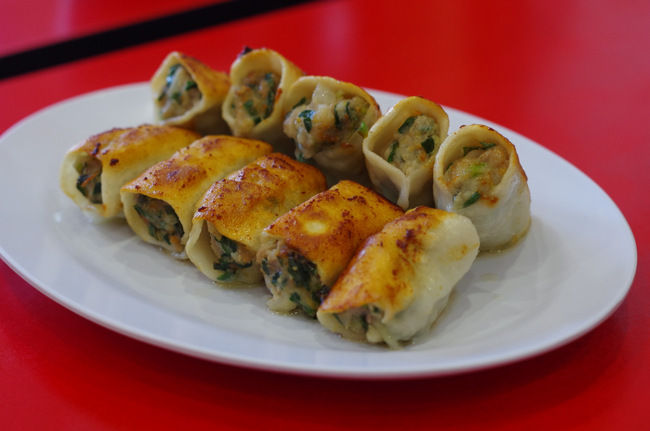 The Pan Fried Mixed Seafood and Pork Dumplings (S$8++) came next. It had the same filling as the previous dish only that this was cylindrical in shape and with the filling almost ready to burst out at both sides. Compared to the steamed dumplings, this one was crunchy at every bite and was a more sinful alternative to the original version.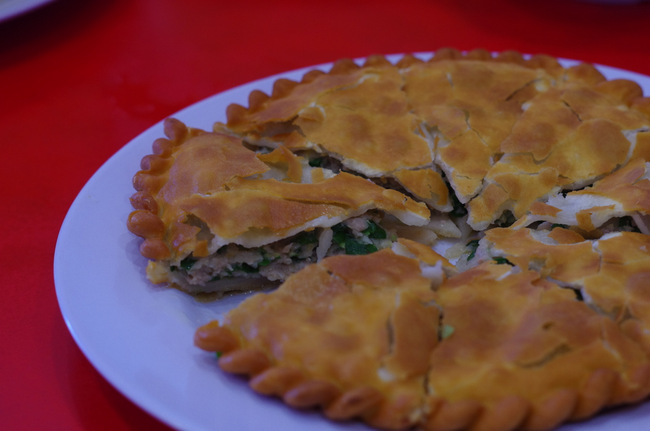 We also had a go at the Chinese Pizza (S$10++), the third straight item incorporating the same filling as the previous two dishes we had. Although it was actually quite tasty, I would recommend having larger portions of the steamed dumplings instead to really maximize the rich flavor of the filling. The crust on this pie-like affair seemed to be a bit of distraction, taste-wise.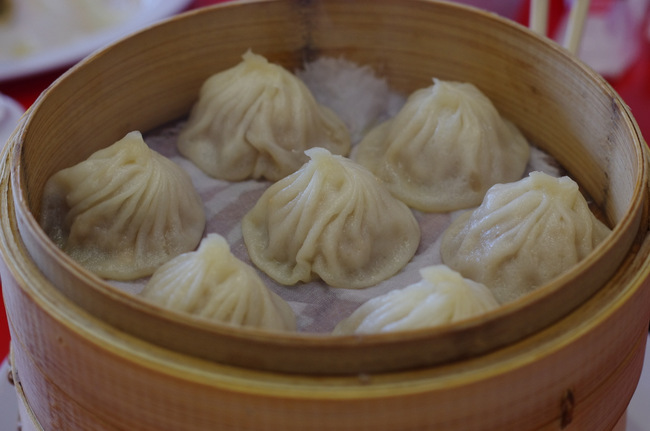 Another highlight, the xiaolongbao (S$7++), came after. I was amazed to see just how large they were compared to what I am used to elsewhere. The skin was translucent yet firm – the broth-filled dumplings did not break easily despite being held up with chopsticks for several seconds. But more than that, it was an ecstatic experience biting into the xiaolongbaos with the copious amount of broth bursting inside my mouth.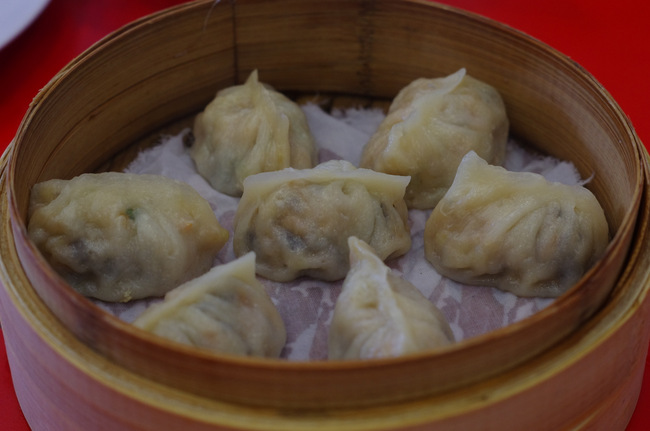 Vegans can consider the Vegetarian Dumplings (S$7++), a surprisingly delightful dish from such simple ingredients. Despite the popularity of Jing Hua's meat dumplings, the vegetarian version can very well stand on its own, with the sweetness and wholesome nature of real veggies.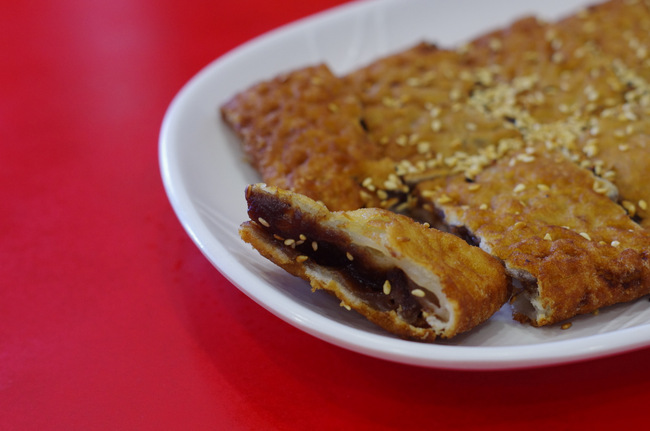 For a restaurant such as Jing Hua, I was most impressed with their dessert selection. We had the usual Red Bean Pancake (S$10++), a crispy creation best eaten when warm. The smooth texture of the red bean filling just oozed out as I bit through my first piece, followed by my second and my third. It was an absolute delight from start to finish.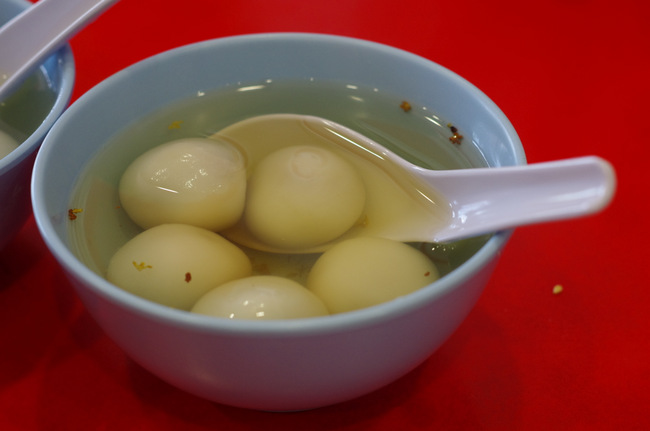 We capped off the meal with a piping hot bowl of Osmanthus Flower Rice Ball Soup (S$3++). Seeing the simple bowls in which these were served, I was immediately reminded of how my friend's mum used to make these during the autumnal equinox. A quick sip however, revealed a more complex essence. The osmanthus was so fragrant, it felt like I was drinking a blissful serving of edible perfume. The rice balls were of various flavors, ranging from black sesame to lotus paste. Aside from the steamed dumplings, this would be another reason for me to return to Jing Hua.
It is remarkable to note that in today's cutthroat F&B scene, Jing Hua has managed to stay in the same charming shophouse location in Neil Road all these years. This ability not just to survive but to thrive, is perhaps a testament of the family's strong discipline to stick to their core competencies. And what a competency this is! I sure wouldn't mind going back for another round of steamed dumplings and rice ball soup.
Jing Hua Xiao Chi is located at 21 Neil Road, Singapore 088814. Tel: +65 62213060. Lunch is served from 11.30am and Dinner from 5.30pm. (Closed on Wednesdays).  Jing Hua Xiao Chi has opened another outlet at 159 Rochor Road.
About the Writer:
Bino Chua is a banker, part-time wanderer and a sometime travel writer / photographer. 

He is the author of travel blog, I Wander, which focuses on off-the-beaten path locales. He believes that Iran and North Korea are excellent places for a holiday.