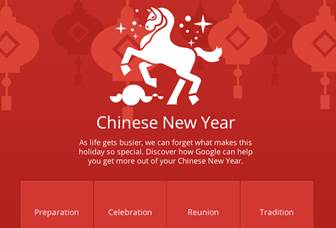 Google has come out with a resource to help you rediscover what makes Chinese New Year special. A microsite has been set up to offer you tips and information such as recipes to prepare your reunion dinner, sending greetings aboard amongst others.
Google offers various relevant products to help make life simpler. Google Keep lets you keep track of things which is a bit like sticky notes for your phone. YouTube offers cooking tips and Google Docs lets you share stuff with you friends and family. Google Now can be set up with you Android or iPhone device and reminds you automatically based on traffic and best routes so that you arrive at your next appointment on time.
Visit http://www.google.com/chinesenewyear for more Horse Year fun.
What are the most searched Chinese New Year related terms
Chingay 2014
Pineapple Tart Recipe
Abalone
Horse
Feng Shui 2014
Chinese New Year
Chinatown Singapore
Lunar Calendar 2014
Yusheng Recipe
Egg Tart Recipe