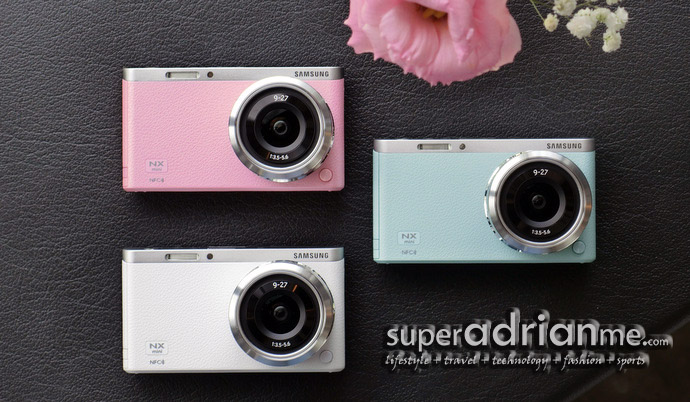 Samsung NX mini SMART Camera is the world's slimmest and lightest interchangeable-lens camera and is now available in Singapore. The Samsung NX mini is retailing at S$549 and comes bundled with a 9mm F3.5 pancake lens (only in White) or S$649 bundled with 9-27mm F3.5-5 zoom lens (in White, Pink, Mint Green and Brown).
It features 3.0-inch Touch Display that flips 180-degrees, 20.5MP BSI 1″ CMOS Sensor, 6fps Continuous Shot, 1/16000 sec Shutter Speed, ISO range from 160 to 12800 and comes with WiFi connectivity to share & remote control with your smartphones. It is actually a powerful camera in a tiny body.
For the competitive price, compact size and light weight, the Samsung NX mini takes good quality pictures that even at high like ISO 6400 the details are maintained and with acceptable noise ratio (see ISO Test at the bottom of post). So you will still be able to take quality & sharp images under dim light conditions. If not, the camera also comes with a separate Flash attachment in the box. However, you would not be able to flip the the screen to 180 degrees for selfies when the Flash is in use.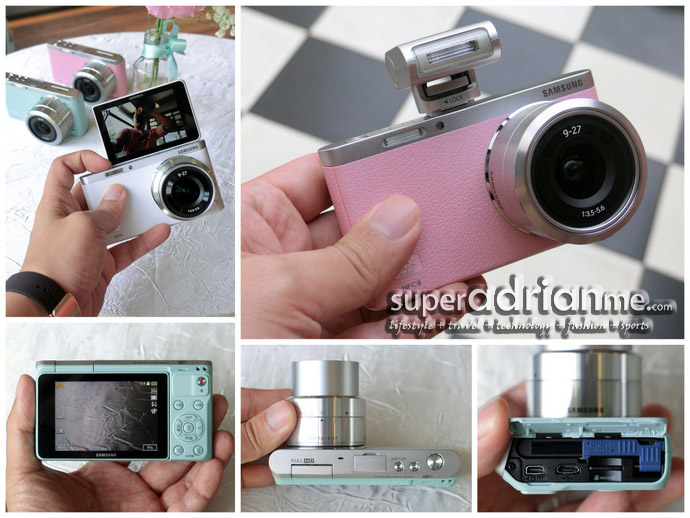 The Samsung NX mini SMART Camera comes with responsive touchscreen control, making it easy for those who are used to smartphone photography to get familiarised with the navigation on the camera. But for those who are familiar with manual dial controls, then you will find it take a couple more steps to change your aperture or shutter speed.
In order to compensate for its size, the Samsung NX mini uses a microSD card instead of the standard SD card for most cameras these days. With a 2330mAH battery, it can take up to 650 shots on a single charge, making it more long lasting than most cameras in the market.
At launch, the camera will only be available with two lenses NX-M 9mm F3.5 ED lens and NX-M 9-27mm F3.5-5.6 ED OIS lens. These two lenses will not be available for separate purchase and are only available as a bundle when you purchase the camera body. But in the coming months, Samsung will be launching the NX-M 17mm F1.8 OIS lens which will be able to achieve beautiful bokeh effect and to make your subject pop from the surroundings. 
But if you want more lens choices, get a NX-M Mount Adapter and you will be able to use the existing NX lenses. But do note that the image will be cropped as the NX lens are for APS-C sensors which are bigger than the 1″ sensor on the NX mini.
Overall the Samsung NX mini is a decent camera for everyday use. With its luxurious leatherette finish and pastel colour chassis, it is definitely a fashion statement for the girls and a great party camera for selfies.
Samsung NX mini ISO Test
Here are the 100% crop of pictures taken with Samsung NX mini camera from ISO 160 to 12,800. For original pictures and more test shots, visit our Flickr page.