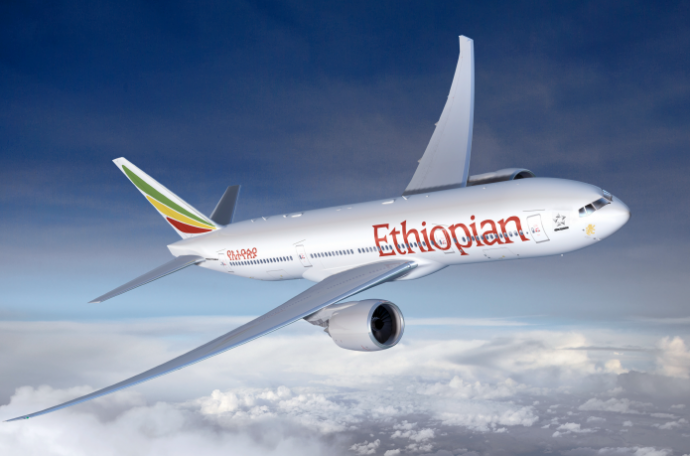 Ethiopian Airlines is coming back to Singapore from 2 June 2017. The African airline will start a direct non-stop flight between Addis Ababa and Singapore operated on its Boeing 787-8 Dreamliner aircraft. The five times weekly flight will be operated on Monday, Wednesday, Thursday, Friday and Sunday. ET638 departs Addis Ababa at 12.40am and arrive in Singapore Changi Airport at 2.50pm. ET639, the return flight will depart Singapore at 2am and arrive in Addis Ababa at 6.20pm. Flight time between Singapore and Addis Ababa is 12 hours 40 minutes. The new direct flights will be able to offer connections to Star Alliance partner Singapore Airline's network in Australasia.
Ethiopian Airlines' B787-8 Dreamliner has 24 angle-flat seats with 160 degrees recline in Cloud Nine Business Class and 246 in Economy Class. Business Class cabin is configured 2-2-2 while Economy is configured 3-3-3.
Flights between Bole International Airport in the capital Addis Ababa and Singapore were first introduced on 8 November 2013 with three flights per week via Bangkok. Since then it had been cutting flights to Singapore via Bangkok from four weekly flights to two. And in late 2014, Singapore was removed from its network.
Today Ethiopian Airlines has a fleet of 83 aircraft with 50 more on order. As at December 2016, it has two Airbus A350s, 16 Boeing 787-800s, four Boeing 777-300ERs, six Boeing 777-200LRs, six Boeing 767-300ERs, 15 Boeing 737-800Ws, eight Boeing 737-700NGs, 18 Bombardier Q400s, six Boeing 777-200 Freighters and two Boeing 757-200 Freighters. The average aircraft age is five years.  It has on order another 12 Airbus A350-900s, four Boeing 787-9s, three Boeing 787-800s, 30 Boeing 737 Max 8s and one Bombardier Q400.