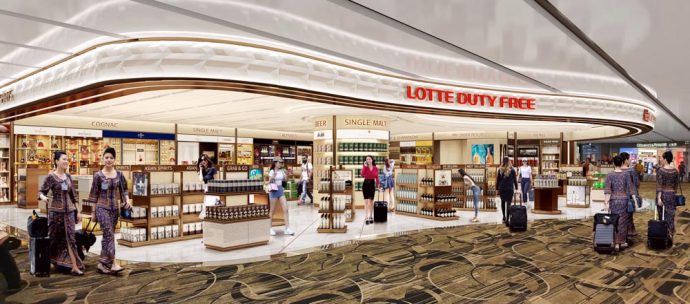 After the exit of long-time incumbent DFS as Singapore Changi Airport's key liquor and tobacco concessionaire, today South Korean travel retailer Lotte Duty Free has taken over this concessionaire.
Lotte will eventually offer over 3,000 tax- and duty-free wines and spirits as it expands its product line-up progressively. A wide variety of brands and products from special and limited-edition whiskies and cognacs, exclusive labels only found in Changi Airport, a dedicated collection of Asian Spirits highlighting brands from Singapore and Korea, as well as alcohol-free options to cater to a growing demand for non-alcoholic beverages will be available.
Renovation for Lotte's stores will take place in phases beginning in Terminals 1 and 3, once circuit breaker restrictions are lifted. Shoppers can look forward to concepts such as a specialised cognac brand boutique, immersive experience zones dedicated to whiskey, gin and wines and a high-tech tasting bar among others.
Lotte will first retail on Changi Airport's duty-free e-commerce platform iShopChangi.com before its physical stores open at a later stage. To celebrate the start of its operations, Lotte is offering a 7% discount on a curated range of products from 12 June to 30 June, in addition to tax- and duty-absorbed prices as well as a 5% discount voucher for the next purchase in store. Singapore residents can shop selected Lotte's products on iShopChangi without flying.
Lotte is the world's second largest travel retail in sales turnover. It has been awarded the liquor and tobacco concession for a six-year term that covers all 18 liquor and tobacco stores across Changi Airport's four terminals, spanning more than 8,000 sqm of retail space.