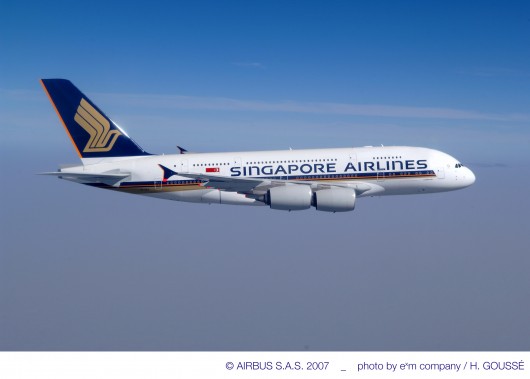 1 July 2011, Singapore – Singapore Airlines SQ 12 has landed in Los Angeles at 1.30pm local time with its inaugural Airbus A380 flight from Singapore to Narita to Los Angeles.  It departed Singapore shortly after 9.30am with 400 passengers on board.
The City of Angels is Singapore Airline's eighth destination in Singapore Airlines' network and its first point in North America to receive the world's largest commercial aircraft.  More than 5 million customers have flown on Singapore Airlines' A380 since the inaugural flight of the superjumbo in October 2007.  Singapore Airlines was the first carrier to operate the A380 in October 2007 and has since clocked around 128,000 flying hours on more than 13,000 flights.    It has 12 A380s in service and seven more on firm order.
"The introduction of the A380 to Los Angeles is another wonderful milestone in our history. We have had the privilege of serving customers on this route since 1980, and we are proud to be able to introduce our flagship aircraft to North America. We are confident that our customers will appreciate the industry-leading cabin products available on the A380," said Mr Mak Swee Wah, Singapore Airlines' Executive Vice President Commercial.
The renown Singapore Airlines Suites in First Class provides for individual private cabin space in the sky, replete with a luxurious and fully adjustable leather seat upholstered by world-renown Poltrona Frau, as well as a full-sized bed and a sleek 23-inch high-resolution LCD monitor.
In Business Class, the full-flat seats are the widest in its class at 34 inches, in a spacious 1-2-1 configuration.
Singapore Airlines operates daily flights between Singapore and Los Angeles via Tokyo Narita following this inaugural service.
Related articles