Dream Academy's Crazy Christmas is back in action for 2023, making a grand return after taking a break in 2021 and 2022. This merry extravaganza blends comedy, music, and entertainment and has been consistently produced since 2007. Each year, it showcases a dazzling ensemble of celebrities dressed in extravagant outfits who delight the audience with uproarious sketches and renditions of timeless holiday songs.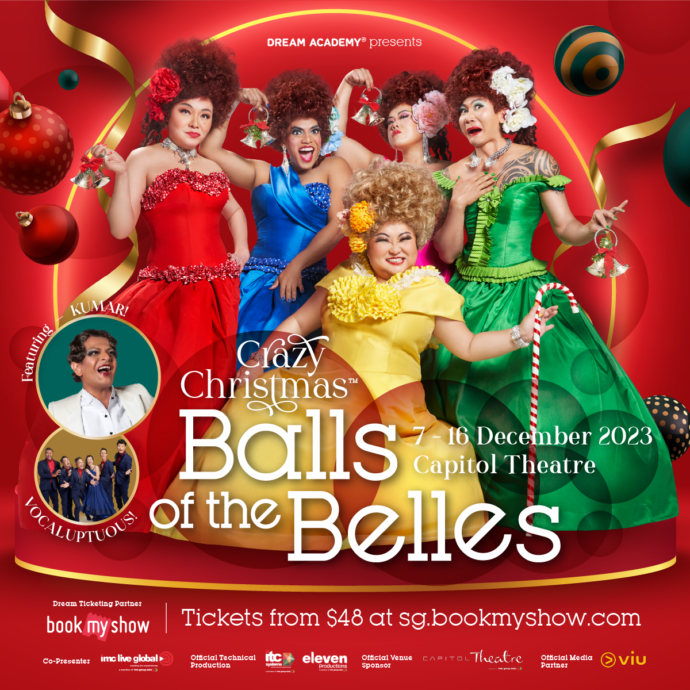 Prepare yourselves for a night of sheer hilarity, starring the naturally rotund Selena Tan as Lady Belley Good, George Chan as the seasonal favourite, Lady SlayBelles, Dwayne Lau as the delightfully dim-witted Lady DumbBelle, Andrew Marko as the top-of-the-class act, Lady Belle Curve, and last but certainly not least, Sebastian Tan emanating with alabaster shine as Lady Belle Ring.
Witness Kumar as Queen Harlotte, amidst this riotous gathering of debutantes, delicately chooses her Cubic Zirconia. In the grand tradition of her majesty's court, Dream Academy presents the incomparable talents of the renowned acapella group, Vocaluptuous. Their harmonious melodies will transport you to a bygone era, where music was pure and voices soared like nightingales. Broadway Beng® will regale you with stories and songs that will leave you in stitches and longing for more.
The Crazy Christmas™ live band will serenade you with tunes and accompanying them are the astonishing dancers from Distinct Creative Arts, whose graceful movements will leave you utterly mesmerized.
Dream Academy has supported various causes throughout the years and recognises the importance of addressing mental health today. Acknowledging that good mental health is a crucial factor in individuals' well-being, resilience, and creativity, Dream Academy joins hands with the Institute of Mental Health (IMH) to present a special charity show at 8 pm on 9th December 2023. Proceeds will go to the Woodbridge Hospital Charity Fund which funds various programmes to support patients, their caregivers and children of patients. The Fund also supports mental health research. The show line-up will vary slightly from the regular programme and features a special segment by Hossan Leong and staff of IMH.
Photo credits: Dream Academy®
S$48 – S$178
Prices exclude S$4 booking fee