19 May
@
8.00 am
–
2 June
@
5.00 pm
Burger & Lobster has collaborated with Kuala Lumpur's award-winning rum bar, JungleBird with the return of Bar MF at Raffles Hotel. The JungleBird pop-up started on 19 May and will go on for two weeks until 2 June 2023.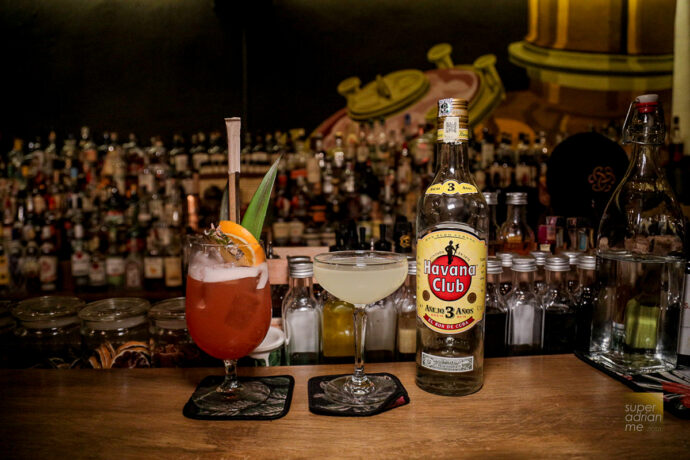 On 25 May, all female guests will enjoy special one-for-one deals on selected JBKL cocktails, wines and beers as well as every Thursday night after that as part of B&L's Women's Night promotions.
JungleBird's innovative co-founders, Divyesh Chauhan, Joshua Ivanovic, and Lolita Goh, along with bartender Lucas Chee will introduce an exciting cocktail menu inspired by JungleBird's unique flavours, perfectly complemented by a delightful range of bar snacks.
JungleBird has received numerous awards since its debut in 2017. A regular name on the prestigious Asia's 50 Best Bars list, it ascended two notches to earn the 35th position in the 2022 awards. Other notable accolades include Best New Bar at the KL Bar Awards in 2017, Top 10 Asia Pacific Best New Bars at Tales of the Cocktail 2018, Specialist Concept (Rum) of the Year and Hospitality Ambassador of the Year in 2019 and most recently, a Top 10 Honouree in the Best International Cocktail Bar (Asia Pacific) category for Tales of the Cocktail Spirited Awards 2022.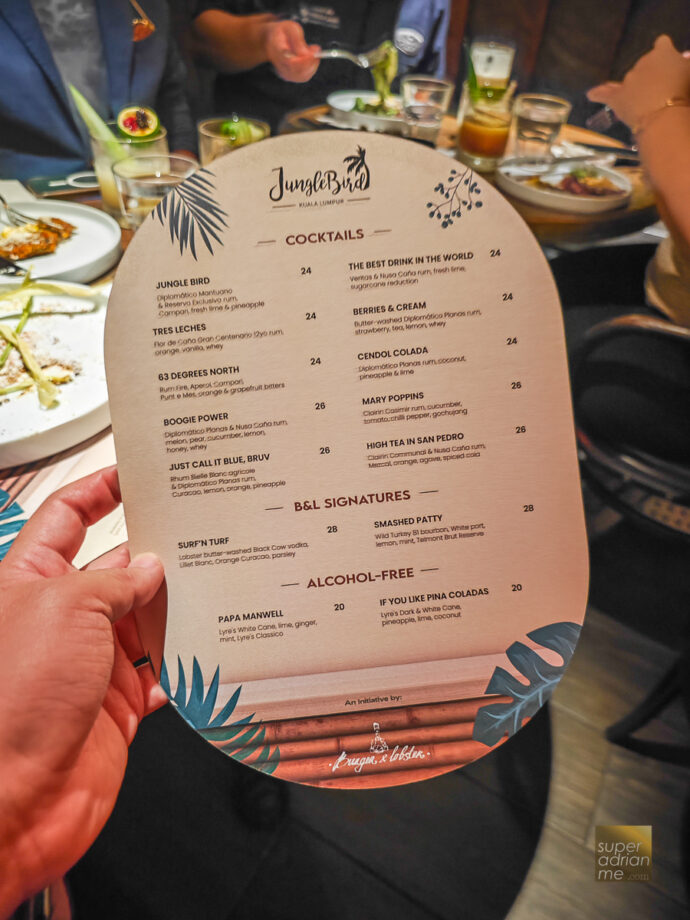 JungleBird's bar bites such as their signature Cubano sandwich, Junglebird KFC Wings, Pico de Gallo Y Totopos and other food are available to go with the 10 cocktails as well as B&L signatures on the menu.
Some of the signature tipples that will be featured include:
Jungle Bird (S$24++), made with Diplomatico Mantuano & Reserva Exclusiva, Campari, fresh lime and pineapple. 
If You Like Pina Coladas (S$20++), made with Lyre's Dark & White Cane, pineapple, lime and coconut. 
Nonya Business (S$24++), made with Diplomatico Planas Rum, pineapple, cucumber, chilli cashew and a rojak dressing. 
Just Call It Blue, Bruv (S$26++), made with Rhum Clement Blanc & Diplomatico Planas Rum, Curacao, lemon, orange and pineapple