1 July, 2022
–
4 July, 2022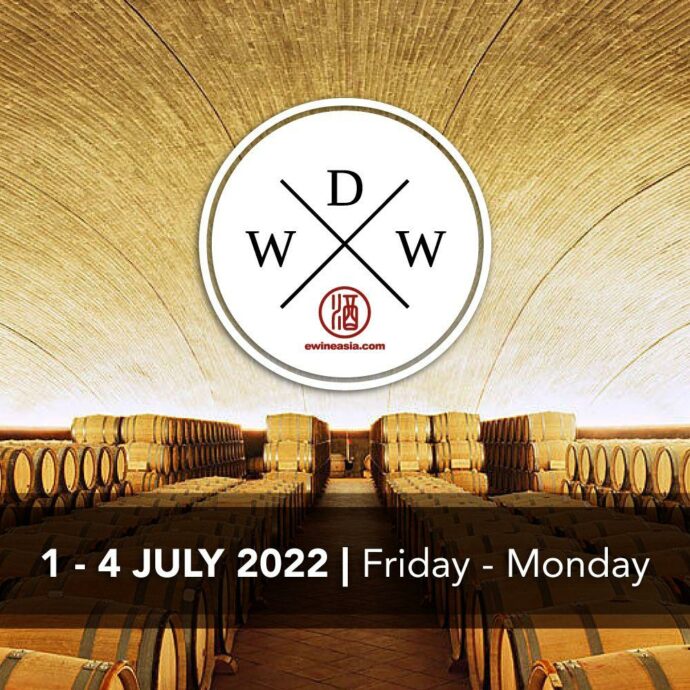 Wine Discovery Weekend by ewineasia.com returns for its seventh edition at Mandarin Oriental Singapore and various restaurants around Singapore from 1 to 4 July 2022. This year's edition features an all-star lineup of over 30 wineries from around the world, including more novel places like the United Kingdom, Israel, Syria and Austria.
Packed with masterclasses, exciting wine dinners, and a Wine Hall complete with artisanal, boutique and premium wine tasting booths, Wine Discovery Weekend's private consumers Wine Hall Walkabout will take place on 3rd July 2022, Sunday, across the hotel's Harbour View Suites and Garden Suites. Visitors can expect an exciting and rewarding wine experience set against the Singapore harbour and city skyline. It will be a journey "less travelled".
Over 110 bottles, including fresh new vintages as well as exclusive bottles will be available for tasting and sale. Access to the Wine Hall is priced at S$55 nett. First 200 sign ups get to bring home a unique – Wines of the World – wine glass. One lucky winner gets to bring home a unit of Vintec Noir Series wine cellar (35 bottles) through the lucky draw. There are also Wine Hall Walkabout Tasting and Masterclass packages. Wine Hall Walkabout Tasting with 1 masterclass is priced at S$75, with 2 masterclasses at S$90 and 3 masterclasses at S$100.
The Wine Masterclass, a key programme during each Wine Discovery Weekend, will feature wineries like France's Champagne Boizel, Italy's Tenutadi Arceno with "Tre Bicchieri" or "Three Glasses" rating from Gambero Rosso, Spain's Celler Pinol, Portugal's Quinta Do Vale Meao, Syria's Domainede Bargylus the most dangerous wine in the World, Domaine La Ferme Du Mont from the famed Rhone Valley in France and Italy's Corderodi Montezemoloa 19-generation Barolo winery which is also certified organic. Each masterclass is limited to 22 seats and is available at a packaged price of 1 session, 2 sessions, or 3 sessions.
1 July 2022 (Friday)
(Sold Out)

Champagne Boizel and La Ferme Du Mont Wine Dinner
Venue: Shisen Hanten restaurant, Hilton Hotel (Two-star Michelin)
Featured Wineries:
– Champagne Boizel represented by Ms. Marine Chantepy – Champagne, France
– La Ferme du Mont represented by Mr Stephane Vedeau- Rhone Valley, France

Featured Wines:
(1) Boizel Rose Brut N.V | Decanter 93 points
(2) Boizel Blanc de Blancs N.V | Wine Enthusiast 90 points
(3) La Ferme du Mont La Truffiere Cotes du Rhone Blanc 2018
(4) La Ferme du Mont Jugundas Gigondas Roughe 2018 | Decanter 92 points
(5) La Ferme du Mont Vendange Chateauneuf du Pape 2020 | Robert Parker 93 points
2nd July 2022 (Saturday)

Celler Pinol & Gramona Wine Dinner

Venue: Pura Brasa restaurant
Featured Wineries:
– Gramona (Biodynamic) – Penedes, Spain
– Celler Pinol represented by Mr Juanjo Pinol – Terra Alta, Spain

Featured Wines:
(1) Gramona Imperial Brut 2016 | Biodynamic | Wine Advocate 92 points
(2) Celler Pinol L'Arrufi Blanc 2020 | Robert Parker 92 points
(3) Celler Pinol L'Arrufi Rouge 2018
(4) Celler Pinol Finca Morinello 2016 | Robert Parker 93 points
(5) Celler Pinol Josefina 2016 (sweet) | Robert Parker 95 points
3rd July 2022 (Sunday)

Vino Legacies Wine Dinner
Venue: Butcher's Block, Raffles Hotel (Listed on Michelin Guide)

Exclusive dinner for 7 diners.
Featured Wineries:
– Nino Franco represented by Mr Giovanni Oliva – Veneto, Italy
– Cordero di Montezemolo represented by Mr Giovanni Oliva – Piemonte, Italy
– Quinta do Vale Meão represented by Mr Pedro Lobo – Douro, Portugal

Featured Wines:
(1) Nino Franco Rustico Prosecco N.V | Wine Enthusiast 94 points
(2) Cordero di Montezemolo Arneis Langhe 2021 | Organic
(3) Cordero di Montezemolo Barolo Monfalletto 2018 | Organic | Robert Parker 95 points (2017 vintage)
(4) Quinta do Vale Meao Duoro 2019 | Wine Enthusiast 99 points (2018 vintage)
(5) Quinta do Vale Meao Meandro White 2019 | Robert Parker 94 points