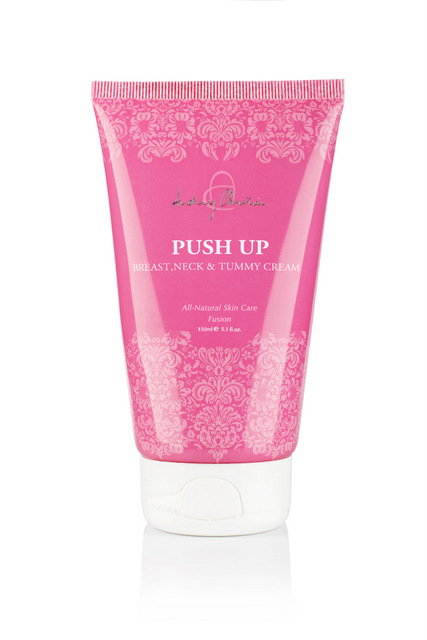 A woman's body is a miracle maker – forming a human from scratch, allowing it to grow for nine months, granting it passage into the world and then has the capabilities to nourish it well into babyhood. Incredible!
It is hardly a surprise then that we are looking less like our former Victoria's-Secret-Angel-self once this whole ordeal has come to pass. Body parts bulge where they were previously tucked in and sagging where they had once stood to attention. Cue the end of breastfeeding and…you get the picture.
Lucky for me, I got to try out a new product on the market – Audrey Christian's PUSH UP cream. Just like it says on the 150ml tube, this all-natural fusion cream promises to reduce cellulite, iron-out wrinkles and diminish those post-preggers stretchmarks. More significantly, if you plan to use it on your boobs, you can expect them to regain their symmetry, be lifted from the depths of their despair and even get a little firmer.
What sorcery is this?? Well, the PUSH UP cream contains the following natural ingredients:
Apricot Kernel Oil
Castor Plant Seed Oil
Jojoba Seed Oil
Rahnella/Soy Protein Ferment
Sausage Tree Fruit
Now for the review…
I used Audrey Christian PUSH UP cream for approximately one month, applying it everyday after I showered (1 to 2 times a day). Each time I only needed a five cent coin sized blob and it was sufficient for my neck and chest area. The instruction is to rub the cream on upwards towards your sternum, which I guess is intuitive if you want to counter the effects of gravity!
The cream is not as rich as I had expected and it feels water-based when it is applied and absorbs quite quickly. The cream has a pleasant floral smell yet not overpowering, so I did not mind applying it to my neck area as well.
I'll admit, I was initially pretty skeptical. The verdict? Though I did not snap any pictures, I find that the lines on my neck are fainter and my boobs do seem happier! They have definitely firmed up and I am looking forward to seeing what another month of use will hold. A side note: I am still breastfeeding and happy to report that this is safe to use in conjunction with nursing, Bubba didn't seem to notice any difference at all!
Has anyone else out there tried this product on their stretchmarks? If so, we'd love to hear how it worked for you!
Audrey Christian retails at S$129 for 150mls and you can find it at Guardian Pharmacy or SASA Cosmetics.