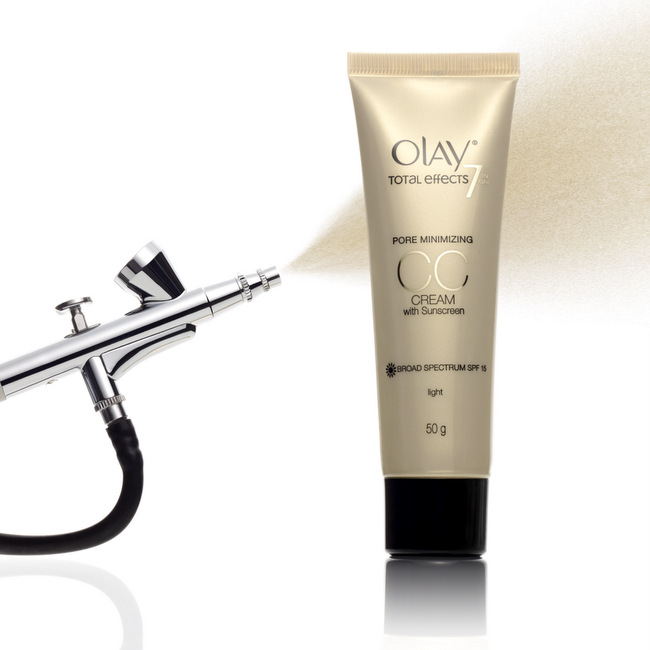 The new Olay Total Effects Pore Minimising CC Cream reduces the appearance of pores in 80% of women.  94% of women noticed reduction in appearance of uneven pigmentation caused by hormonal or over exposure to sun.  The Olay Total Effects Pore Minimising CC Cream formula makes removing makeup easy with its light weight oil free formula.
Achieving the everyday flawless skin in one simple step, the new Olay Total Effects Pore Minimising CC Cream is available in two shades – light and medium (50g, S$32.50) and is the perfect UV protection with SPF15 for Asia's humid climate.  This is an all-in-one multi-tasker that gives an airbrushed finish, smoothening skin tone for smoother, young-looking skin and smaller-looking pores in one simple step.
INSTANT RESULTS
Inspired by cross-polarised clinical imaging, the Smart Colour + 3D Pore Coverage technology reduces glare and diffuses light, reflecting off the skin to immediately minimise the appearance of pores and reveal your skin's natural luminosity and radiance.  The formulated mix of pigments instantly evens your skin's tone (2-D benefit) and allows natural radiance to shine through.  3-D pore coverage contains special light manipulating powders to instantly smooth skin's pore appearance (3-D benefit).
LONG-TERM IMPROVEMENT
The new Olay Total Effects Pore Minimising CC Cream contains the highest concentration of Niacin-amide. Niacin-amide is known to reduce the appearance of pore size by addressing the root cause of enlarged pores and provide multiple skin appearance benefits by improving natural hydration, and skin tone evenness when added in high concentrations to quality moisturising creams.  Niacin-amide naturally exfoliates the skin around pores, reducing their appearance and smoothening skin tone to improve the appearance of pores with continues use.
Olay Total Effects Pore Minimising CC Cream is available in most leading department stores and pharmacies where Olay products are sold.
About the Writer
Katherine strongly advocates living a healthy lifestyle through exercise; eating right; keeping a positive and youthful outlook of life; and, to live vicariously whilst one can.  Katherine firmly believes that empowerment is possible for anyone, as long as they believe in themselves and the people around them. She also chronicles her journey as a single mother on her website bubbamama.com and shares photos and news on 

BubbaMama's Facebook

.