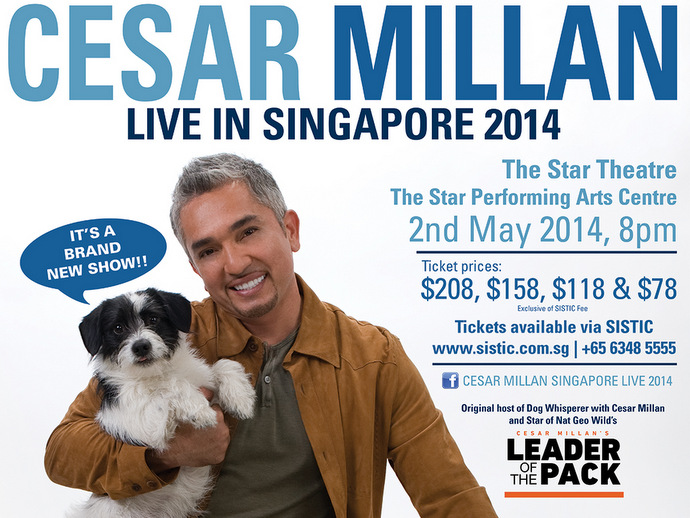 Dog Whisperer, Cesar Milan, will at The Star Performing Arts Centre on 2 May 2014 at 8pmfor his Cesar Millan LIVE in Singapore 2014. At the live show, Cesar will be giving an educational and entertaining insights on being a dog behavior expert, while sharing his unique techniques on how to fix common dog misbehaviours.
Known for his hit television series "Dog Whisperer with Cesar Millan" and his new series "Cesar To The Rescue", which premieres on Nat Geo WILD internationally this April, Millan is the preeminent authority in the field of dog rehabilitation. He will share his philosophy of trust, respect and love with the audience in this entertaining live show. Dog lovers will be inspired by Millan's way, as he reveals the key to happier, healthier relationships between humans and their canine companions.
During the live show, Millan will share valuable lessons and perform live dog demonstrations highlighting:
How to read your dog's body language in order to prevent and resolve behaviour
problems
Learn the role instincts play in shaping dog and human behaviour
Identify dog behaviour triggers and learn to redirect your dog
Tickets for Cesar Millan LIVE in Singapore 2014 go on sale starting 1 March 2014, 9am on www.sistic.com, and 10am at all SISTIC outlets. There will also be a Priority sales for ANZ card holders on 28 February 2014.  Ticket price from S$78 to S$208.