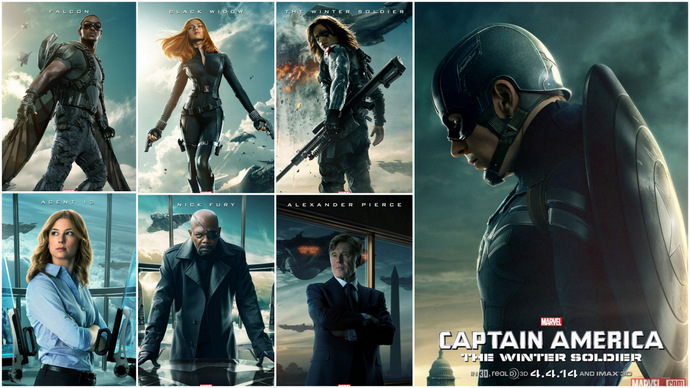 Captain America – The Winter Soldier is by far the best story line out of the Marvel franchise movies. The twist and emotional plots will glue you to your seats while the action sequences bring you on a roller coaster ride. The sexy and sassy Black Widow (Scarlett Johansson) stole the show from the goody Captain America (Chris Evans) with just her curvy lines, but the witty side of her is just too adorable. The Winter Soldier (Sebastian Stan) is a likable villain like Loki which I  would like to see more from future Marvel franchises.
After the cataclysmic events in New York with The Avengers, Marvel's "Captain America: The Winter Soldier" finds Steve Rogers, aka Captain America, living quietly in Washington, D.C. and trying to adjust to the modern world. But when a S.H.I.E.L.D. colleague comes under attack, Steve becomes embroiled in a web of intrigue that threatens to put the world at risk. Joining forces with the Black Widow, Captain America struggles to expose the ever-widening conspiracy while fighting off professional assassins sent to silence him at every turn. When the full scope of the villainous plot is revealed, Captain America and the Black Widow enlist the help of a new ally, the Falcon. However, they soon find themselves up against an unexpected and formidable enemy—the Winter Soldier.
Based on the ever-popular Marvel comic book series, first published in 1941, Marvel's "Captain America: The Winter Soldier" is produced by Kevin Feige, directed by Anthony and Joe Russo, from a screenplay by Christopher Markus & Stephen McFeely, and stars Chris Evans, Scarlett Johansson, Sebastian Stan, Anthony Mackie, Cobie Smulders, Frank Grillo, Emily VanCamp and Hayley Atwell, with Robert Redford as Alexander Pierce and Samuel L. Jackson as Nick Fury.
In Marvel's "Captain America: The Winter Soldier," Steve Rogers teams up with Natasha Romanoff, aka Black Widow, to battle a powerful yet shadowy enemy in present-day Washington, D.C. 
"Captain America: The Winter Soldier" is presented by Marvel Studios. The executive producers are Louis D'Esposito, Victoria Alonso, Michael Grillo, Alan Fine and Stan Lee. The film releases April 3, 2014, and is distributed by Walt Disney Studios Motion Pictures.
With A-list stars like Robert Redford and the gorgeous Emily Vancamp (Emily Thorne from Revenge) as Agent 13, Captain America 2 has to be in your MUST WATCH movie. Remember to stay till the end of the credits to see the extra scene linking to Avengers: Age Of Ultron.