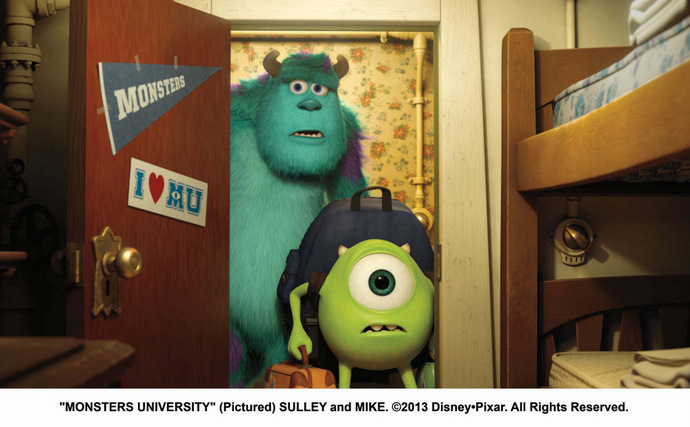 Fans of Monsters Inc., let us go back in time with Monsters University where that green little monster, Mike Wazowski (voice of Billy Crystal), and his huge blue furry buddy, James P. Sullavan (voice of John Goodman), were arched rivals in school, and how fate had brought them together to be partners-in-crime as Scarers to human kids in the night. Monsters need to scare kids to generate & collect energy to power up their home town, Monstropolis, where Scarers are treated like heroes of the world.
Mike's ambition is to be the Scariest Monster in the world, filled with confidence & knowledge to be the top student in his league, his cute & huggable looks are obstructing his dream to be a Scarer. On Mike's first day in Monster University, he crossed path with James who came from a family with legacy of natural-born Scarers in the bloodline, but is an overly confident spoiled brat who only wants to have a fun time in school. So what triggers Mike and James to become BFF?
Monsters University works around predictable plots of typical high school, college themed movies like "Bring It On" but with a good touch of monster humour that will rock you out of your seat. Simple without deep plots, it will be a great movie for the whole family to enjoy.
I would give Monsters University 3 out of 5. Stay back to catch the additional scene after the credits.