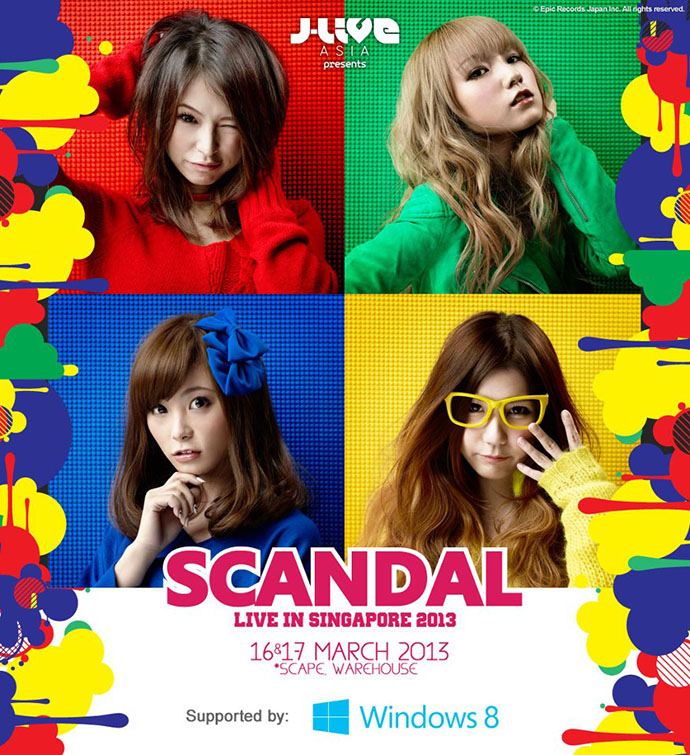 14 March 2013, Singapore – We are giving away 5 pairs of free standing tickets to SCANDAL JPop Concert happening at *SCAPE Warehouse on this Sunday, 17 March 2013 at 3 pm, brought to you by Windows 8 and Lenovo.
SCANDAL is an all girl JPop band with an aggressive sound coupled with pop characters. SCANDAL made their debut in 2006 by performing on the street known as Shiroten in Osaka Castle Park and a live house located in the Kansai area.  They are also the band behind our latest Windows 8 ads (Pakour, youtube link below) which is now on TV.
GIVEAWAY
To win the yourself a pair of tickets to SCANDAL JPop Concert do the followings:
Like our Facebook Page and share this post on your Facebook Wall,
Drop us an email at [email protected] with the followings:
Email Subject: SCANDAL JPop Concert Tickets Giveaway By Windows 8 & Lenovo
Name (as in your NRIC)

NRIC Number
Mobile Number
And answer this question: Who is the group behind the song as featured on the latest Windows 8 – Pakour ads? See below:
Winners will be notified via email by 15 March 2013. Only entries with the correct answer, name, NRIC number, and mobile number will be eligible to win. Winners will be selected on a first-come-first-serve basis and each winner will receive ONLY one pair of tickets.
Related articles