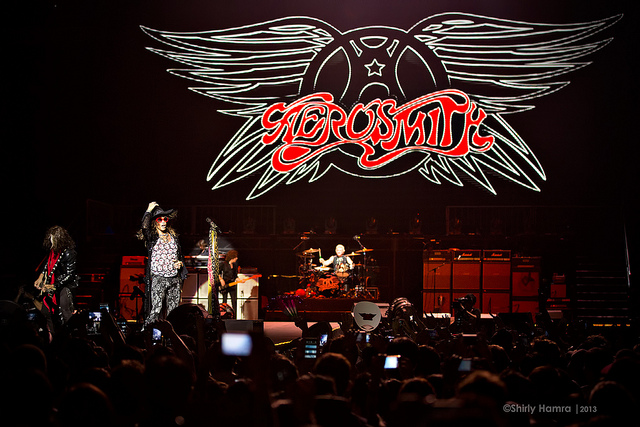 For many die-hard fans of 'America's Greatest Rock and Roll band', Aerosmith's first ever concert in Singapore was THE event to be at. The two-hour concert at The Meadow at Gardens by the Bay wrapped up the two-day Singapore Social Concerts on an unforgettable note.
Under the glimmer of the full moon, the crowd packed The Meadow at Gardens by the Bay, including many who had reserved prime spots an hour before the start of the performance.
UK rock/pop band Euphoria Audio opened the concert past 8pm with a series of rock ballads which set the mood for the night. Concertgoers who had by then swelled to the thousands were not let down when Aerosmith appeared on stage an hour later. Lead vocalist, Steve Tyler strutted across the extended stage in his typical Rock-and-Roll fashion dressed in a flashy black coat, tight graphic tee and pants accompanied by a pair of eighties-inspired red sunglasses, just as blazing visuals flashed on the large screen in the background. Quite evidently, the 65-year-old former American Idol judge still has it in him to drive his female fans wild.
Lead guitarist, Joe Perry clad in a shiny black coat, flaunted his superb skills by hitting guitar notes so high that the stereo caught fire in a dramatic spectacle that sealed the start of a breathtaking performance.
The band performed a mix of new songs from their latest album, "Music from another Dimension" as well as well-loved rock classics such as "I Don't Want to Miss a Thing", "Crying", "Jaded" and "Walk This Way". Youtube sensation and beatboxer, Hikakin added another dimension to the rock classic "Walk This Way" in a collaboration effort. For rock ballad "Dream on", a white grand piano was brought on stage with Tyler making it evident that he is still the Rock-and-Roll royalty with his sensational performance which kept the momentum of the concert ignited.
It was a night to remember. It was a powerful performance that united the crowd who sang and danced simultaneously to the music they knew so well. For many Singaporeans, watching Aerosmith perform was well worth standing in the heat for hours on end. And I share the same sentiments; I will do it again in a heartbeat.
Photo credit: Shirly Hamra. Full set of photos here.