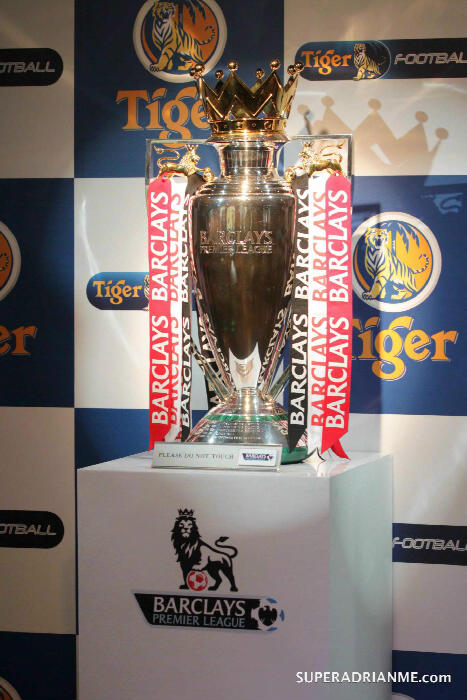 5 March 2012, Singapore – Barclays Premier League Trophy Tour, Barclays and the Premier League are bringing the Barclays Premier League Trophy and its interactive experience to football fans in Singapore. Chelsea legend and World Cup winner Marcel Desailly will be opening the Singaporean leg of the tour on Friday 9th March at *SCAPE just off Orchard Road.
The interactive experience will take place from Friday, 9 March to Sunday, 11 March 2012. The free experience will take fans through four domes:
The Changing Room – packed with unique interactive features this is a fact-based tour through the history of the current 20 Barclays Premier League clubs.
The Centre Circle – supporters will experience the noise and excitement of a match-day before learning all about the winning teams and captains over the 20 years of the Premier League.
The Trophy Room – fans can get up close with the official Barclays Premier League Trophy.
Becoming the Third Lion – through green screen technology, supporters will be able to picture themselves lifting the Barclays Premier League Trophy.
For more information, and to register, you can visit www.barclayspremierleaguetrophytour.com.
We got the chance to preview the trophy on Wednesday where Tiger Beer Singapore organised an exclusive preview session of the Barclays Premier League Trophy at Aquanova Restaurant Bar at Clarke Quay for its Tiger Season Ticket members.
Close to 300 local fans from the Manchester United, Liverpool FC, Chelsea FC and Arsenal FC supporters clubs, along with invited guests, were in attendance at the event to enjoy Tiger Beer and the wonderful photo opportunity with the Barclays Premier League Trophy.
More photos can be viewed here.
Related articles