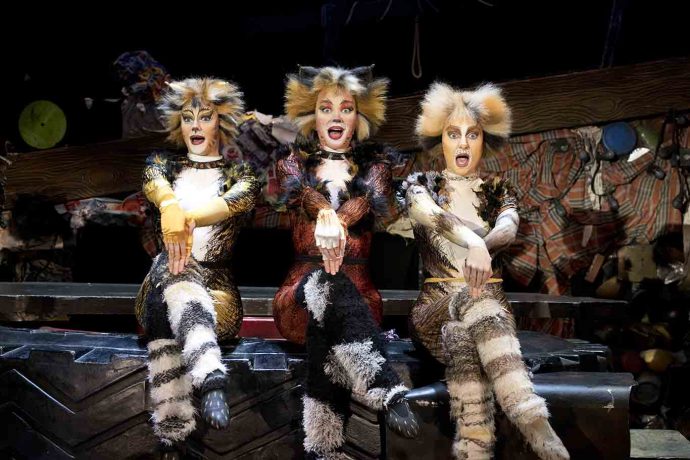 This is the last week of the decade – 10 years of ups and downs, globally, through thick and thin – and if you are reading this, you have survived. So wear a smile to see 2020 in.
I went to see CATS (mindful we are about to have a brush with Rat, the Chinese new year of said rodent). CATS the musical that is, not its movie which has been critically torn from limb to tail.
Even if you're hypo-allergic to animal fur, you'll enjoy CATS in the Sands Theatre in Marina Bay Sands. The fashioned felines run out on Jan 5, this Andrew Lloyd-Webber musical has a short life this time round. So you have just the few days left to meet Mungojerrie, Munkustrap, Macavity, Mister Mistoffelees, and the rest of the practical moggies whose names do not begin with M.
It all happens one night at the Jellicle Ball – of timeless music, spectacular sets, and a superb cast. Charming and charismatic, malevolent, acrobatic, conjuring, a magical night out in the alley with a tribe of Cats. Mischievous and memorable, not least for its haunting Memory.
Andrew Lloyd Webber's classic musical CATS is in Singapore for a limited season since 17 December 2019. You have until 5 January 2020 to catch one of the longest-running shows in West End and on Broadway before the season ends here in Singapore.
Joanna Ampil's hauntingly beautiful rendition of Memories is something to look out for. Joanna has been in the West End and on the international stage as Kim in Mis Saigon, Eponine & Fantine in Les Miserables, Mary Magdalene in Jesus Christ Superstar, Mimi in Rent, Christmas Eve in Avenue Q, Sheila Franklin in Hair, Thanh in the world premiere of The Real Love amongst many others. She plays Gizabella in this season of the CATS musical.
Totally unrelated to the musical, Jennifer Hudson also performed "Memory" from her new movie "Cats" during The Voice Live Finale, Part 2 2019.
We also found Elaine Paige's version on Youtube.