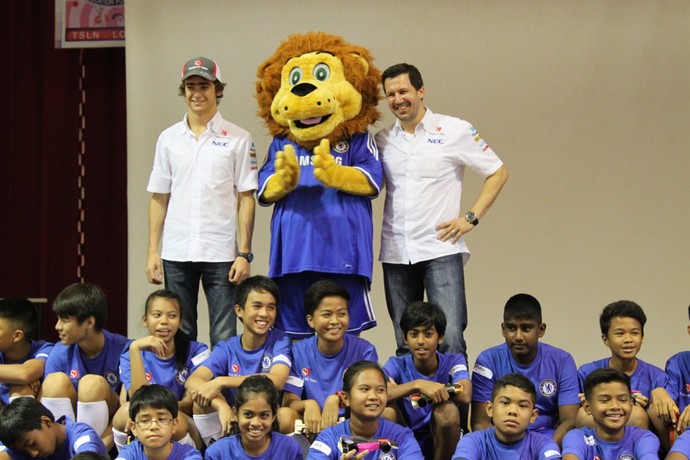 Chelsea and Formula 1 partner, Sauber F1 Team, in conjunction with F1 in Schools gave 48 students from Henderson Secondary School and Chelsea FC Soccer School Singapore, met Sauber F1 driver, Esteban Gutiérreztoday, up close while competing to win a behind-the-scenes Sauber garage tour this Saturday.
"It's always a great experience working with our partner Chelsea FC, F1 in Schools and the kids. It's great to see how enthusiastic they are about racing and soccer. You can see the hopes and determination some of the kids have. When I was younger I wanted to be a professional racing driver, so I hope I can be a role model. My career shows that you can accomplish your dreams if you put your mind to it. There are always opportunities and you should not be afraid to take them." – Esteban Gutiérrez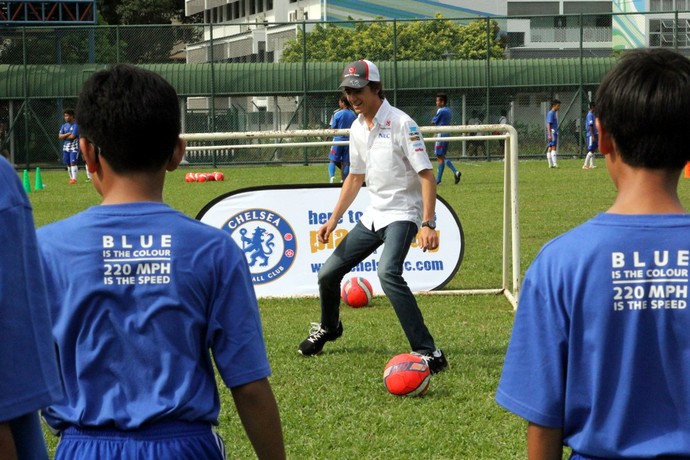 The students, aged 11-14, took part in a soccer clinic and had the chance to build and race a balsa wood model car, with points awarded for their football skills and how their car performed in the races. Esteban Gutiérrez, gave a unique insight into life as a professional racing driver and also joined in on the football field during the soccer clinic.
"We are pleased to be able to expose the youngsters to professional football coaching and an introduction to F1. Hard work and perseverance is key not just in sport but also in life as demonstrated in today's session and I hope we have inspired the youngsters to continue to pursue their interests." – Mr Adrian New, Managing Director Asia Pacific, Chelsea Football Club.