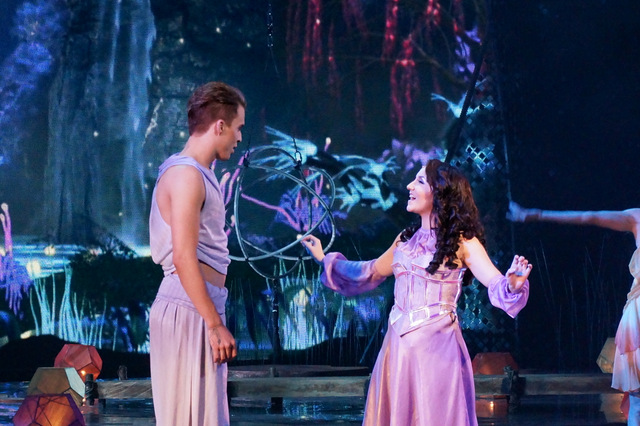 With the end-of-year bringing much reflection of the year and what is really important in life – family, friends and loved ones come to mind. If any of your new year's resolutions are to spend more time and show more love to those you care about, consider surprising them with a special evening all planned and start the year on the right note by spending precious time with them – something that money cannot buy.
Surprise your loved one with an all-in-one surprise – from an exclusive backstage tour after watching LightSeeker, an RWS musical, with songs by Singapore's well-loved songwriter Dick Lee, to a four-course fine dining dinner at celebrity chef restaurant L'Atelier de Joël Robuchon.
Pre-Show Dinner at L'Atelier de Joël Robuchon
Before the show, indulge in a four-course dinner at L'Atelier de Joël Robuchon where you are invited to immerse the dining action by witnessing the theatrical experience as chefs create, prepare and cook up innovative dishes.
L'Atelier de Joël Robuchon serves up French haute cuisine by the world's most decorated Michelin star chef. Here, you can pair small, tapas-style portions with a large choice of wines available by the glass in an unpretentiously elegant and cosy atmosphere inspired from the simplicity of Japanese cuisines and the vibrant atmosphere in Spanish tapas bars.
LightSeeker an RWS Musical
LightSeeker is a multi-million dollar fantasy musical that features original songs composed by Singapore's very own award-winning songwriter Dick Lee and Music Director Jonathan Lim. This musical is performed by 39 casted performers from 10 different countries including stars from London's West End.
LightSeeker is not your mainstream musical that offers familiarity of songs that you can hum to or sing along as the plot unfolds. Instead, it offers a unique visual experience with extensive props as well as stunning costumes, acrobatics, projections and dance moves. The LightSeeker fantasy universe set alone took 15,000 man hours to build.
It tells a story of a fantasy world where a wondrous power known as The Light nourishes all life. The General seeks the precious energy that will make his ominous Emperor more powerful. His search brings him to a mysterious young girl Nova, who has the ability to create The Light. He captures Nova and forces her to conjure up The Light but discovers that he is not able to control her and her presence threatens the only world he has ever known. The General waivers as Nova challenges him to take a leap of faith and embrace the promise of a new and better world within the light and become good. The General represents the struggles in life that we go through everyday while Nova represents the intuition within ourselves.
LightSeeker, an RWS musical runs till 23 March 2014 at the Resorts World Sentosa Theatre, previously known as Festive Grand Theatre. Shows on Thursdays to Tuesdays start at 8pm while matinees on Saturdays and Sundays are at 3pm.
LightSeeker an RWS Musical packages are available at S$588 and S$488.
For the price of S$588, you will receive a pair of LightSeeker tickets in the VIP Box, four-course dinner at L'Atelier de Joël Robuchon, goodie bags, 30-minute Backstage tour and complimentary parking. Find out what goes on backstage and get the chance to meet some of the cast of LightSeeker.
The S$488 package entitles you to a pair of Category One LightSeeker tickets, four-course dinner at L'Atelier de Joël Robuchon, popcorn combo set, goodie bags, a 30-minute Backstage tour and complimentary parking.
If you rather watch the show without the dinner, you could also purchase tickets priced at S$148, S$98, S$88, S$78 and S$48. MasterCard cardholder privileges include a free ticket for every three purchased for Category One and 10% off dining and retail outlets at Resorts World Sentosa. This offer is valid from now until 23 March 2014.