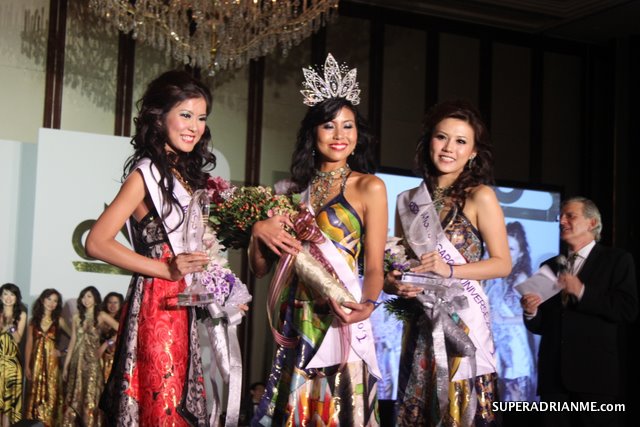 Organized by Derrol Stepenny Productions, the Miss Singapore Universe 2010's LIVE Beauty Pageant Dinner was held on 28 May 2010 from 7pm to 11pm at Shangri-La Singapore.
The Miss Singapore Universe 2010 pageant winner , Miss Tania Lim, will get to represent Singapore in the 2010 MISS UNIVERSE Pageant that will be held live from Mandalay Bay Events Center in the Mandalay Bay Resort and Casino[1], Las Vegas, Nevada, USA on August 23, 2010. This will be the 59th edition of the Pageant. More than 80 countries and territories will compete for the title and the pageant will broadcast live on NBC and Telemundo. Miss Universe 2009, Stefanía Fernández from Venezuela, will crown her successor at the end of this event.
Reporting Live from Shangri-La Island Ballroom, here are the results:
Subsidiary Awards
1. Beauty Philosophy Iron goes to Kuek Zi Yi
2. Miss Crowning Glory goes to Raine Ng
3. Miss Sensational Smiles goes to Grace Hu (though personally I would have preferred Raine Ng or Lee Sing Ying)
4. Miss Body Beautiful goes to Raine Ng
The 5 who made it are-
1. Annabel Tan
2. Jill Chew
3. Kuek Zi Yi
4. Raine Ng
5. Tania Lim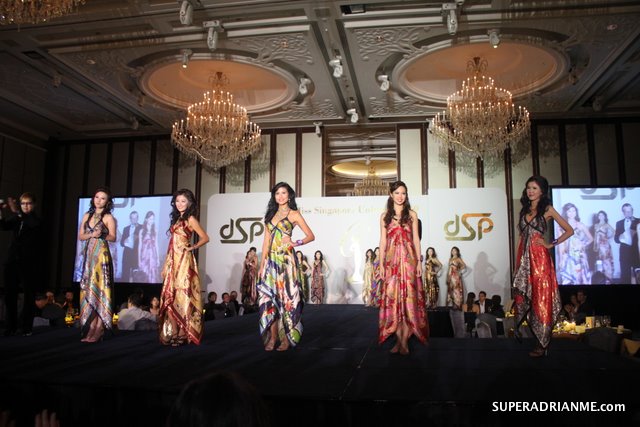 Winner- Tania Lim
Shawn Lee Miller from RazorTV shares about Underdog beats hot favourite (Miss Singapore Universe 2010)
Tania Lim is an Account Executive with a Production House. She graduated from Murdoch University, with a Bachelor's Degree in Mass Communication, with a double major in Public Relations and Marketing. Her hobbies include Yoga and Swimming.
As Miss Singapore Universe 2010, she wins
• $5,000 cash, Trophy and Sash from Derrol Stepenny Promotions
• SmileMakeover worth up $15,000 from ORCHARDS SCOTTS DENTAL
• A pair of Custom made Swarovski Fully Crystalized Shoe worth $4,500 from ESSEX WALK
• $500 worth of Hair services & Complimentary Hair cut for 1 year from HAIR SECRETS
• and much more
1st runner up – Annabel Tan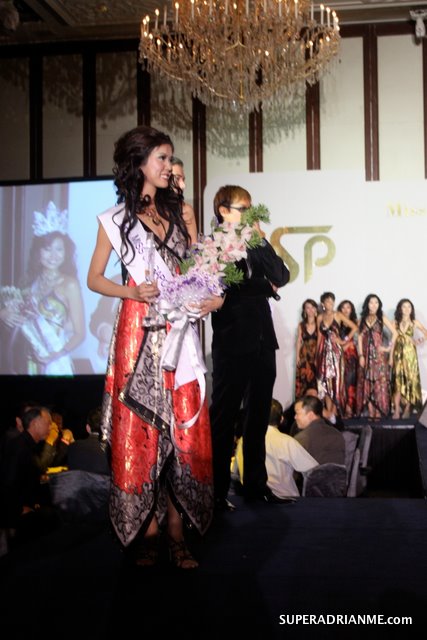 2nd runner up – Raine Ng
Watch the interview section for the top 3 ladies. Razor TV has filmed it all here.
I must say these girls need a lot of courage.
The judges for Miss Singapore Universe 2010 are:
1.Mr. Errol Pang, President, Derrol Stepenny Promotions
2.Mr. Andrew MacDonald, Executive Vice President – Casino, Marina Bay
Sands
3. Mr. Nelson Sim, General Manager, Chrysler Jeep Automotive of Singapore
4.Ms. Jean Danker, Radio Celebrity
5.Ms. Christina Liang, Celebrity Coach Trainer
6.Dr. Jerry Lim, Director, Orchard Scotts Dental
7.Ms. Agnes Lee, International Creative Director, The Hair Secrets
Rachel Kum, winner of Miss Singapore Universe 2009 crowned Tania Lim.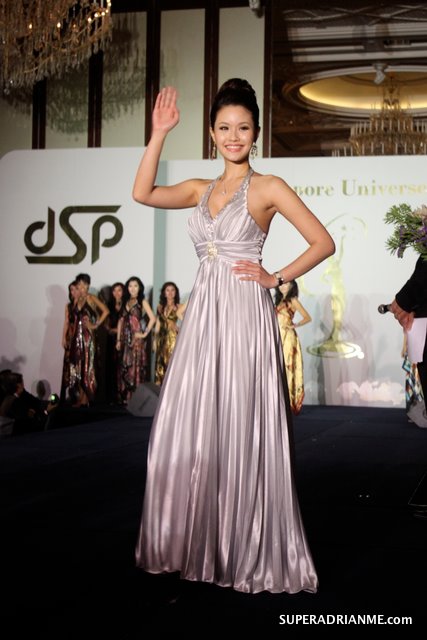 Here's a photo of all the 16 finalists.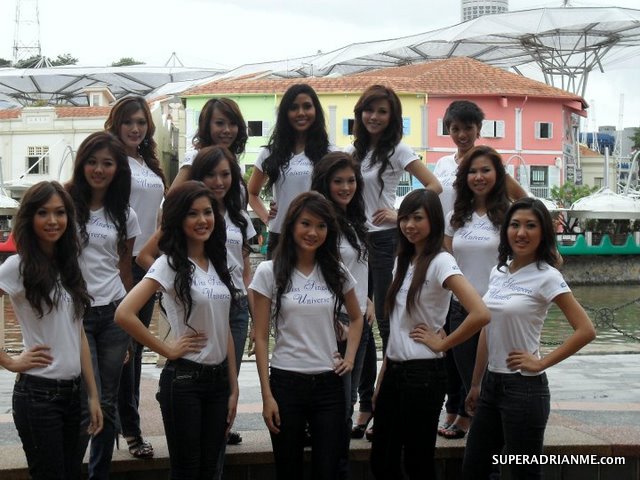 (above) The girls in the Casual Wear segment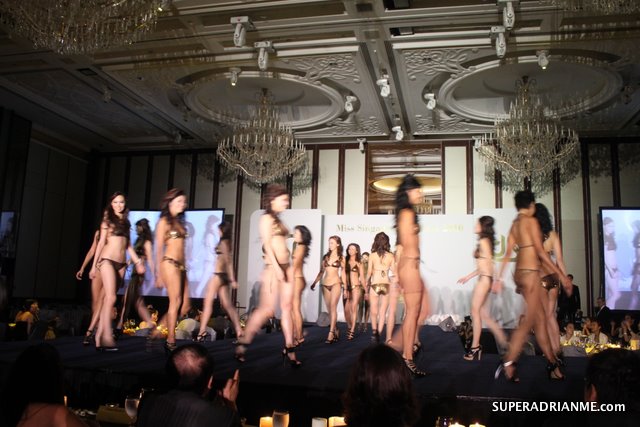 (above and below:  The swimwear segment)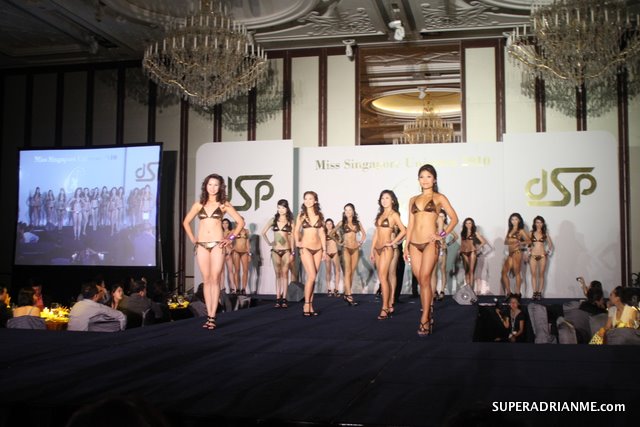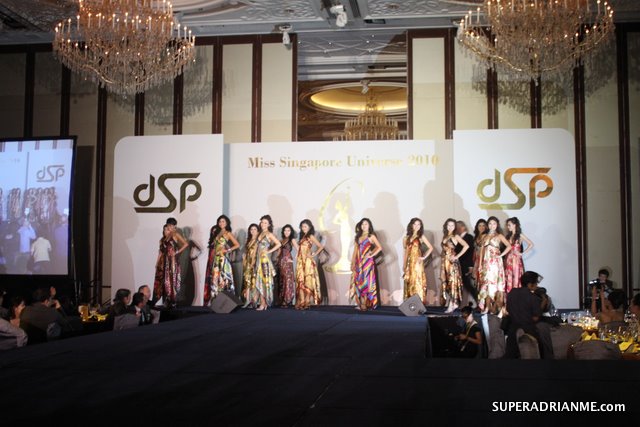 (above: The evening dress segment)
The National Costume that Miss Singapore Universe, Tania Lim will wear in the 2010 MISS UNIVERSE Pageant was unveiled at the Pageant Dinner.  The gown is designed by Raffles Design Institute.  It is inspired by the evolving architecture of Singapore which constantly redefines our urban landscape. It depicts a wide range of influences from colonial to contemporary architecture with sleek, modern and fluid lines.
Judged by a panel of Fashion Industry Members namely:
Professor Joe Spinelli, Principal Raffles Design Institute
Desmond Yang, Designer and Owner of abyzz
Chen Wileen, Representative from Triumph
Student Tracy Wu's design was selected as it depicts Singapore's Economic Development and Urban Landscape most appropriately.
See the other buzz about Miss Singapore Universe –
– DivaAsia.com
– Christabel Campbell
– Missology
– Panoguide
– Kinthecat
Check out the Saucy Miss USA photoshoot.  Wonder when Singapore will follow suit?
Facts about the Miss Singapore Universe 2010 Finalists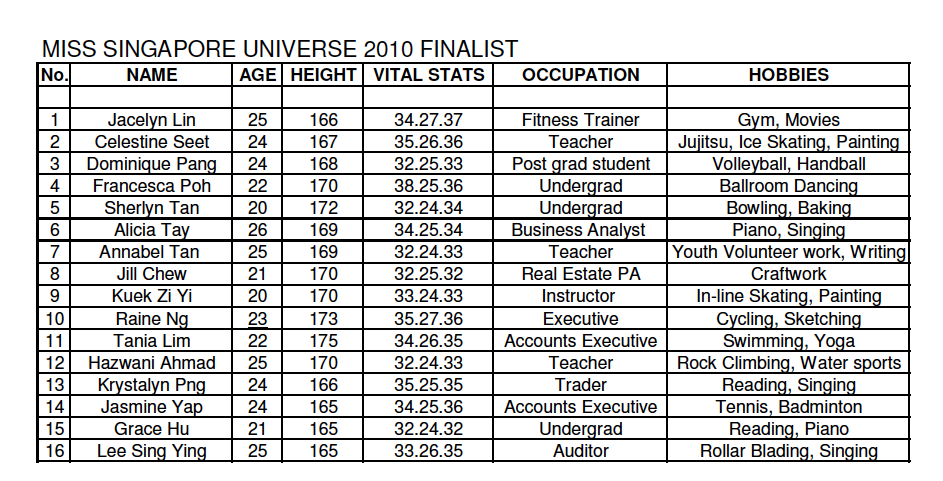 Was also at the post party at A971 in Clark Quay Saturday night.  It was a cosy evening where Annabel Tan joined us.  Here're some of the photos.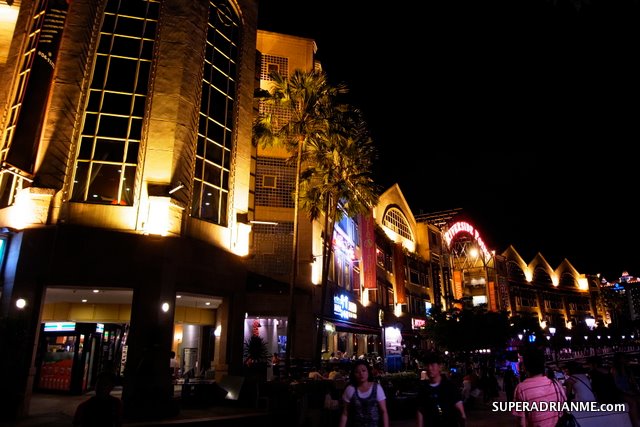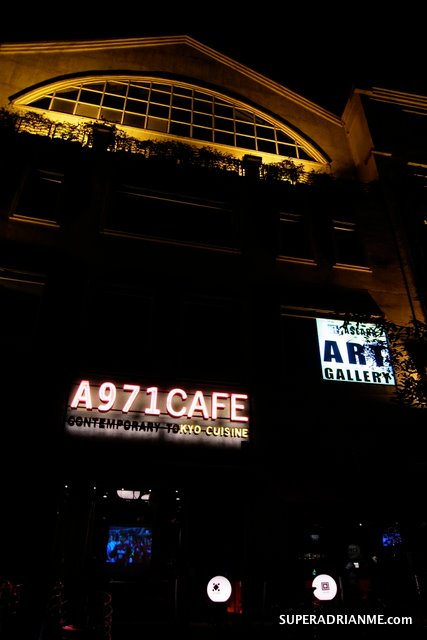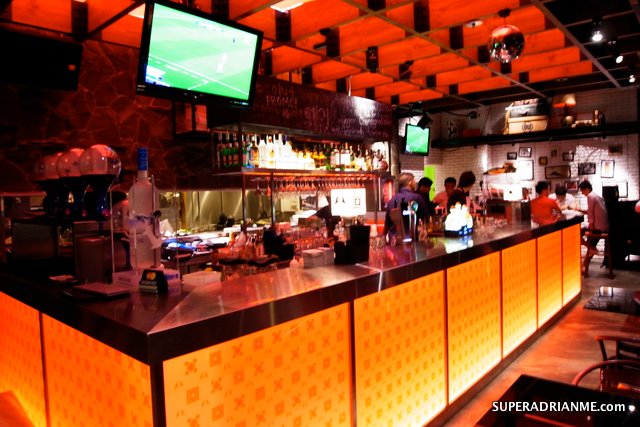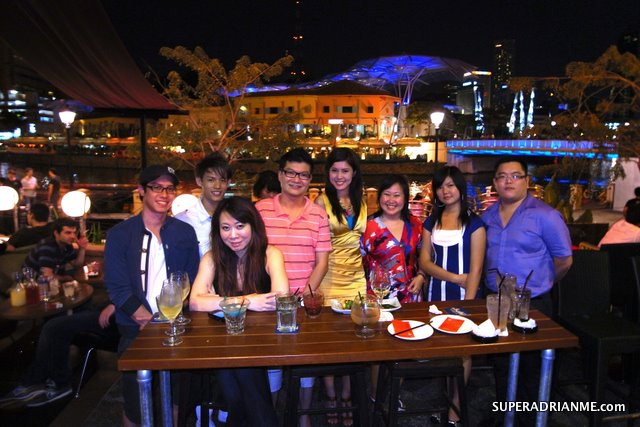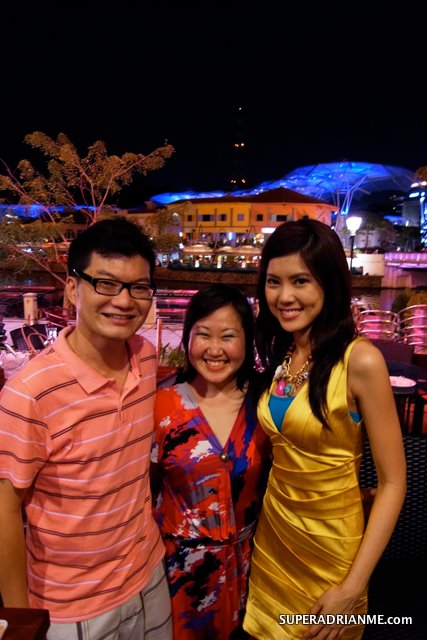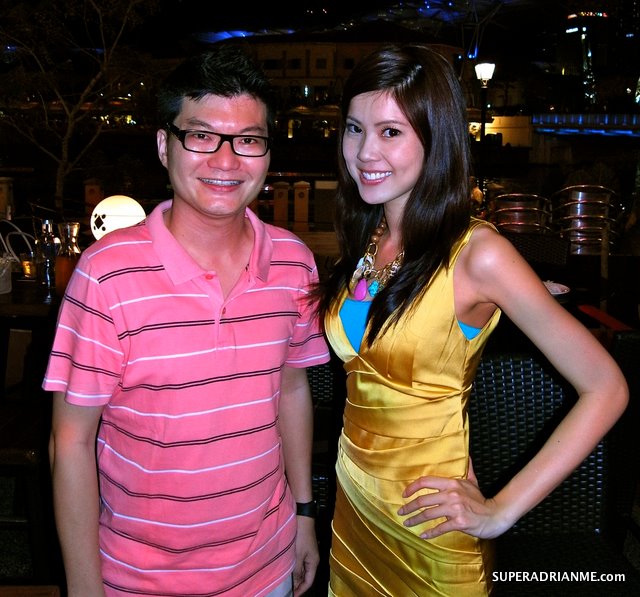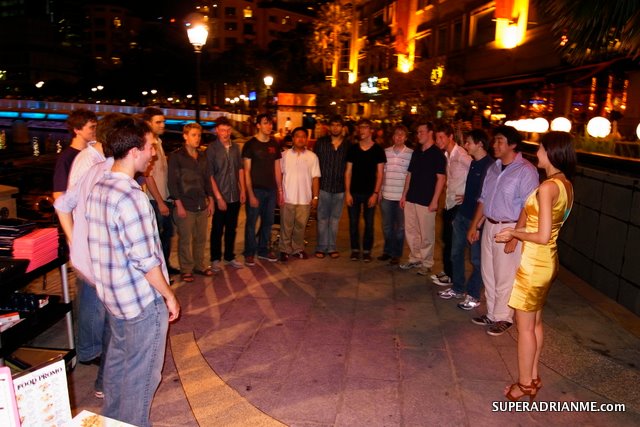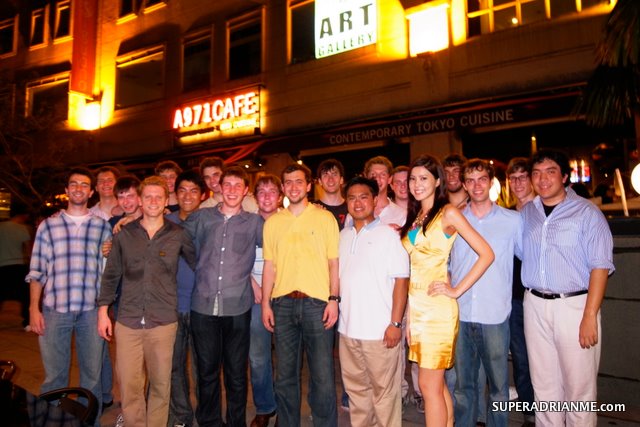 Related articles by Zemanta