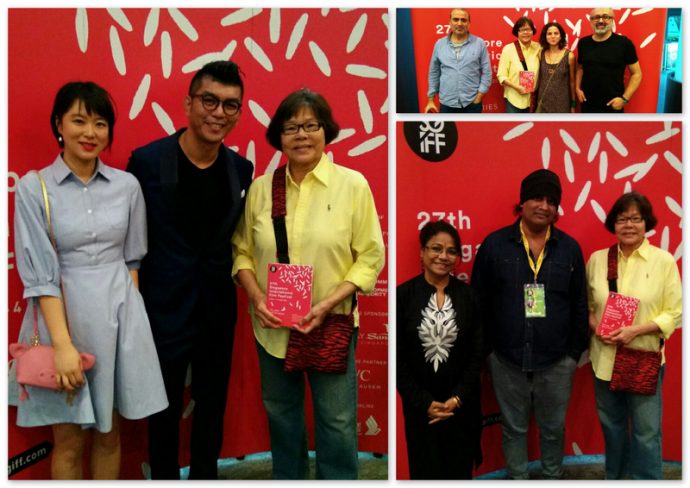 How do you know you are in a roomful of wannabe movie-makers, indie filmmakers, bit players, one-hit wonders, serious industry people, auteurs and docu-dramatists?
First clue, you are better-dressed. Not that they don't have threads; but filmfesters put it upon their craft that if they don't step out with a towel masquerading as a cap on their heads, who'll know he's the DOP (keep up dear, Director of Photography).
Those who have yet to graduate – to the dishcloth hat – will have about their person, a soft cloth bag of indeterminate origin. With letters such as LNLNSS across, as if they just lost a game of Scrabble.
And then there's the hair. Either none, or mushroom cloud. Rubberband yes, comb, no. But I jest. I love their company, an alternate universe away from the socialites, the nearest of who are out of the country.
It is the 27th SGiff, and we are here, in the Ibis Bencoolen (Tom Hanks they stick in Sentosa) for a happy hour meet and mingle with all the award nominees. Over sliders and fried spring rolls and brownies and popcorn and drinks (thanks, SFiff, kept everyone full and libated, very decent spread) game-players came and went across the crowded room.
Speaking of A Yellow Bird (Singapore/France), White Ant (Taiwan), Unconcealment of the Aftermaths, Verge (Turkey), Chiak Pah Buay, Pak Chiew (Royston Tan's next).
Over 100 films in two weeks, with masterclasses from Simon Yam, Darren Aronofsky, Fruit Chan, and the US (follow dear, Usual Suspect) Michelle Yeoh on red carpet, the SGiff is worth a gander. It showcases films you would have missed otherwise. And gives cinema buffs turned directors and producers and actors their Camelot moment. In Singapore, with our hospitality others talk about.
Jia You, SGiff!