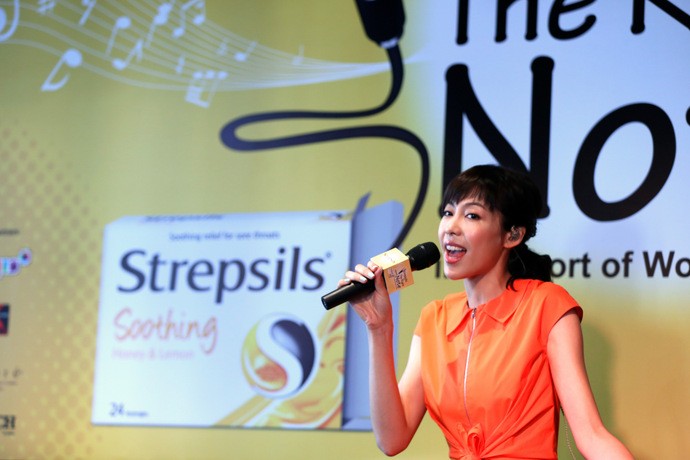 In conjunction with World Voice Day, Strepsils is bringing back their "The Right Note" singing competition – with the mission to uncover diamonds-in-the-rough talents within Singapore. Last year, the competition drew over 600 contestants, all singing their hearts out for the chance to share a stage with Strepsils ambassador and famous music artiste, Olivia Ong, and a coveted single recording with Lee Wei Song and his team.
This year, from now till the 16th May 2015, aspiring musicians, whether you are a soloists or a band (maximum of five people, including a vocalist) can stand to win the chance to share the stage Olivia Ong, on top of the plethora of prizes worth over S$25,000! While most would be most excited about the cash price of S$7,000 and attractive prize packages from K BOX Entertainment Group worth S$3,000, the 3-month residency stint with the ever-popular live music bar, Switch by Timbre, will be the perfect place for the winner to get the exposure they need!
Even more exciting, Olivia graced the launch to announce that she will be upping the game this year – in a Stepsils Honey & Lemon inspired outfit, if I must add. Besides performing a duet with five of the finalists, she will be flying in her esteemed producer to make a professional track with all as a group. Not only is this a great opportunity for them, but also an once-in-a-lifetime chance to get one-on-one mentorship and tips from Olivia, herself, throughout the final leg of the competition.
She added, "I'm very thankful to be blessed with a good voice. It's something that I take delicate care of, especially since I depend on it for my singing career." She wants the contestants to follow suite, and gave some tips and know-hows. Her take home message is to give your vocal chords all the tender loving care it needs, from dropping a sweet and soothing Honey & Lemon strepsils when your throat is feeling a little scratchy, to avoiding soda, coffee and anything that would dehydrate your precious throat – and most importantly, to "Eat, Sleep and Have Confidence!"
Olivia and Kevin Doak, from Strepsils, dropped some hints on who they will be looking for during the competition. She emphasized on singing the right song, one that fits your voice and your image, while Kevin will be keeping his eye out for a sweet, soothing voice with a great stage presence; fitting of the Strepsils brand. Nevertheless, both are ultimately looking forward to giving a platform for talented musicians to get the exposure they desire.
Whether you're a solo singer or a passionate group of friends who love to rock it out in the karaoke room, this is a great chance to find your next break or just join in to have a whole lot of fun. In fact, those who wants to join in the festivities (but cannot sing to save their lives) can look forward to Strepsils-themed nights at Timbre, with specially curated events to engage the crowd. This is definitely a great event to support in view of Singapore's jubilee year, and I am looking forward to who is going to come up on top this year!
*To participate, contestants will have to record and upload their entries to www.strepsils.com.sg/therightnote from now till 16th May 2015 to vie for the Top Five Finalist Spots. This will be determined by a combination of votes from the judges and the public, and will be announced after the call for submissions end.
About the Writer
Jessica is a young lady of many obsessions. She gets herself into everything ranging from the latest in the monochrome fashion world (she only wears black, and sometimes, white) to convincing the masses that Community is the best TV series ever made.
Currently, she enjoys looking like Sailor Mercury had a baby with Wednesday Addams.