TikTok has launched TikTok 12 Days of Christmas Giveaway today. It is the platform's first-ever festive giveaway in Singapore. TikTok is launching a series of holiday-themed events, hashtag challenges and special LIVE programmes.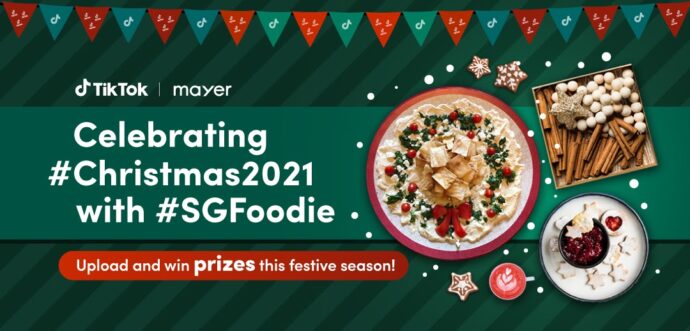 Look out for the following highlights:
#Christmas2021 Challenge to win exclusive TikTok merchandise including pullovers, caps and plushies in a lucky draw. Happening from 14 to 25 December 2021. All users will be awarded five points when they first log in to TikTok. Opt to earn more points as you complete a series of mini tasks on the platform. Upload videos with the #Christmas2021 hashtag via dances or trends or using the new Christmas Elf & Christmas Bulbs effects to increase chances of winning in the draw.
Partnership with Mayer Singapore to bring a merry twist to Singapore users' all-time favourite hashtag #sgfoodie. Win air fryers, digital multicookers and cutlery sterilisers.
#ChristmasHacks challenge to celebrate all things DIY and win products from an iPad Mini to an Everdesk table
A star-studded line-up of Christmas LIVEs at the inaugural Christmas Show, featuring local TikTok Creators and #SmallBusiness on TikTok. Look out for giveaways featuring Creamier, Tefal, Amazin' Graze and Nando's. TikTok will celebrate the small local businesses that have grown on TikTok over the past year including @vintagewknd, @shopxvxii, @whoaa.store and @goodtotes.
We are also on TikTok. Don't forget to check out account.
Check out some of our Christmas Festive Dining Videos below.