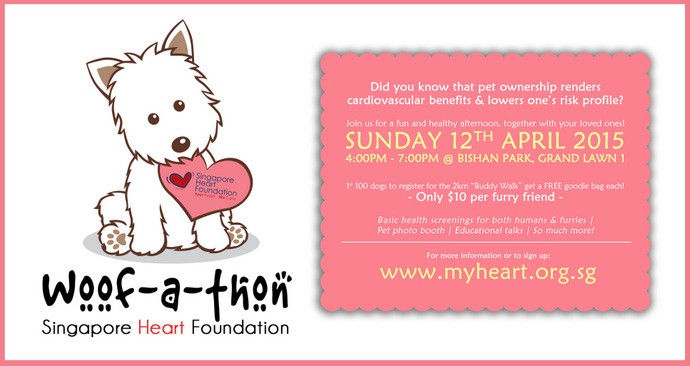 Singapore Heart Foundation will be holding Singapore's first pet walkathon, Woof-a-thon 2015 on 12 April 2015 at Bishan Park, Grand Lawn 1, from 4pm to 7pm.
Now dog lovers and owners can register yourself and your furry friends for a paw-fect Sunday afternoon and help create awareness on the cardiovascular benefits associated with walking your dogs.
Studies have shown that pet ownership, particularly a dog, helps to reduce risks of heart diseases, as people with dogs are engaged in more walking and physical activities. Pet ownership also aids in lowering blood pressure, cholesterol levels and incidence of obesity. Furthermore, the companionship of a furry friend brings about positive effects on your body's reaction to stress, including a decrease in heart rate and release of an adrenaline-like hormone.
For a S$10 registration fee per pet, you and your dog will be able to take part in the 2km 'Buddy Walk'. The first 100 dogs registered for the 'Buddy Walk' will also get a free goodie bag each!  All proceeds raised from Woof-a-thon 2015 go towards supporting the Singapore Heart Foundation, a non-profit charitable organisation in its battle against heart diseases in Singapore.
If you do not have pets, not to worry – you can still put on your walking shoes and stride towards a healthier heart. Enjoy an active day out with friends and family, at no cost!
There will also be an exciting line-up of programmes such as basic health screenings for you and your dog; educational talks, contests, pet photo booth and even a fashionista parade (best dressed with a touch of red).
To participate in Woof-a-thon 2015, register now at www.myheart.org.sg.