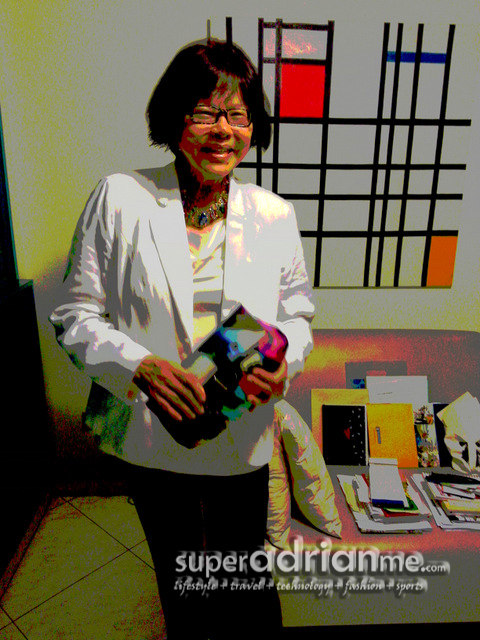 There is Joan Rivers and her Fashion Police.  And here's Paikers with her Fashion Polite.
You know the score, the outrageous Joan Rivers says out loud what everyone thinks (but is afraid to mouth).
Some of her talon-ned barbs: "Not an Oscar dress, but the lining."
"A dress like this (hideous) on the red carpet is so people can get a break from clapping."
"Takes balls to wear it, and talent not to show it."
"Best supporting actress, least supporting dress."
"Siegfried and Roy woke up and wondered why the compound was empty." (On top to toe animal print.)
Miss Rivers pays US$10 for a joke (they are filed in little drawers), but I charge S$11 if you need a crack or two for your next D&D (and $640 for a coupla minutes of stand-up).  But enough about Joan.
I have to get this off my chest – thanks, Gillette, for the blades – before anything else.
I hate Pippa Middleton. I find Gwyneth Paltrow irritating. And Anne Hathaway annoys me off my seat. Any thinking person would share the same sentiments.  Always the bridesmaid (and in such awful clothes too) Pippa (she's attended 16 weddings of her chums and classmates) shamelessly rides on her sister's coattails (Topshop, £160). Is it any wonder no boyfriend of the month wants to take it to a year? Who made you Queen's sister-in-law?!
I have met the crashingly boring Gwyneth Paltrow. Of course you're fit and fab at 40. I'd be too if I could afford the best nutritionist, stylist, trainer. (No way but jus' sayin'.) But it's your keeping your kids from carbs that we can't stand nor tolerate. That is so mean cold play.
As for the miserable Anne Hathaway. Grow up already, stop trying to play the ingenue all humble and innocent, like some bug-eyed schoolgirl who hit the jackpot and can't believe her naive luck.
And so we nicely segue to our own Audi Fashion Festival 2013.
Singapore has the nicest lot of socialites. (Hong Kong's are haughty, Indonesia's hardly speak much English, Europe's are old.) Singapore's number in the lower hundreds (south of 500) and those who love a party are forever slim, forever labelled (designer), forever stylish. Many are forever young.  (A few have faces that have not moved since the 10th Tatler Ball, or was it the 1st Icon Ball.)
We saw them sit in the front row at Carolina Herrera (daughter is Carolina Herrera de Baez, aptly pronounced "buyers"). And Peter Pilotto. And Colette Dinnigan. And Hussein Chalayan. Together with the above names, a host of other local worthies made the catwalk under the [email protected] Promenade.
This year's location moved lock stock barrel and then some, from Ngee Ann City, to the Bay area (next to the Pit Building). A bit of a schlep, but there were buggies to ferry you in to a much better organised event in 2013.
Singapore's collection of fundraisers, ladies who brunch but never browse (they just shop), socialites, tai-tais, new and old money, who did not rub shoulder pads. (Nobody wears them this season.) The very people who keep Paragon flush and liquid and some say in the pink. Most are friends, always at the same galas, never a stitch wrong when it comes to stunning and elegant.
You wonder how one affords a fresh new gown every week? They don't spend their money on food, that's why. You cannot eat, if you want to fit into your Monique Lhuillier and Marquesas. Or Heng Yum Yum, and Regal Leung, and Mode o'Day for Night. "She's like the great barrier reef and she's in coral!" is something you'd never hear here.
Although I did spot someone in standout orange the colour of Donatella Versace herself. There was the Alzheimer's dress. You know, part long part short, like one was sewing it and then went to do something else and forgot to return to finish it.
The AFF daily red carpets, its shows, and its guests between the runway are a feast for the senses.
If only there was some finger food (wine and water and ice cream were gratis throughout) because you can't drink on an empty stomach. Especially one held in by Spanx.
What I do know about fashion is – these are my fave best dressers (in first name alphabetical order):
Caroline Low-Heah, Celeste Basapa, Emily Hwang, Georgia Lee, Graces (Lau and Yeh), Iroshini Chua, Linda Soo-Tan, Nina Ng, Renee Leung, Sharel Ho, Tina Tan-Leo, Chiang Yu-Lan.
And, when they do step out, Mrs Teresa Fu, and Miss Woon Liew, are impeccable.  How can one forget the men? Dr Bernard Cheong, Dr Frank Cintamani, Dick Lee.
About the writer: Sylvia Toh Paik Choo is not a fashionista. more a fashionutta.