In the West there is the Grinch who appears this time of year to throw a spanner at Christmas spirit. But he (not a she) never prevails because the trio of jollies, namely Faith and Joy and Hope, will win him over. Here in our part of the woods – Singapore (and Malaysia, bro) – we too have a kinda monster beast who answers to the name card: Kiasu. Kiasu comes to the fore seasonally. Because Kiasu is culturally appropriate, and we are multi-cultural.So we never try to shoo it away. This December I have been in a race with K.
Hogging Money Max
The Chinese New Year 2019 is the Year of the Boar (you know who you are, yes, try and shut up some time so others have a chance to speak). The imminent Year of the Pig had me grabbing Peppa Pig (and family members) from MoneyMax's collection of charms, pendants, earrings, gold coins and bars. The range is wide and varied, all featuring Peppa Pig, from $69, with PP plush toy or PP coin bank gift with some purchases. An excellent ang pow idea to usher in 2019. There are 42 MM outlets in Singapore, so pig out, go the whole hog. By the way, Peppa and George's friends are Zoe (zebra), Rebecca (rabbit), Emily (elephant).
Ooh La La Lola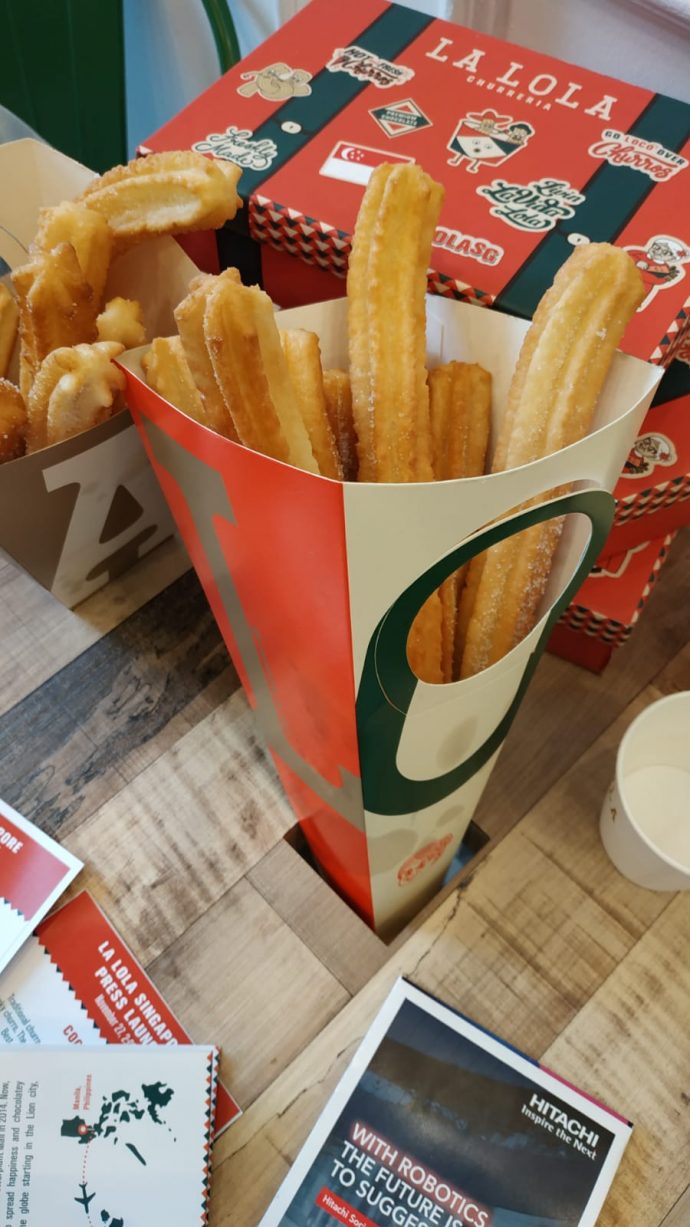 It has taken 12 years, for this churreria from Philippines to fetch up here. So even before they opened for business I slipped into La Lola in The Central (Clarke Quay), its first outlet faces the main road, for a clutch of the churros. And wolfed down a bunch. Churros is Spanish in origin. Try not to be so un-international and do the usual parochial, provincial, "Aiyah, yew char koay better lah." Be global, not local, until people think you never go out. For those who do like to dunk a fried dough round or stick into a dip or hot beverage, get your ooh la La Lola on. It is delicious. Made on the spot to order. And you're gonna love the paper cone it's served in, in a slot in the tables, and the cones have cutaways to hold the dips. There's matcha, dark chocolate (best!), yam, next up, nutella, kaya.
The Marvelous Madame Maria Galland
Don't like what you see? When you look in the mirror.Jowls and crevasses, droop of eye, sag of chin, unwoke skin? Be gone! And they can be done away with, in 90 minutes, without intrusive instruments. I have had a few facials in my time, but none like a Maria Galland (Paris) and I can hand on heartswear to its instant results. It was at the hands of Miss Nora of Maria Galland Singapore. She trains the beauticians in salons using Madame Galland's products. One and a half hours under her knowing hands, with some 10 products, and I did look and feel refreshed, rejuvenated, reenergised. Check out the salons which use Maria Galland and make it your Christmas present to yourself.
Threee Rounds of Fireworks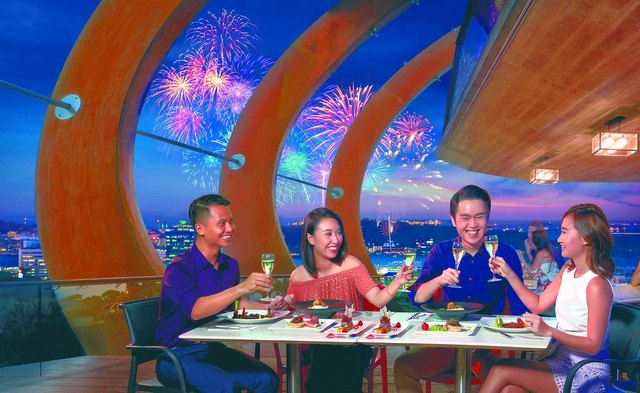 Yes. Not one, nor two, but three sets of fireworks for your delectation this New Year's eve, if you opt for hillside dining. At Arbora atop Mount Faber. Your parents, maybe grandparents, would remember Mount Faber back in the day when courting couples would end up there for a stolen kiss or a bear hug. (No, no, no wildlife there.) Today you access Mount Faber by wheels, on foot, via cable car. Ring in 2019 in an enchanted evening in a forest setting. The view is enough to capture your breath, not to mention the New Year's eve celebratory menu. Plus live band performances and rousing party games and the spectacular triple displays of fireworks at midnight. 'Phone cameras, bells and whistles at the ready. Dine. Wine. Love. The NYE4-course dinner is $98++ and snack platters after 9 pm from $35. Arbora is peak enjoyment in a garden setting. Get your new year novelties on.