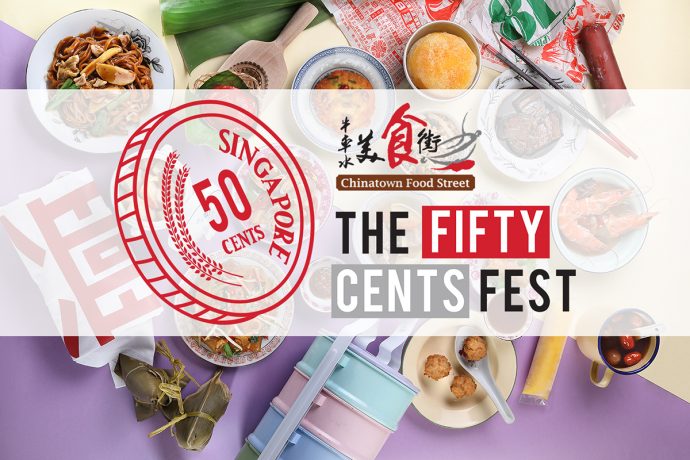 It's two days of fun for foodies in Singapore, as the fourth edition of The 50 Cents Fest is back! On 27 and 28 July 2019, you will be able to indulge in over 50 varieties of Hokkien savouries and sweets at Chinatown Food Street. This gastronomic experience is in line with the Hokkien Heritage theme for the annual Singapore Food Festival.
Everything at this food festival will be priced from a humble S$0.50 to no more than 6 x 50 cents (S$3.00). You will get to taste traditional Hokkien dishes – some of which are rare finds these days – ranging from Hokkien-style rice, noodles and nourishing soups, to snacks, small pastries, and ice-cold desserts and drinks.
Over 40 stalls and mobile vendors will fill up the food street, with one "hidden and mystery" stall that's specially invited from Malaysia to serve up 'KL Black Hokkien Mee' at only 2 x 50 cents (S$1). This store will also be cooking up 'Buddha Jumps Over The Wall' soup for only 6 x 50 cents (S$3). This nutritious soup will be the most 'Woo Hua' (value for money) item for the food festival, since premium ingredients like conpoy, fish maw, abalone and ginseng will be used to make this classic soup.
Beng Hiang, which was established in 1978, will be representing Singapore with its super tasty, melt-in-the-mouth 'kong ba bao' (braised pork belly bun). This is another must-try at the festival and its going at only 2 x 50 cents (S$1). Kim Choo Kueh Chang, an iconic brand in Singapore since 1945, will also be presenting their traditional Hokkien rice dumplings.
The 50 Cents Fest will be happening at Chinatown Food Street (Smith Street) on 27 and 28 July from 11am to 11pm.

Games & Offers At The 50 Cents Fest
To hype things up during the two-day festival, The Fifty Cents Fest will also be hosting interactive and exciting activities, such as a "JIAK BA BUAY?" (have you eaten?) bingo game and nostalgic arcade games. Other festivities that add to the fun, buzzing atmosphere include a Mixed Goods Store retail lane with Hokkien-inspired merchandise from local brand Wetteeshirt and more!
Visitors can enjoy the convenience of QR Code payments as you scan to pay at The Fifty Cents Fest with OCBC Pay Anyone. The first 10,000 OCBC Pay Anyone users will be entitled to redeem S$1 coupons at the event.
Also, pre-purchase exclusive vouchers through Klook activities and services booking platform to enjoy 50% off six mouth-watering dishes: Buddha Jumps Over the Wall, Herbal Prawn, Chilli Crab, Fried Black Hokkien Noodle, Braised Duck Rice and Lor Mee, then "chope" some priority seats to savour these Hokkien delights via Chope's reservation platform!
For more information, you can visit http://www.chinatownfoodstreet.sg/the-50-cents-fest.