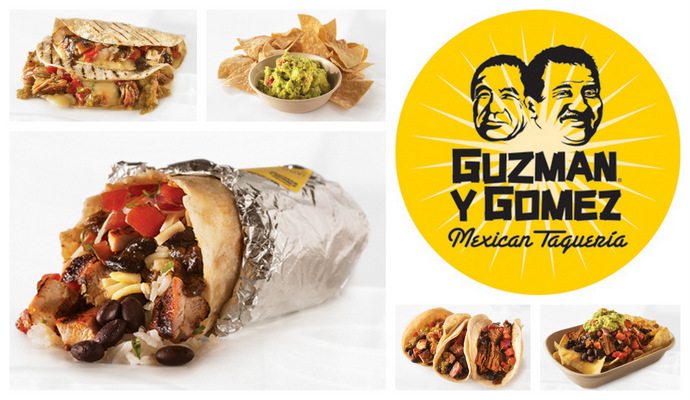 Australia's popular Guzman y Gomez (GYG) Mexican fast food chain debuts outside Australia in Singapore at Food Garden @ Asia Square. GYG serves up a selection of traditional Mexican flavours in the heart of Central Business District for a reasonable price from S$7.90 for their mini burritos.
One great thing about GYG is you do not pay different price for different fillings in your burritos, quesadillas, tacos or nachos. It is one flat rate any of the seven fillings available on the menu, from grilled chicken to fish and slow roast steaks to vegetarian special. The fillings are all tasty and fresh with the charred grilled flavour of the Spicy Grilled Chicken and the pinky tenderness of the Grilled Steak standing out from the rest. The choice of burrito, quesadillas, tacos or nachos is just up to your personal preference. But if you are looking for a less messier choice, go for the burrito bowl or salad.
The Guacamole will be the perfect dip or topping to go with your meal. Made fresh daily in the outlet with fresh & ripe avocados imported from Australia, the Guacamole is all creamy and sinfully goodness… HOLY GUACAMOLY!!! Even the girls we were with during the media tasting could not resist them and kept munching on nacho chips dipped with the large servings of guacamole. For the spicy fan, GYG's spicy green salsa dip, Tomatilo, will kick start your appetite with sassy hotness.
With over 3,o00 burritos given away in five hours during GYG's Free Burrito Day last week, Mexican food is IN today and doughnuts are so yesterday. Only open from Mondays to Friday from 11am to 4pm, if you are working in the CBD area or having a day off, head on to GYG and spend your extra room for calories with Mexican decadence.