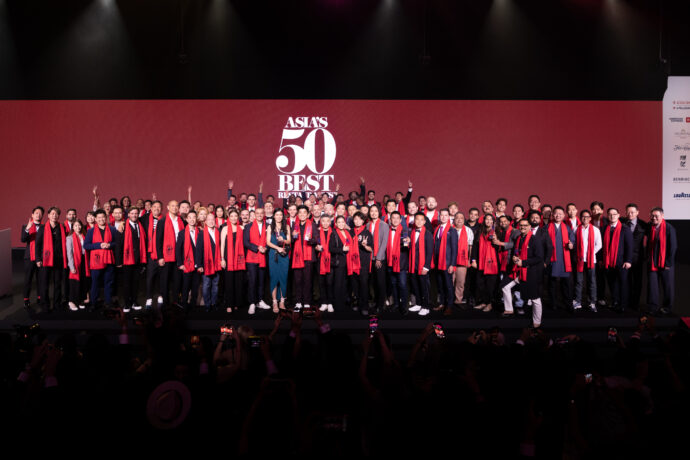 The awards for Asia's 50 Best Restaurants was announced tonight. An influential gender-balanced group of over 300 leaders made up of food writers and critics, chefs, restauranteurs and regional culinary experts created this year's list which includes restaurants from 19 cities across the region, including seven new entries and a further eight re-entries.
"It is an extremely heartening experience to see so many familiar faces at our first full-scale live awards event in Asia since the pandemic. We salute all the restaurants who have made it onto the list, reflecting the brilliance and diversity of the dining scene across Asia. We also offer our heartiest congratulations to Le Du: Chef Ton and the team's ability to combine their passion for Thailand's culinary heritage, respect for homegrown ingredients and flair for modern cooking techniques is what makes the restaurant a true winner."

William Drew, Director of Content for Asia's 50 Best Restaurant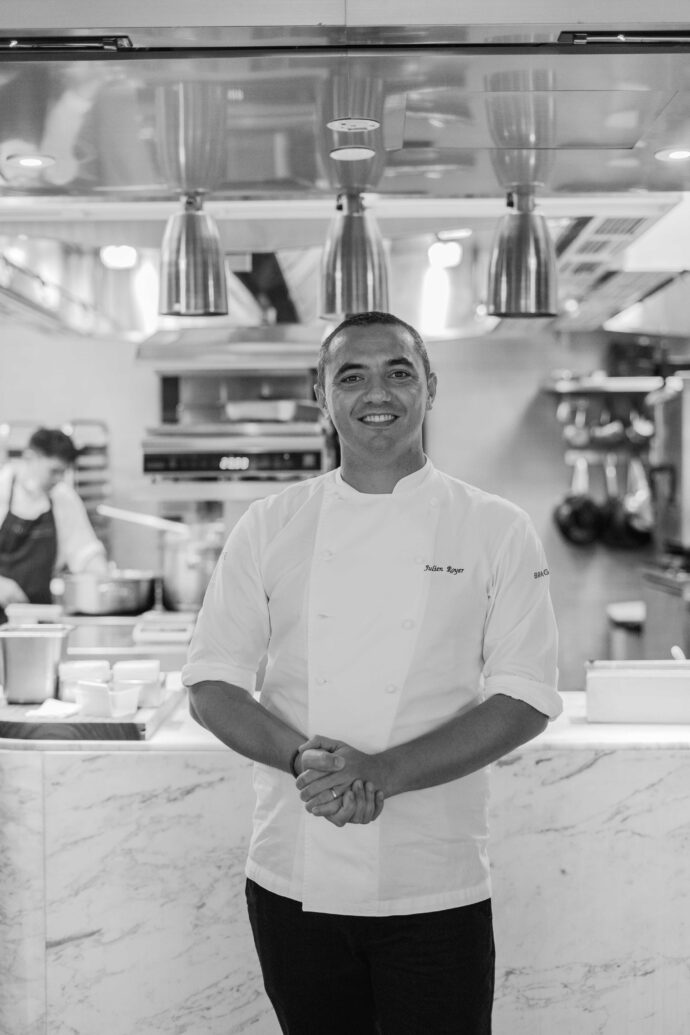 Nine restaurants in Singapore were ranked in the top 50 with Odette leading at sixth. Its pastry chef Louisa Lim also took home Asia's Best Pastry Chef Award. LG Han's Labyrinth rose up 29 spots to No. ,11 winning the Highest Climber Award. Meta places at No. 17 on the list. The other awardees include Burnt Ends at No. 24, Euphoria at No. 25, Cloudstreet at No. 26 and Les Amis at No. 27. Zén (No. 21) takes home the Gin Mare Art of Hospitality Award, and new entry Born makes it to No. 36.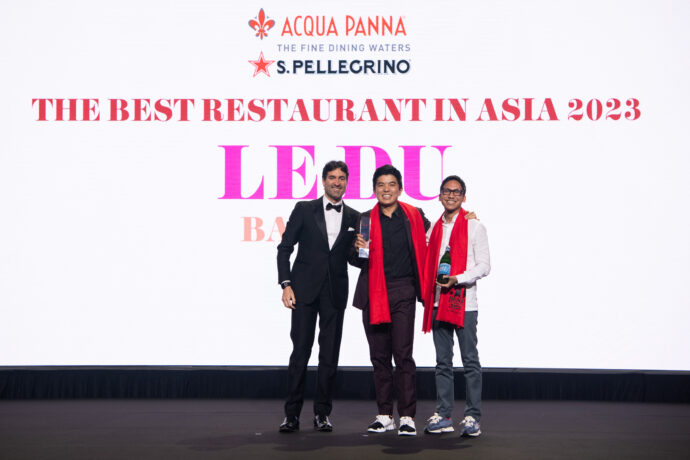 The top spot was claimed by Le Du in Bangkok. This year's Best Restaurant in Asia presents a modern take on refined Thai food interpreted through a French-leaning lens with a menu that champions the use of seasonal and local ingredients and the steadfast belief in the superiority of Thai produce. Le Du is under the tutelage of dynamic young chef Thitid 'Ton' Tassanakajohn.
Singapore and Bangkok both count the highest number of entries at nine restaurants each. Other awardees in Bangkok include Nusara which is also helmed by Le Du's Chef Ton places number 3. Gaggan Anand re-enters the rankings at No. 5, along with Sorn (No. 9), Sühring (No. 22), and Raan Jay Fai (No. 38). Potong (No. 35) and Baan Tepa (No. 46) are led by female chefs. A new entrant is Gaggan Anand's Mexican-Indian eatery Ms Maria & Mr Singh at No. 33.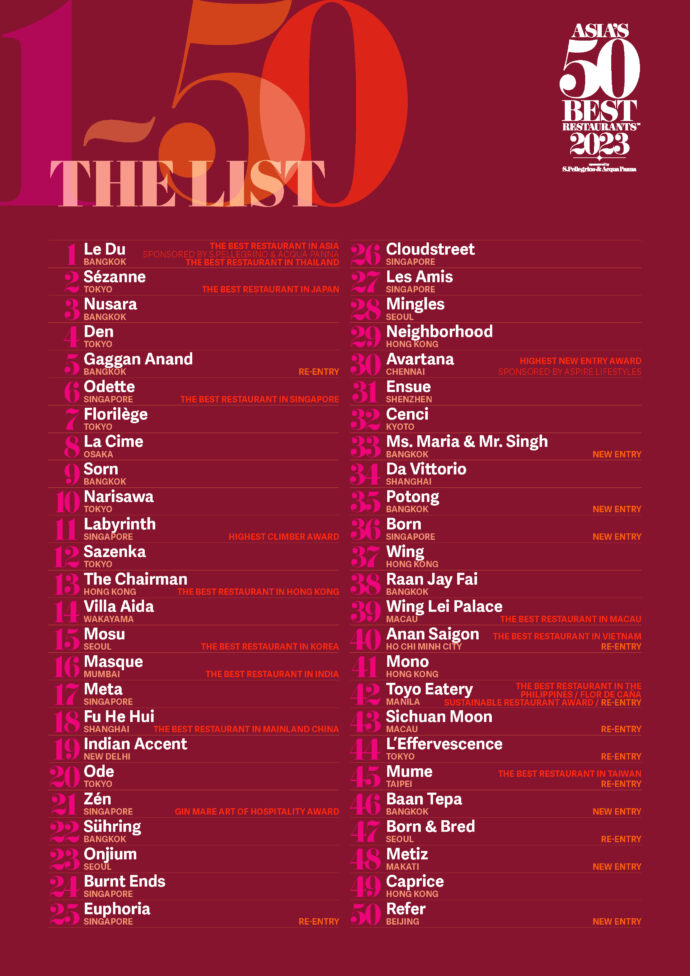 There are new names in the list for the first time. No.30, Avartana in Chennai claims the Highest New Entry Award. Mumbai and Delhi both have a restaurant each: Masque at No.16 and Indian Accent at No.19, respectively. Manila's Toyo Eatery re-enters the ranking at No.42 and also wins the Flor de Caña Sustainable Restaurant Award. Metiz, with a menu that spotlights the terroir of the Philippines, joins the list for the first time at No.48.