Enjoy all-you-can-eat Hong Kong-style hotpot sets at Paradise Hotpot from S$18.90. You have 80 minutes to enjoy your meal and you can order food for the first 60 minutes. Such value-for-money for those in the mood for hotpot!
This is available from Monday to Friday, excluding Public Holidays for lunch from 11.30 am to 2.30 pm, afternoon tea from 2.31 pm to 4.30 pm and dinner from 4.31 pm to 8.30 pm. Kids 5 to 12 years old enjoy 30% off, and students enjoy S$3 off from Monday to Friday for Lunch and Afternoon Tea, excluding public holidays.
A premium option features over 70 ingredients, including sliced US beef, US kurobuta pork, ebiko prawn paste, fresh sea prawns and scallops.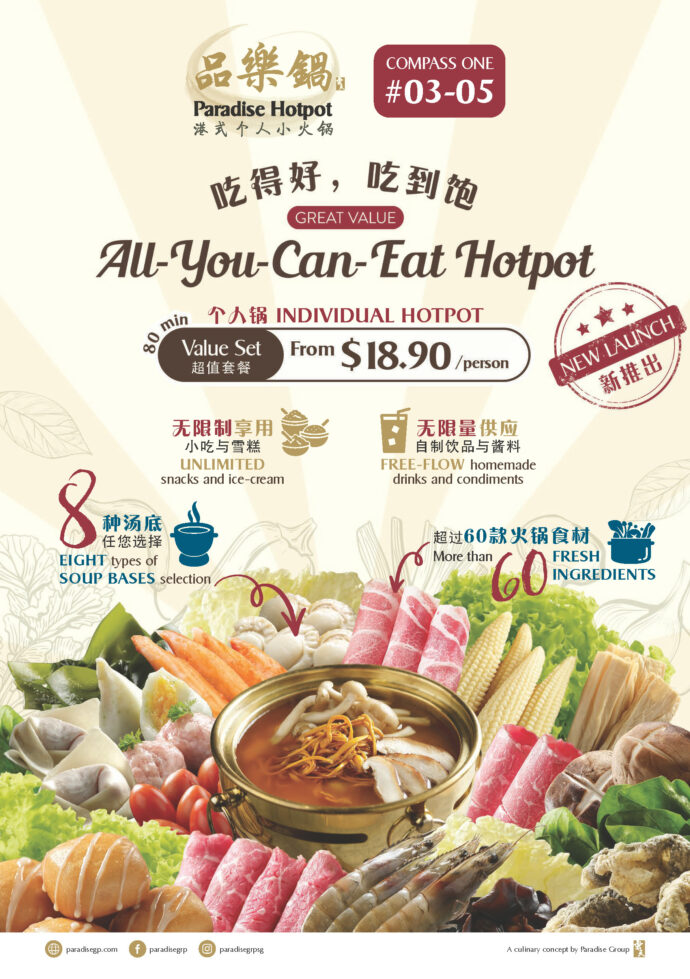 Choose from a selection of eight soup bases including Korean Kimchi Soup, Tom Yum Soup, vegetarian Cordyceps Flower and Mushroom Soup, among others. Enjoy unlimited servings of braised pork rice.
Here's a tip for you. Be sure to place your orders early as you have limited time to enjoy the meal. Best to order most of your dishes when you arrive because it takes time for the ingredients to be served to you depending on how crowded Paradise Hotpot is.
Location
Paradise Hotpot at Compass One
No. 1 Sengkang Square
Compass One #03-05
Singapore 545078
Tel: +65 6386 4838
Daily 11.30 am to 10 pm (Last seated timing at 8.30 pm) Table reservations will be held for 10 minutes.
Click here for reservations.