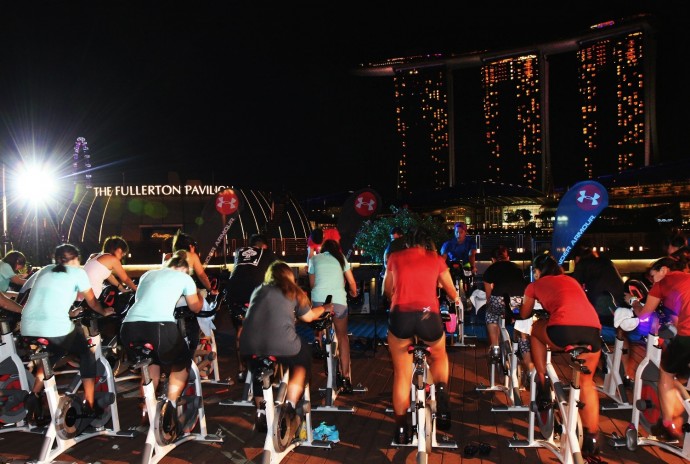 It's the start of a new year, new perspective and new aspirations. With Christmas just behind me, and Chinese New Year sneaking around the corner, I am definitely still battling with my one eternal enemy – the flab. My new year resolution of staying fit and healthy is going down the drain – fast!
In my defence, I was diligent with my workouts in the beginning. Running and cycling, with the additional resistance training in my very own home. Even with a gym's plethora of equipment and trainers to teach me what I need to do to get results fast, I could hardly convince myself to spend that extra money. Especially not with information so readily available on the internet. However, I must admit. It sure gets boring doing the same old routine day in, day out, and before long, I found myself slacking.
I needed something to motivate myself. Something to keep myself looking forward to a work out. Preferably, without breaking the bank. Sure, I am quite a demanding fellow but I believe a whole lot of us share similar sentiments.
Conversely, imagine this. The spectacular Fullerton Bay skyline at night; lively music blasting in the background; and the best looking trainers who are out to make your time worth it – all for a low price of nothing.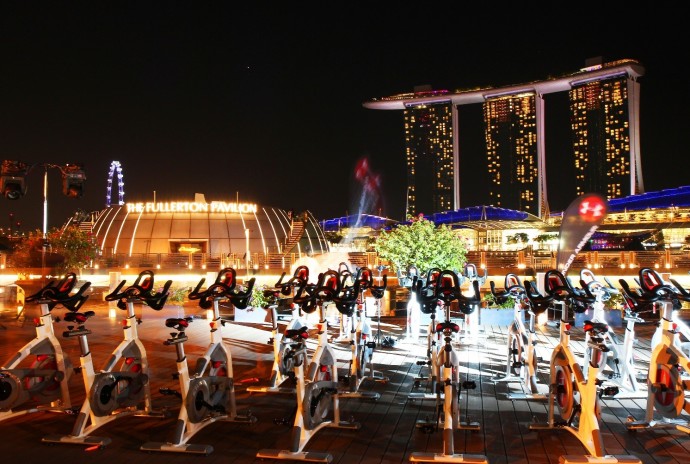 While it sounds like it's too good to be true, it is indeed an exciting new collaboration between U.S. sports-wear brand Under Armour and boutique spin studio, 7cycle. Happening right beside Fullerton Hotel, [email protected] x 7Cycle Outdoor Night Ride aims to get everyone started on their fitness goals in 2015!
It was definitely intimidating to be sweating it all out in the middle of CBD, looking worst for wear. However, the trainers were incredibly charismatic and motivating – they quickly infected all 20 of us with the same energy! Honestly, with the stunning view and up-beat tunes, I felt like I was at a dance party after a hard day's work instead.
I have been to a couple of spin classes, with trainers constantly shouting over our heads to push myself. While it was indeed a gruelling work-out that made it worth my time, I always had to coerce myself to turn up for the classes. On the other hand, the gruelling 45 minutes here, including overcoming imaginary "steep hills" and resistance training, went by in a flash and hardly felt like a chore. What's more, their open-level classes made everyone felt welcomed regardless of age or fitness level. Not to mention, the trainers coming by throughout the class, giving out high-fives and asking us to drink in the scenery and the atmosphere kept us motivated – and to keep on challenging ourselves!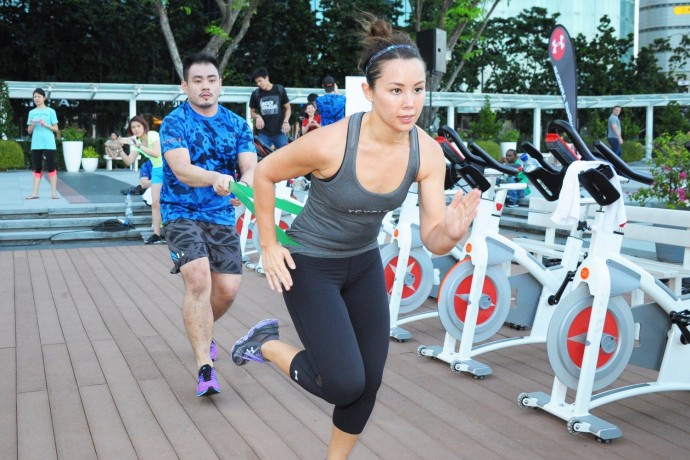 7Cycle seems to stand out from the usual fare of gyms. Boasting a "unique attitude towards fitness, nutrition and holistic living", the work-out left me feeling refreshed and energised (a great release of endorphins), and not to mention that great sense of accomplishment – and not something you dread.
Best part about all this? It's completely free. Happening bi-monthly on Tuesdays at 6.30p.m/7.30p.m. next to the Fullerton Bay Hotel, it features three types of spinning session to keep things interesting; the Signature 7Cycle (my personal favourite as it includes hand weights), 7Cycle Road (a music-based work out) and the 7Cycle Bootcamp (a high intensity work out for those looking for a challenge). The location is central, and perfect for office-goers in the area – just do a quick change in the office and you're ready to go.
So, make sure you get warmed up and sign up for your free session soon!
[email protected] is up for registration for free at the 7cycle website; http://www.7cycle.sg/.
About the Writer
Jessica is a young lady of many obsessions. She gets herself into everything ranging from the latest in the monochrome fashion world (she only wears black, and sometimes, white) to convincing the masses that Community is the best TV series ever made.
Currently, she enjoys looking like Sailor Mercury had a baby with Wednesday Addams.