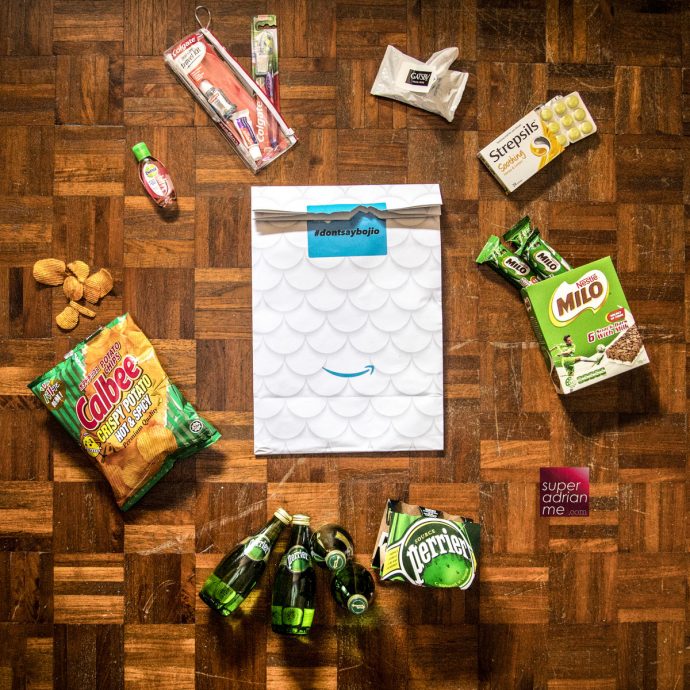 With the hype and speculation of Amazon branching out to South-east Asia, Amazon has finally made the official announcement of its service in Singapore. You might be wondering what all this hype is about. How will it make a difference? Amazon Prime Now will make an impact on our everyday life with its free two-hour delivery service. THAT CONVENIENCE… OMG!!!
What can I buy from Amazon Prime Now?
More than just groceries, you can get your favorite electronic gadgets to toys for kids to chilled beverages for last minute party. YES! Chilled Beverages!!! You now no need to find a life hack to chill a new bottle of Chardonnay before the party ends, just order it and it will be delivered chilled.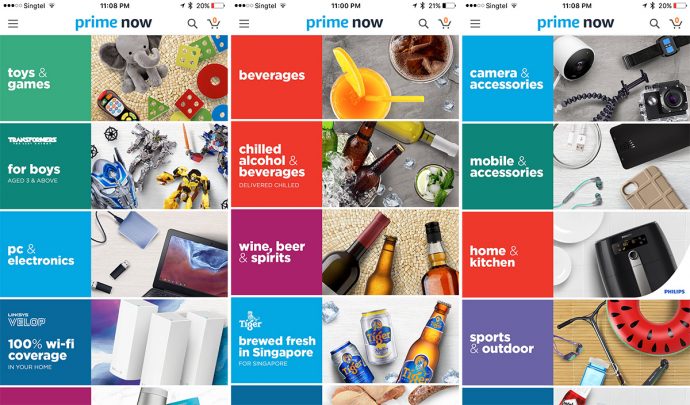 What about the pricing?
At launch of this new service, Amazon had open up this service to everyone without the need of any subscription to Amazon Prime (a subscription for faster, free shipping and many more perks). And the two-hour island wide (mainland Singapore & Sentosa only) delivery service is free if you spend over S$40, or pay S$5.99 for orders under S$40. There's also an even faster one-hour delivery service which will be charged at S$9.99 if you need your items urgently. It operates for seven days a week from 10am to 10pm daily.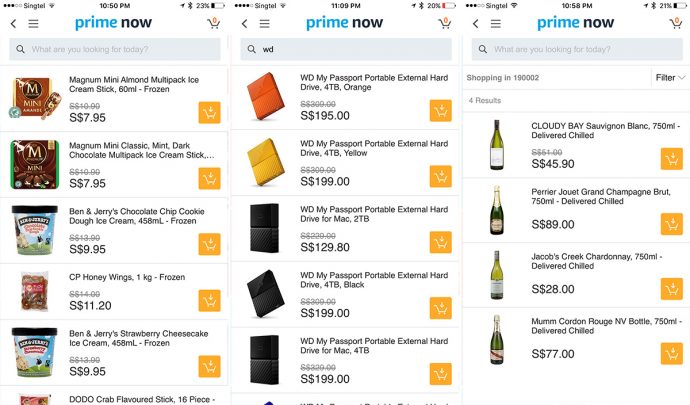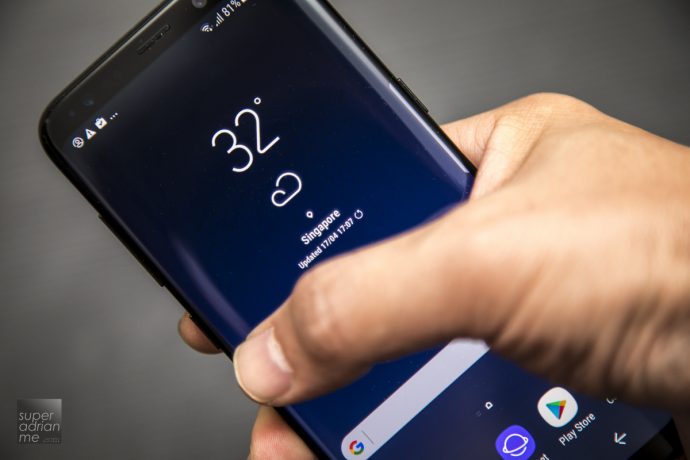 So far we had found the pricing to be competitive to those at retail outlets and other online stores. We also notice some promotional pricing on Amazon Prime to be very attractive. Like the 4TB WD My Passport External HDD which is retailing at S$309, are now S$195 on Amazon Prime or the highly popular Samsung Galaxy S8 smartphone from as low as S$848. And by paying your first order with Visa, you even get an additional S$20 discount when you checkout. WOW
Why Amazon Prime?
Imagine it had been a busy week at work and you totally forgot that you had no more food for your pet dog and you got no time to detour to the supermarket because you have a hot dinner date tonight. No worries, just let Amazon Prime Now do the work and it will be delivered to your door steps in two hours. You can have your romantic night and your canine buddy will be fed. Everyone will be happy provided your dinner date went well.
 Or everyone in the family is down with gastric flu and no one has the strength to get out of the house to refill that empty fridge. Amazon Prime Now will get the job done for you swiftly and everyone can concentrate on resting well and recover sooner. These may all sound extreme, but these are some of the true life stories found on Instagram under the hashtag #PrimeNow, where Prime Now users around the world have submitted their moments with the service.Now we can all start sharing our #PrimeNow stories from Singapore's point of view. An island wide fast delivery service that we never had before on our sunny island.
I'm recovering from the stomach bug that has hit our family. It's really nice to be able to grocery shop from home and not have to expose the public to these germs. I love #Amzon #PrimeNow. I picked up some #sauerkraut from @wildbrine and green juice from @evolutionfresh to get me back to health. #paleo #primal #keto #ketogenic #eatfatgetthin #groceryshopping #food #realfood #cleaeating #greenjuice #primal #glutenfree #dairyfree #guthealth #probiotics #familylife #parenting #healthy #weightwatchers #fatloss #hacks #podast #healthyfoods #recovery #greens
A post shared by chewAbles (@chewables.doables) on