If you are looking for great deals these few weeks, you must check out ZALORA's 11th-anniversary birthday bash and Shopee's 4.4 Savings Sprint. Book your flights for your next vacation to Japan. ANA has special fares on offer. And Australia invites you to come and say G'day with "Great Australian Deals". There's no better time for shopping online in Singapore.
ZALORA 11th Anniversary Birthday Bash till 29 March 2023

Shop on ZALORA for 50 to 90% off on fashion, beauty and lifestyle brands from 23 to 29 March 2023. Brands such as Nike, Trendyol, Calvin Klein, adidas, Superdry, Coach, Longchamp, Michael Kors, Zalia, agnes b. and more are participating in the offers, which promises an exciting assortment with add-on deals happening every day.
Keep an eye out for 111 items going at only S$11 to celebrate 11 years of ZALORA. Enjoy extra discounts when you check out you pay with PayLater by Grab, Atome, and Maybank. Customers using PayLater by Grab receive an extra 11% off in addition to the deals. PayLater by Grab offers two payment plan options – full sum in the following month, or in 4 monthly instalments. Shoppers using PayLater by Grab should look out for S$110 Grab Gift Vouchers being given away, along with 2 pm Flash Deals. Turn on push notifications on the ZALORA App so you don't miss it.
Shop your looks on ZALORA during the sale from 23 March 12 am till 1 April 11 am, and get an EXTRA 35% off on selected Nike products by using the code SPORTS35.
Enjoy up to 50% off selected products and a 15% discount on all items storewide at MAKE UP FOR EVER on ZALORA during the Birthday Fashion Bash campaign. Additionally, there is a Buy 2 for 20% off promotion, which also offers a 5% cashback plus exclusive bundles, such as the MIST & FIX SETTING SPRAY 100ML 1 FOR 1 BUNDLE and the MIST & FIX SETTING SPRAY 30ML 1 FOR 1 BUNDLE, providing 50% savings. Receive various gifts with purchase, such as a Pore Minimiser Step 1 Primer 5ML (worth S$12) when they buy any 2 MAKE UP FOR EVER Lip Products. Also get a free Rouge Artist For Ever Matte Thermocard (worth S$10) with any purchase, a free Rouge Artist Deluxe (Shade 408) with a minimum spend of S$75 (worth S$19), and a free MAKE UP FOR EVER Self Love Kit with a minimum spend of S$120 (worth S$50).
Shopee 4.4. Savings Sprint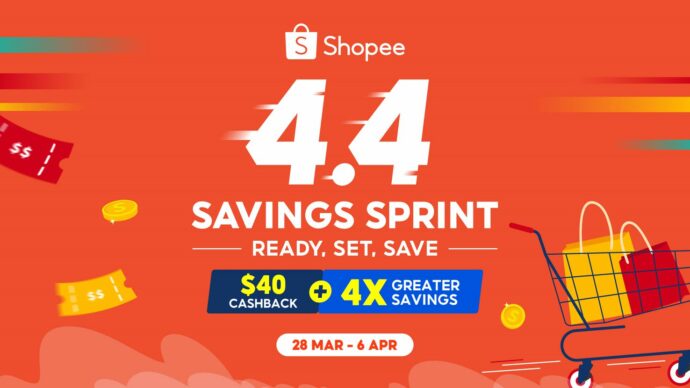 Get set for the Shopee 4.4 Savings Sprint 2033 that will happ en from 28 March to 6 April 2023. Enjoy up to 4X greater savings during this sale period and get a chance to receive up to S$40 cashback. Check out Cashback specials here.
Dream Home Upgrades on 28 March offer limited-time markdowns on the home & living and home appliances category. Savings Sprint Corner is refreshed at 12pm with buy one get one free and carton deals.
Get healthy on 29 March with Health Essentials. Look out for all day crazy savings flash sale at 12 am, 8 am, 12 pm, 2 pm, 6 pm and 10 pm. Bundle Savings Sprint offers slashed prices at 12pm. Try Biofinest DrinkUp, New Moon and JOMO products at introductory prices with 50% off. The Health Sampling Corner offers exclusive samples such as 21st Century and DrinkAid. Get up to 80% off featured brands.
Shop your F&B and essentials stock up on 30 March. Get upsized 15% Flash Cashback Vouchers at 12 am, 12 pm and 6 pm. Food & Beverages bundle flash drop will be released at 12 am and Essentials stock up bundles flash drop at 12pm. Look out for Ultimate Bundle Picks, ValueStar Bundles, Buy 3 get 10% off Global Mart Deals, Under S$50 Beer Bundles and 50% off deals. And enjoy up to 70% off featured brands. Also get 3 x S$10, 3 x S$20 and 3 x S$30 F&B deals at 12 am, 12 pm and 9 pm. Shop S$10 OSULLOC kombucha tea, S$20 B1F1 cooked crawfish tail, S$30 Master Grocer's wagyu ribeye.
On 31 March, enjoy up to 30% off at 12 am and 12 pm for Mummy Saves Best with Gooseket, Philips and Ergobaby products. There will also be S$4 and S$14 deals.
Techies must check in on 1 April for the lowest tech markdown of up to 74% off and S$144 voucher from brands including Atrix, Logitech, Gamebusted, Acer, Premiumsg, Camera.com.sg, Samsung and Bose.
Get your Beauty Brand box deals, buy one get one exclusive, and upsized beauty deals up to 40% off during the 12 pm Beautyholics slash and snatch on 2 April.
On 3 April, fashionistas can enjoy up to 70% off with upsized vouchers from 12 to 2 am and 10 pm to 12 am. Enjoy up to 80% off during Slash & Snatch when they are refreshed at 12 am, 12 pm and 6 pm. Don't miss the under S$4 accessories, under S$14 tops, under S$24 bottoms and under S$44 bags and shoes deals. There is also a Sports Savings Sprint. Enjoy upsized brand vouchers for Moving Peach, Asics, Under Armour and Optimum Nutrition. Shop for apparel and performance shoes at up to 80% off.
On 4 April itself, get S$40 cashback, 12 am Flash vouchers and 40% of Brand Box refreshed every four hours. Other promotions include 10% off brand vouchers, free shipping vouchers with a minimum S$15 spent, supermarket bestsellers at 8am flash deal at 8 am, and F&B bestsellers at 12pm flash deals, Price drop at 12 am, 12 pm, 6 pm and 10 pm. There will also be 24 hour brands flash sales from over 250 brands and a supermarket savings sprint with upsized 12% flash vouchers and upsized value bundles flash drop at 12 am and 12 pm.
S$875 to Fly To Tokyo on ANA
Book your flight to Japan from now till 28 March 2023 for travel between 1 to 3 May and 8 May to 30 November 2023. The ANA Hello Blue Sale offers round-trip economy class flights from Singapore to Sapporo, Osaka, Nagoya and Fukuoka from S$875, including taxes, fuel surcharges, and fees. That's a fabulous deal!
Visit ANA's website to book.
Great Australian Deals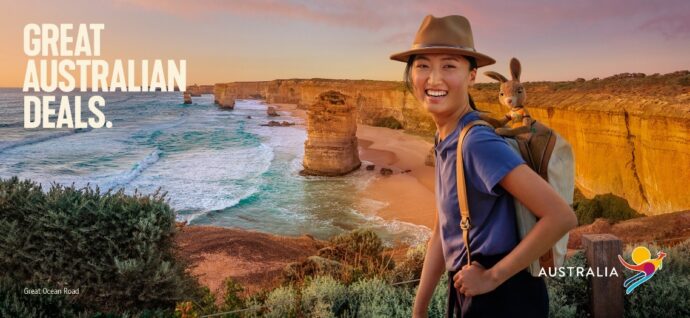 Time to head to Down Under with deals offered on the fourth edition of Tourism Australia's Virtual Travel Fair that ends on 9 April 2023. Take advantage of the exclusive fares and discounts across flight, hotel, tour, car rentals and experiences.
As part of the online fair, Tourism Australia has teamed up with five major airlines – Singapore Airlines, Qantas Airways, Scoot, Malaysia Airlines, and AirAsia X – to offer fares from just S$350.
You can book packages at Chan Brothers Travel, EU Holidays, PriceBreaker or online travel agencies such as Cheaptickets.SG, Klook, Traveloka, Luxury Escapes. Participating accommodation providers include TFE Hotels, Hyatt and The Ovolo Group while other partners include Hertz, and THL Online.
Featured Image from DEPOSITPHOTOS.com