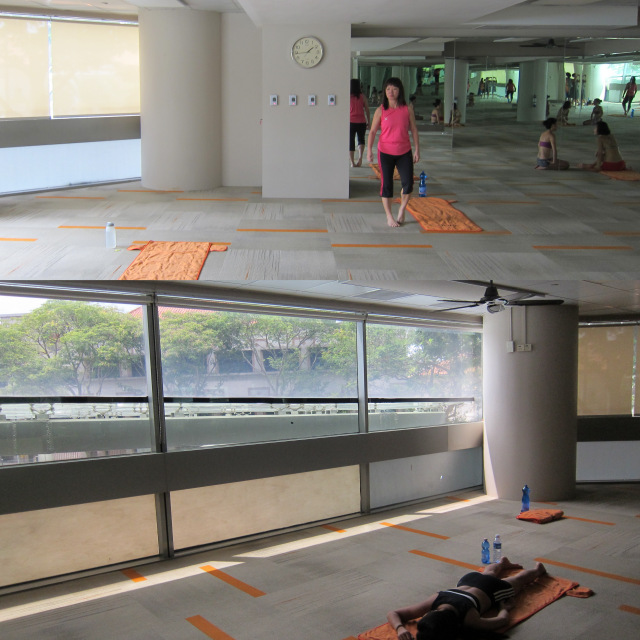 Bikram Yoga City Hall (BYCH), located in the heart of the city in Raffles City, will be re-branded as part of its eighth year anniversary in March 2014. BYCH has been in Singapore for almost eight years and is the first to introduce Bikram Yoga in Singapore and also the first authorised Bikram Yoga studio in Singapore.
Additional classes will be added to the schedule. Instead of the usual 56 classes per week, BYCH will increase that to 80 classes. On top of the BYCH Classic class, which features the traditional 26 Hatha Yoga postures done in a 40 Degree Celsius room and lasts for 90 minutes, BYCH will be introducing a 55-minute BYCH Cardio class. This class will only feature the standing postures of the 26 Hatha Yoga postures and is perfect for practitioners on the go. There is also the option for private classes and corporate team building sessions, which are by-appointment only.
Bikram Yoga City Hall Class Schedule
BYCH offers Classic and Cardio classes every hour or every other hour from 6.30am to 8pm on weekdays (last class at 8.45pm on Mondays and Wednesdays) and five classes between 8am to 4pm on weekends. Specific timings can be found on BYCH website. The class schedule allows flexibility and is great for before and after work workouts.
Yoga Studio and facilities
Bright and airy, the yoga studio includes large window panels and interface floor coverings that prevent the growth of molds, mildew and bacteria. Custom-made yoga mats and towels are also provided for participants.
Lockers are provided for BYCH guests to store their personal belongings but do bring a set of locks and keys. The shower room is very well-maintained with basic toiletries including shampoo and bath gel. Arrive early because the guest room gets crowded before and after classes.
Rates
BYCH offers drop-in, trial pass for first-time visitors as well as a membership series. For drop-in visitors, prices start at S$35 for a BYCH cardio class and S$50 for a BYCH classic class. Trial passes start at S$100 and membership rates start from S$1800.
Classic class
BYCH yoga studio provides a calm and conducive environment. Each studio is well lit and clean. During my experience at BYCH, there are both female and male participants in the Classic class. The class size is suitable for around 10 to 15 participants which is quite an ideal size for such an intensive workout. Certified Hot Yoga instructor, Chun Rei does not do the routine but gets everyone going with her energetic instructions. A series of deep breathing routine at the start of the class prepares participants for a series of paced stretching and standing postures. It is not immediately obvious at the start but the effects of the heated room started to show after a while. It definitely makes the moves harder than it seems! Many regular participants showcase enviable toned physique and seem to be reaping the benefits of hot yoga.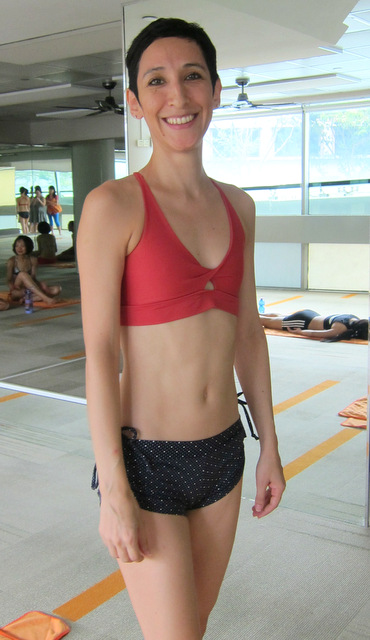 Tara is one regular participant at BYCH who has been practicing hot yoga for a whole decade. We look at her experience with hot yoga and BYCH.
How long have you been practicing hot yoga?
<Tara> I have been practicing yoga for ten years.
What are some of the benefits you have experienced with hot yoga?
<Tara> There are many benefits of practicing yoga in the heat. Muscles are more warm so it is safer and a bit easier to stretch more deeply. It also helps to increase the heart rate for more cardio benefit and to increases your metabolism. In addition, sweating helps to release toxins from your body.
How different is hot yoga from other forms of yoga?
<Tara> At BYCH there are two class options, the Classic is a 90 minutes classes which consists of Standing Series and a Floor Series that is the same for every class. The Cardio class is only the Standing Series in 55 minutes.
How has your experience with BYCH Hot Yoga been?
<Tara> Regular students keep coming back to BYCH because of the benefits they receive from the yoga as well as for their desire for more intensity and discipline in their practice.
What are some tips you have for beginners who would like to try hot yoga?
<Tara> The most important thing is that you are well hydrated before you come to class.  Also, you should have your last meal three hours prior to attending class.  As you feel more comfortable, wear clothes that allow your body to sweat and keep you cool.  Do not come in sweat pants and t-shirt.  When you are in the class just do the best you can. Stay in the room. Try your best and if you need to sit down, that is fine.  Your first class might just be about acclimating to the room. As long as you are trying you are getting benefits and you will get better and better each time you come.
BYCH Hot Yoga is located at 252 North Bridge Road, Raffles City #02-14, Singapore 179103.