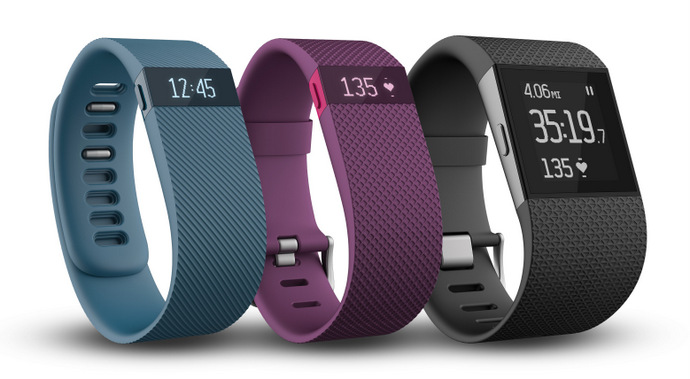 Fitbit's new wearable devices Fitbit Surge, Fitbit Charge and Fitbit Charge HR will be available in Singapore from early 2015. Continuing its mission to inspire people to lead healthier, more active lives, Fitbit extends its award-winning line with innovative devices to help a range of consumers reach their health and fitness goals.
Pricing 
Fitbit Charge (S$169) is available in black, slate, blue* and burgundy*
Fitbit Charge HR (S$199) will be available in black, plum, blue* and tangerine*
Fitbit Surge (S$329) will be available in black, blue* and tangerine*
*These colours are coming soon. Fitbit Charge, Fitbit Charge HR and Fitbit Surge will be available in small, large and extra large sizes (extra large only available through Fitbit.com).
Fitbit Charge – a high-performance wristband that delivers all-day activity tracking, real-time fitness stats and Caller ID right on the wrist for people who want to step up their everyday activities to improve their overall health.
Fitbit Charge features include:
Tracking of steps taken, distance traveled, calories burned and floors climbed
Exercise tracking to easily record workouts, see real-time exercise stats and have summaries appear automatically on the Fitbit dashboard
Bright, OLED display showing time of day and real-time stats
New automatic sleep detection monitors sleep quality using motion analysis to understand sleep and wake times; also features a silent, vibrating alarm
New Caller ID helps users stay connected to incoming calls; wristband vibrates and shows caller's name or number when a smartphone is nearby
High-quality, water-resistant, comfortable new textured wristband design with an improved clasp
Up to seven days of battery life so you can track an entire week with just one charge
Fitbit Charge HR – an advanced tracker that delivers continuous, automatic wrist-based heart rate, Caller ID and all-day activity tracking for active users: regular exercisers looking to push their fitness further.
Fitbit Charge HR includes all the great benefits of Fitbit Charge, plus:
Continuous heart rate right on the wrist 24/7 to get more accurate all-day calorie burn, reach target workout intensity and maximize training
All-day insights into overall heart health including resting heart rate and heart rate trends, alongside stats like steps, distance, floors climbed, calories and active minutes
Up to 5 days of battery life – Charge HR is specially designed with battery efficient technology, so you can spend more time tracking and less time charging
Fitbit Surge – a sleek Fitness Super Watch that offers the best of GPS, continuous wrist-based heart rate, all-day fitness tracking, and smartwatch functionality in one device, for people dedicated to reaching their peak performance.
Fitbit Surge includes all the breakthrough features of Fitbit Charge and Fitbit Charge HR, plus:
Built-in GPS delivers stats like pace, distance, elevation, split times, route history and workout summaries for smarter training
Records multi-sport activities like running, cross-training and strength workouts; see comprehensive summaries with tailored metrics, workout intensity based on heart rate and calories burned
Smartwatch features including Caller ID, text alerts and mobile music control let users train smarter and stay focused right from the wrist
Eight sensors – GPS, 3-axis accelerometers, 3-axis gyroscope, digital compass, optical heart rate monitor, altimeter, ambient light sensor and touch screen —working harmoniously to give users the most advanced tracking in the thinnest, lightest design on the market
Backlit LCD touch screen display with customizable watch faces, makes it easy to navigate through real-time stats, workout apps and alarms
Up to 7 days of battery life – Surge is specially designed with battery efficient technology, so you can track a work week or a marathon on just one charge