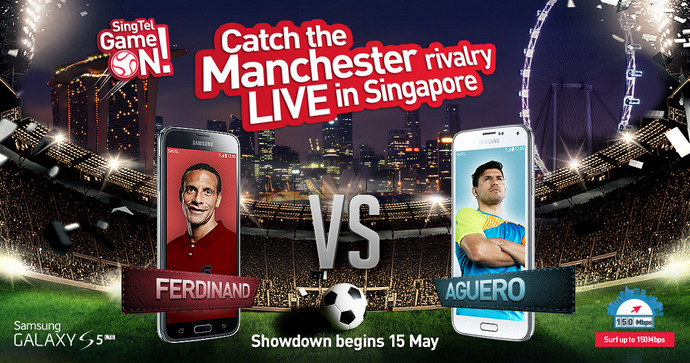 SingTel and Samsung will be bringing 2014 FIFA World Cup megastars, Rio Ferdinand and Sergio Agüero, to town on 15 & 16 May 2014 for the SingTel Game On! challenge. Rivals on and off the pitch, the world-class footballers will face-off in a unique two-day contest that aims to celebrate Singapore's passion for football in the leadup to the 2014 FIFA World Cup. 
Four lucky SingTel customers who purchase the GALAXY S5 LTE from April 11 to May 8 will win a dinner for themselves and a friend with the two football stars. Customers who purchased the handset can also get player autographs at a football carnival event on May 16 on a first-come-first-served basis.
The Ultimate Selfie Challenge
Ferdinand and Agüero will take each other on in the ultimate selfie challenge. Their task is to take photos of themselves with the help of a GALAXY S5 LTE phone while engaging in typical Singaporean activities as suggested by local fans via social media. For example, they could take a selfie of themselves enjoying a hawker centre meal. The footballers will then post their selfies on their own Twitter pages and encourage their fans to retweet them.  The player with the most number of retweets will win the challenge.
How fans can participate: Take a creative selfie while enjoying a popular Singaporean activity and share it via Twitter using the #SGGameOn hashtag from 23 April to 4 May. Ferdinand and Agüero will then choose their favourite selfie tweet and invite the lucky fan and a friend to join the other winners at the exclusive dinner.
The Football Carnival
The footballers will put their knowledge and skills to the test and thrill fans in a series of football-themed challenges at a street carnival event. Fans can also enjoy exclusive privileges on SingTel products and services at the carnival.
Stay tuned for more details at www.singtel.com/gameon.