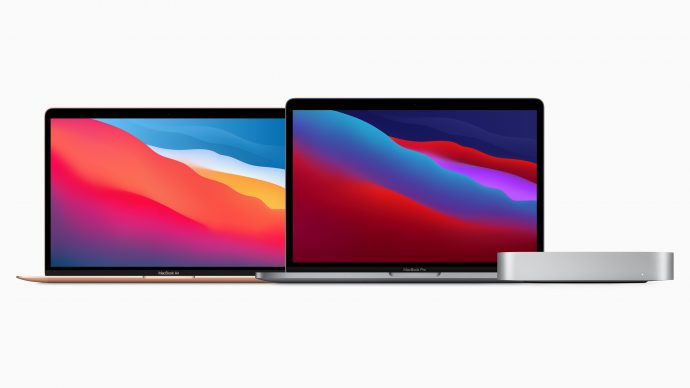 Today, Apple just announced it's new range of MacBook Pro, MacBook Air and Mac mini. Aesthetic wise, not much have changed. But internally there's a huge overhaul that might pave the way for how laptops are going to be made for the future. Apple made a custom system on a chip (SoC) called M1 that house the CPU, GPU, DRAM, Fabric, Cache and Neural Engine that unified memory architecture for dramatically improved performance and efficiency on a laptop.
M1 is optimised for Mac. It's like the A14 chip you find on the iPhone 12s but on steroids. It's built for the high performance of a laptop. Macs and PCs have traditionally used multiple chips for the CPU, I/O, security, and more. With M1, these technologies are combined into a single SoC, making data processing between these components faster like on a bullet train.
That being said, you will not be able to customise GPU for your preference. The main difference between MacBook Air 256GB and MacBook Pro 256GB, will be the M1 Chips are 7 Core GPU and 8 Core GPU respectively. Do note that the SSD and RAM are configurable.

M1 Is The Future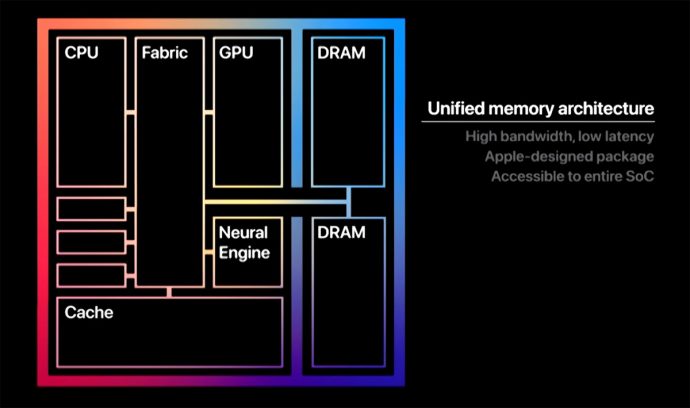 M1 is the first personal computer chip built using cutting-edge 5-nanometer process technology and is packed with an astounding 16 billion transistors. It features the world's fastest CPU core in low-power silicon, the world's best CPU performance per watt, the world's fastest integrated graphics in a personal computer, and breakthrough machine learning performance with the Apple Neural Engine. As a result, M1 delivers up to 3.5x faster CPU performance, up to 6x faster GPU performance, and up to 15x faster machine learning, all while enabling battery life up to 2x longer than previous-generation Macs. With its profound increase in performance and efficiency, M1 delivers the biggest leap ever for the Mac.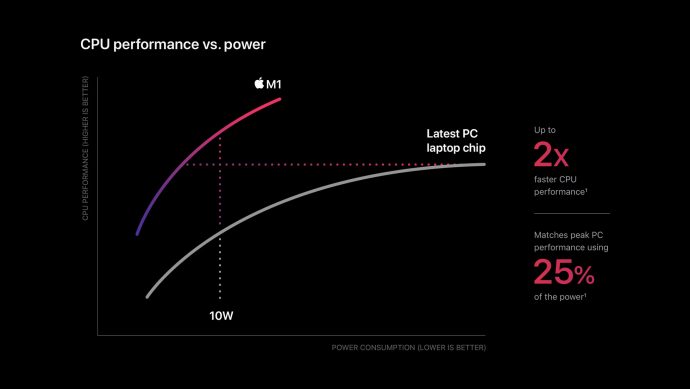 M1's GPU featuring up to eight powerful cores capable of running nearly 25,000 threads simultaneously, the GPU can handle extremely demanding tasks with ease, from smooth playback of multiple 4K video streams to rendering complex 3D scenes. With 2.6 teraflops of throughput, M1 has the world's fastest integrated graphics in a personal computer.
The M1 chip brings the Apple Neural Engine to the Mac, greatly accelerating machine learning (ML) tasks. Featuring Apple's most advanced 16-core architecture capable of 11 trillion operations per second, the Neural Engine in M1 enables up to 15x faster machine learning performance. In fact, the entire M1 chip is designed to excel at machine learning, with ML accelerators in the CPU and a powerful GPU, so tasks like video analysis, voice recognition, and image processing will have a level of performance never seen before on the Mac.

macOS Big Sur
macOS Big Sur is engineered, down to its core, to take full advantage of all the capability and power of M1, delivering a massive boost in performance, astonishing battery life, and even stronger security protections. With M1, things users do every day feel noticeably faster and smoother. Just like iPhone and iPad, the Mac now instantly wakes from sleep. Browsing with Safari — which is already the world's fastest browser — is now up to 1.5x speedier at running JavaScript and nearly 2x more responsive.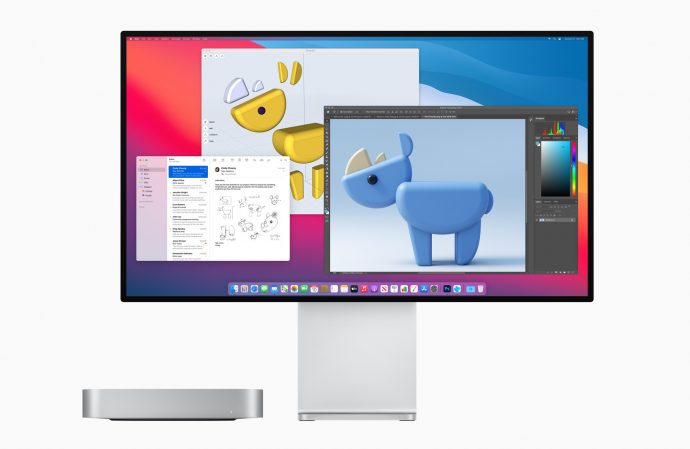 With Big Sur and M1, you can run a greater range of apps than ever before. All of Apple's Mac software is now Universal and runs natively on M1 systems. Existing Mac apps that have not been updated to Universal will run seamlessly with Apple's Rosetta 2 technology. And and iPad apps can now run directly on the Mac. Additionally, the foundations of Big Sur are optimised to unlock the power of M1, including developer technologies from Metal for graphics to Core ML for machine learning.
M1 powers the new MacBook Air, 13-inch MacBook Pro, and Mac mini. They join the rest of the Mac product line to form the strongest Mac lineup ever. This is the beginning of a transition to a new family of chips designed specifically for the Mac. The transition to Apple silicon will take about two years to complete, and these three systems are an amazing first step.

MacBook Air With M1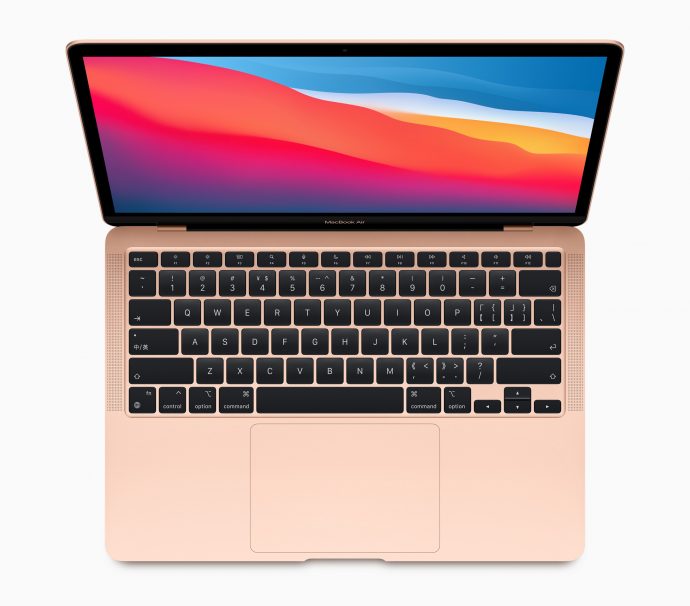 With its sleek wedge-shaped design, stunning 13.3 inch Retina display, Magic Keyboard, and astonishing level of performance thanks to M1, the new MacBook Air once again redefines what a thin and light notebook can do.
MacBook Air include Apple's latest image signal processor (ISP) in the M1 chip, which improves camera image quality with better noise reduction, greater dynamic range, and improved auto white balance and ML-enhanced face detection so users look their best during video calls.
The new MacBook Air with 256GB SSD is priced at S$1,449, while the 512GB SSD is priced at S$1,799.
When compared to the previous generation, the M1-powered MacBook Air can:
Export a project for the web with iMovie up to 3x faster.
Integrate 3D effects into video in Final Cut Pro up to 5x faster.
For the first time, play back and edit multiple streams of full-quality, 4K ProRes video in Final Cut Pro without dropping a frame.
Export photos from Lightroom up to twice as fast.
Use ML-based features like Smart Conform in Final Cut Pro to intelligently frame a clip up to 4.3x faster.
Watch more movies and TV shows with up to 18 hours of battery life, the longest ever on MacBook Air.
Extend FaceTime and other video calls for up to twice as long on a single charge.

MacBook Pro With M1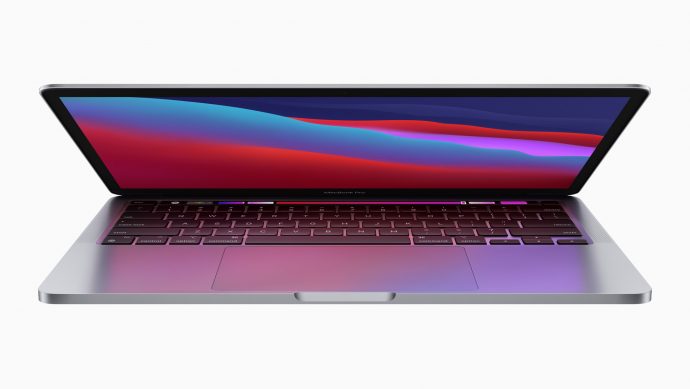 At first glance, the MacBook Pro seems pretty much like the MacBook Air. But it comes with better studio quality mic for your calls, longer battery life, brighter display and as well as a Touch Bar for quick access custom keys for the apps you using.
The new 13-inch MacBook Pro with 256GB SSD is priced at S$1,849, while the 512GB SSD is priced at S$2,149.
When compared to the previous generation, the M1-powered 13-inch MacBook Pro can:
Build code in Xcode up to 2.8x faster.
Render a complex 3D title in Final Cut Pro up to 5.9x faster.
Fluidly design intricate game scenes in Unity Editor up to 3.5x faster.
Perform ML tasks in Create ML up to 11x faster.
Separate out beats, instrumentals, and vocal tracks from a recording in real time in djay Pro AI, thanks to the amazing performance of the Neural Engine.
Play back full-quality, 8K ProRes video in DaVinci Resolve without dropping a single frame.
Compile four times as much code on a single charge, thanks to the game-changing performance per watt of the M1 chip.

Mac mini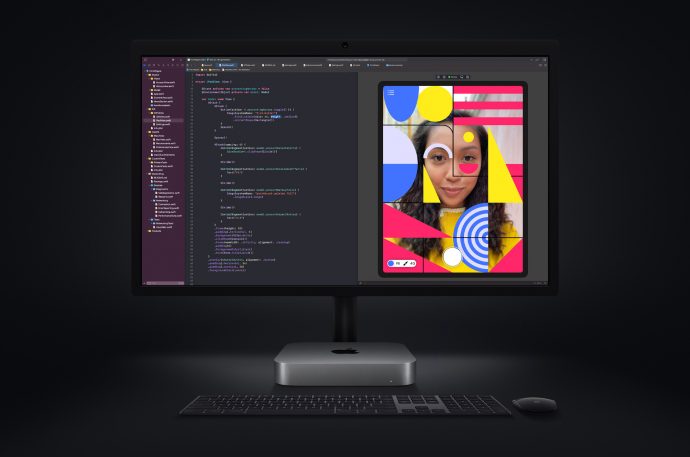 Mac mini is Apple's most versatile computer, and now with M1, it packs a staggering amount of performance and incredible new features in such a compact design.
Mac mini also features an advanced thermal design to sustain its breakthrough performance while staying cool and quiet, support for up to two displays including Apple's Pro Display XDR in full 6K resolution, and Wi-Fi 6 for faster wireless performance and the Secure Enclave in M1 for best-in-class security.
The new Mac mini with 256GB SSD is priced at S$979, while the 512GB SSD is priced at S$1,279.
When compared to the previous generation, the M1-powered Mac mini can:
Compile code in Xcode up to 3x faster.
Play a graphics-intensive game like "Shadow of the Tomb Raider" with up to 4x higher frame rates.
Render a complex timeline in Final Cut Pro up to 6x faster.
Take music production to new levels by using up to 3x as many real-time plug-ins in Logic Pro.
Magically increase the resolution of a photo in Pixelmator Pro up to 15x faster.
Utilise ML frameworks like TensorFlow or Create ML, now accelerated by the M1 chip.