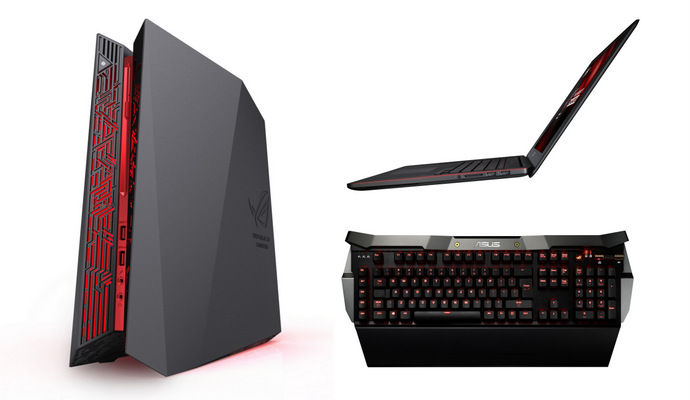 ASUS just announced their latest range of high performance & space age looking suite of Republic Of Gamers (ROG) gaming products that includes, laptop, desktop PCs, mouse, monitor and many more. Every product crafted with the epic power and beauty demanded by the world's best gamers, while maintaining in a compact and sleek form. This latest range will arrive in Singapore store shelves starting from July 2014.
ROG G20 Gaming Desktop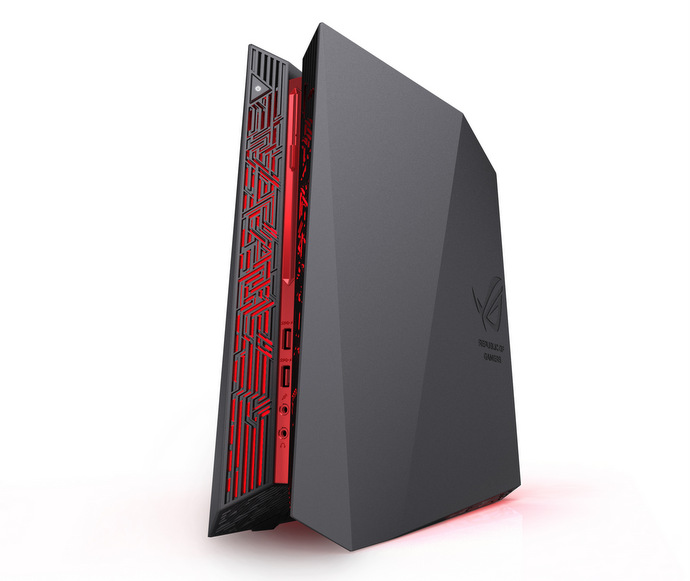 ROG G20 is designed to dominate the field of small-form-factor gaming desktops, and has already received the exclusive Best Choice of the Year Award and Best Choice Golden Award at Computex. The G20 features a compact 12.5-liter case that houses an Intel Core i7 processor and an NVIDIA GeForce GTX 780 graphics card for unstoppable HD-gaming performance and entertainment.
G20 has no visible exhaust vents, but takes advantage of natural convection with a thermal design featuring a hidden airflow tunnel that ensures efficient heat management and near-silent operation, measuring just 25dB at idle. G20's case has a sophisticated design, with aggressive lines, Mayan stenciling, matt-black finish and customizable lighting effects that showcase up to eight-million colors across three different zones.
G20 is as energy-efficient as it is powerful. In Eco Energy Mode, it requires only 20W — delivering energy savings 50% better than the industry average. It also features the ASUS-exclusive Aegis application for monitoring system performance through a gamer-friendly user interface.
ROG GR8 Console Gaming PC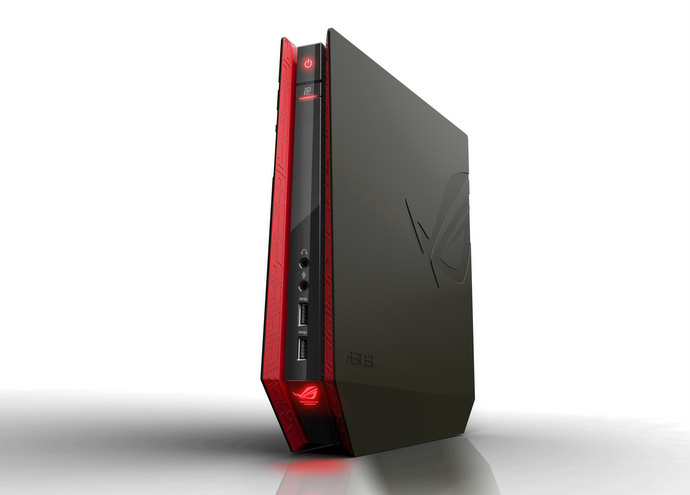 ROG GR8 is full-on PC gaming with high style and fantastic convenience. With an Intel Core i7 processor and NVIDIA GeForce GTX 750Ti graphics, GR8 packs immense PC power into sleek console dimensions for gaming experiences that push far beyond your expectations. From the outstanding SupremeFX audio output to 4K/UHD graphics and no-lag Gigabit Ethernet networking, along with a design allowing easy upgrades of storage devices and memory, GR8 is hardcoded for gaming. The slimline design is as at home in the living room as it is in a bedroom, and occupies hardly any space. It also has a built-in Miracast™ receiver, allowing HD content from supported Android smartphones and tablets, Windows 8.1 PCs and WiDi 3.5+ devices to be streamed straight to the big screen.
The first GR8 runs Windows 8.1 and is fully compatible with SteamOS and the Steam Controller. A SteamOS-powered ROG GR8 will be launched at a later date, in alignment with Valve's Steam Machine schedule.
ROG GX500 Gaming Notebook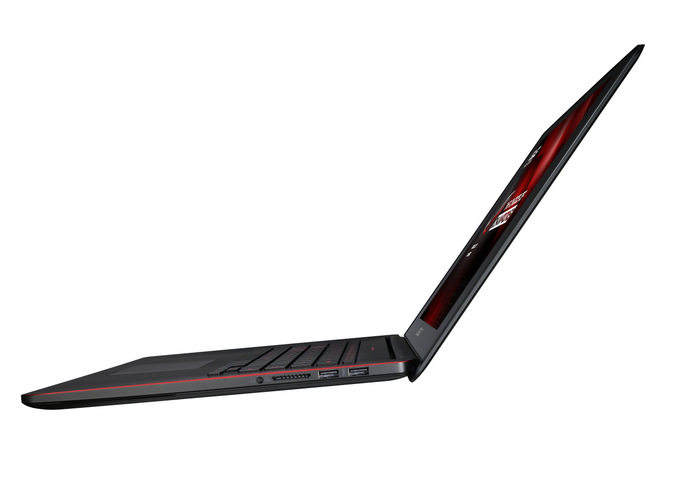 GX500 is ROG's new ultra-thin, ultra-cool notebook that offers gaming power to go. Just 19mm thick — the thinnest in the 15.6-inch gaming notebook class — and 2.2kg in weight, GX500 packs specifications far beyond its size, with the latest Intel Core i7 processor and NVIDIA GeForce GTX 860M graphics. It also boasts a 4K/UHD (ultra-high-definition) 3840 x 2160-pixel display with exclusive VisualMaster technology that provides an incredibly wide colour gamut of 100% NTSC, a world-first on a notebook. Gaming on the go has never looked this sharp. GX500 is also equipped with intelligent dual-fan cooling system for exceptionally-efficient and effective cooling.
ROG Gladius Gaming Mouse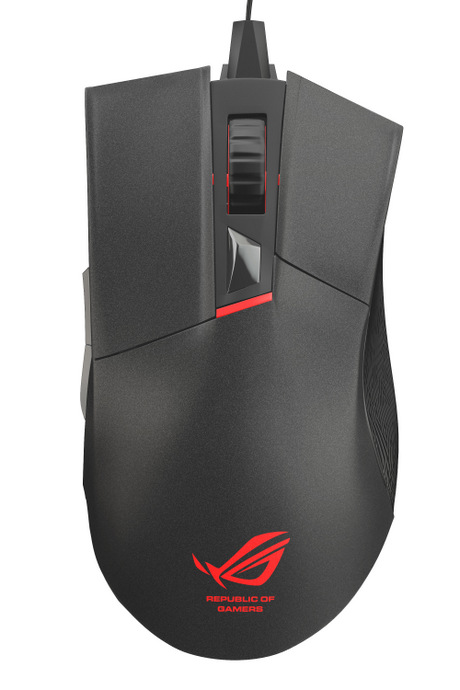 ROG Gladius is an optical wired mouse that is engineered for first-person-shooter games and shaped by the needs of the world's finest gamers, who demand advanced ergonomics, precision control and fast, flexible customisation.
Gladius is designed to fit the right hand perfectly and is manufactured with smooth-touch materials that stay cool in the hand, while high-quality, Mayan-patterned rubber ensures a secure grip. A fingertip DPI switch, all-programmable buttons, including two side-mounted switches, complete the epic ergonomics and impressive functionality. Gladius has a 6400dpi optical sensor capable of tracking at up to 200 inches per second and 50G acceleration. It is even customisable, with an exclusive socket design that lets users slot in new or favorite switches to set their ideal click resistance, plus the unique detachable cable design allows gamers to remove the connecting cable for tidier transport.
ROG GK2000 Gaming Keyboard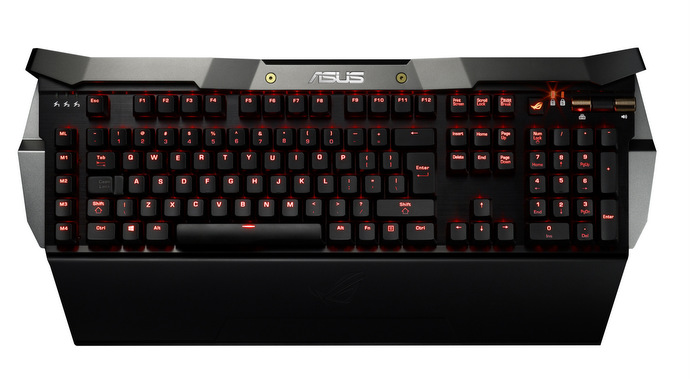 ROG's new GK2000 gaming keyboard exhibits mechanical mastery to ensure gamers dominate the battlefield. With mechanical Cherry MX Red switches, gamers using GK2000 are treated to input that's both tactile and superbly responsive.
GK2000 allows users to customise almost all keys, and multiple actions can be applied to each one, meaning even complex sequences can be enacted with one touch. Built-in anti-ghosting technology ensures that every key press counts. GK2000 also looks as great as it commands, with premium metal accents and ROG-red backlighting with five eye-catching effects.
ROG Swift PG278Q Gaming Monitor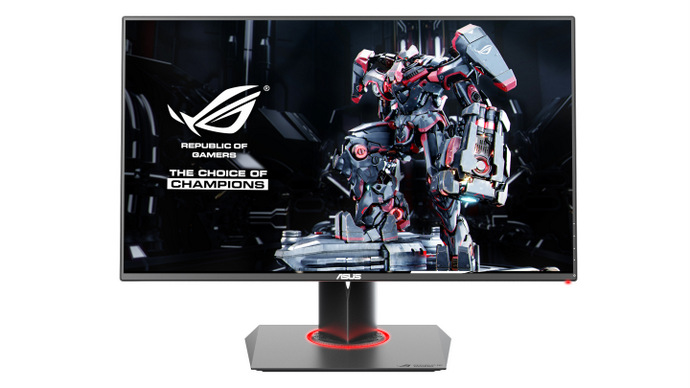 ROG Swift PG278Q is a stunning premium 27-inch gaming monitor that is the first and fastest in the world to support NVIDIA G-SYNC technology for stunning smoothness, and crisp 2560 × 1440-pixel (WQHD) resolution visuals.
ROG Swift PG278Q is able to synchronize with the GPU's render rate to provide stunning smoothness and ultra-fast response — for incredible images today and ready for the next generation of gaming. Tearing, graphics stutter and latency are a thing of the past, and a smooth visual experience is ensured by a rapid refresh rate of 144Hz and a fast 1ms response time. An exclusive dedicated Turbo key allows the user to select refresh rates of 60Hz, 120Hz or 144Hz with just one click, removing the need to faff with on-screen display (OSD) settings.