There are many taxi booking apps in Singapore, but recently GrabTaxi app caught our attention for its swift booking, interactivity and security features.
I have been using GrabTaxi App frequently for the past two months, and about 90% of the time I am able to secure a taxi in less than two minutes. That's just how fast it works.
The app will locate the nearest taxi from your pickup location and immediately sends out a pickup request to these drivers.
You will not be able to choose the taxi operator, but I guess that is why you get your taxi faster. According to taxi drivers I spoke with, they like this app mainly because the app prompts users to input their destination which is better for the drivers to plan their journey for their shift change.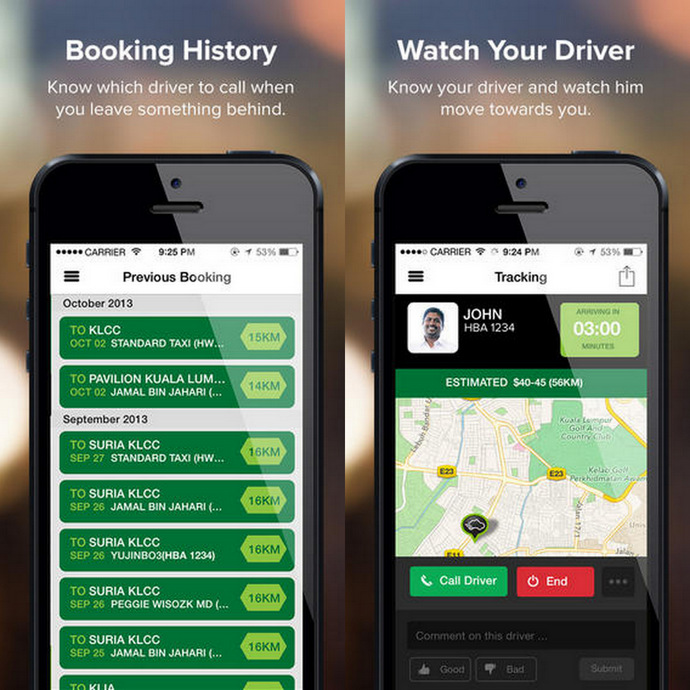 Once you secure your taxi booking, via the GrabTaxi app, you will not only get the car plate number, but you will be prompted with the driver's name and contact number.
There was one time I got the address wrong when I made my booking, I could immediately make a call to the taxi uncle to direct him to my correct location. That's quite neat. Now you do not waste time waiting for the driver to call me when he cannot find me at the pickup point.
So if you are traveling alone and especially for the ladies, you can easily pass these information to your love ones to let you feel safe. With the booking history, even if you dropped a document or anything important on the cab, you can just dial to the driver for immediate assistance.
The app had a rough start when it launched in October 2013. When I tried using it then, I could never get a successful taxi booking. But after months of hard work by the makers of GrabTaxi app introducing incentive schemes for the taxi drivers, GrabTaxi app finally makes it as an app worth sharing with friends and family.
The app is now available on Apple iOS, Google Android, Windows Phone and Blackberry.