Lenovo VIBE P1 is a literally a "power packed" smartphone, with an astounding 5000mAh battery that can last up to 81 hours of usage. VIBE P1 even comes with a physical power saver switch that instantly extends battery life and OTG (On-The-Go) Charging feature that rapidly charges the smartphone, leaving you battery-hungry no more.
Lenovo even sponsored a #81hourchallenge campaign with NBA superstar, Kobe Bryant, to promote the long lasting battery life of VIBE P1.
The Lenovo VIBE P1 is now available at Singapore retail stores in Silver, starting at S$399. The Gold version is expected to arrive in 2016.
The Review
Our writer, Gene, has been trying out the Lenovo VIBE P1 and her conversion from iPhone to this Android smartphone:
The gripe I have with most Android phones (I am an Apple fan and user) is the experience. Somehow, they seem to make it so difficult for a new user to understand and navigate their way around. I was "lost" half the time while trying to set up Android phones. Before the first text message can be sent, the phone has been chugged aside, somewhere, in the storage closet.
This remarkably sleek beauty is a breeze to use and oh my, I love the app drawer. Unlike the iPhone and some Android smartphones, I don't feel that I am being "forced" to show all my apps and clutter the beautiful wallpaper on my home screen. With app drawer, I can pull out the more important and frequently used apps on the home screen while "hiding" the rest in one place.
And, the battery life is amazing. It remained more than 50% charged on the 3rd day, almost like a god send for busy working professionals who are always on the go. I am sure that most of you who are reading this have experienced hair-raising moments when the phone battery went zilch. Well, time to ditch the charger and guess what? You can even charge another phone with yours! Another reason for you to be everyone's best friend!
In general, the user experience has been rather amazing for me. The micro SD card slot makes storage so much easier and cheaper. However, photography fans may be disappointed to know that the pictures produced ain't as sharp as those shot by an iPhone but if we you look at it in another way, the selfies will always look better. Nevertheless, it does have an advantage when it comes to shooting within dimly lit areas. With a Samsung-developed 16-megapixel back-side illuminated sensor, supported by a tricolour flash module and infrared AF, the optical image stabilisation which makes low light shooting more superior than most phones.
About the Writer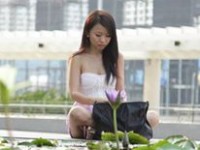 Gene Kwek is a lifestyle marketer, travel flirt and nemo-loving addict who is constantly trying to knock down her bucket list of unicorn pursuits. Nomadic instincts strike a tad too frequently. Sometimes, she cannot decide if she wants to be on land or in the sea. #firstworldproblems