My Transport Singapore app on iOS and Android platform is your One-Stop app to acquire traffic information, bus arrival timings, traffic updates, car park slots and even the weather forecast. The app aims to help motorists and public commuters to travel through the island more efficiently. So here are some tips to plan your journey with MyTransport.SG mobile app to become a Smart Commuter who gets to your destination on time and lessen the frustration during your journey.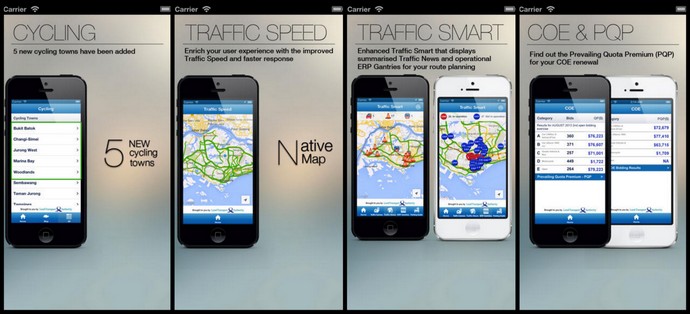 The app also provides useful information such as the Weather Forecast & PSI readings when you are not commuting.  You can get detailed maps of the new cycling tracks in Bukit Batok, Jurong West, Marina Bay, Woodlands and extension paths in Tampines and Yishun. You can also contribute to make your neighbourhood a better place by snapping and sending road infrastructure feedback to LTA, such as potholes on roads, faulty streetlights and obstructed signage, directly from the app with the Snap & Send feature.
MyTransport.SG is a mega app that offers tons of information for you to play around with. So to help you get the hang of the app faster, here are our recommendations on using this app based on either a motorist or public commuter.
For The Everyday Motorist:
MyConcierge will allow you to set Notification Time Slots during peak hours on weekdays to push the latest Traffic News on accidents and slow traffic during these hectic hours on the roads. So there will be no unnecessary notification after these hours. You can also choose to be notified by the expressways you frequent during these hours.
Heading to town? Use the Parking Guide to get the latest figures on available slots at car parks in shopping malls. So you will know which car park is full even before you reach and start planning an alternative. You can also bookmark your favourite car park on MyConcierge.
Not sure about the operating hours and charges for ERP Gantry? All these and the current charges can all be found on ERP Rates & Gantries
Get a bird's eye view of the latest traffic condition on the expressways via live updates from Traffic Cameras islandwide.
Smart Traffic will provide highlights on roads with slow traffic and also all of the above information on a map view for those who prefer to view all the information in a glance.
For Public Commuters: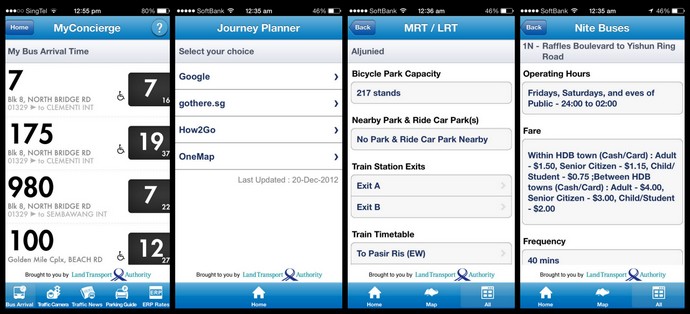 Bus Arrival Time for both SBS and SMRT buses for bus stops across the island can be found here. So check the arrival time 15 minutes before you leave home and get to there just in time to catch the bus without wasting time at the bus stop. You can also add your frequent bus service to MyConcierge for quick reference.
Heading home late and want to catch the last train? MRT / LRT guide gives you the last & first train timings as well as train frequency during peak and off peak hours. If you are taking a Night Rider bus service, Nite Buses guide is there to show you the bus stops, operating hours, frequency and fare.
Cannot find your way to your destination? Journey Planner will recommend useful websites like gothere.sg to aid you by recommending directions via either buses, MRT / LRTs, taxis or driving directions. For public transport, gothere.sg will also provide the cost of the fare and even include ERP & peak hour charges if you choose the taxi option.
MyTransport.SG mobile app by Land Transport Authority (LTA) manages to combine all the useful information from various localised apps to create one ultimate app that you will need to use to have a swift and efficient journey when travelling across island.