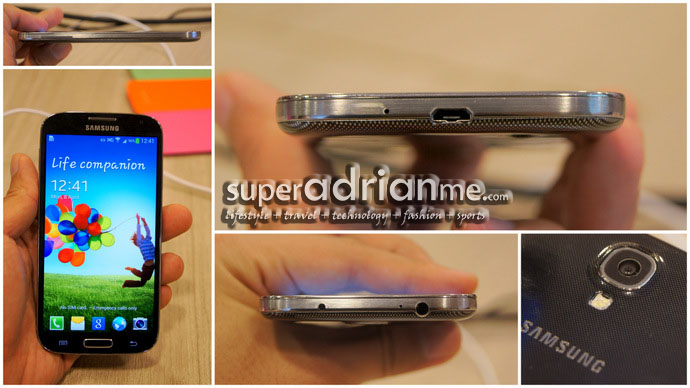 Although the actual Singapore launch date of the Samsung GALAXY S4 has not been officially announced yet, we had a hands on session with the new Samsung GALAXY S4 and trialled the new features exclusive to Samsung GALAXY S4. The design & feel resembles a lot to its predecessor, Samsung GALAXY S3. Even with the increase of screen size from 4.8″ to 5″, the Samsung GALAXY S4 feels small and fits comfortably into the palm and I personally find the thin bezel very sexy.
The glossy back covers are super finger print magnets under the humid weather in Singapore. Overall the metallic side chassis and flushed Corning Gorilla Glass 3 glass display makes the phone look premium. The new Enhanced Camera Experience and new Gesture controls are pretty impressive and fun to use. But we shall stop here for now on the features of the smartphone, till we get a proper review unit and then we will give a more detailed review on these fun & innovative features. Let's focus of the cool accessories that Samsung has created exclusively for Samsung GALAXY S4.
The new Samsung S View Flip Case for Samsung GALAXY S4 is not just functional, it also gives the phone a more professional & corporate look. When closed, the window on the case is not just used for a quick display of display time & notifications, it also allows you to accept a call with a swipe without the need to flip open the case. The magnetic strip on the case also turns the smartphone from wake up mode to sleep mode when opened or closed.
A great accessory for those who constantly checks on their smartphone and now without the hassle to flip open the case. Definitely a top choice accessory for most Samsung GALAXY S4 users.
Constantly charging your smartphone and find it troublesome to plug out the cable when receiving a call? Samsung GALAXY S4 will now have an optional wireless charging back cover that will automatically charge the smartphone when placed on the charging dock. No more messy cables on the table top and these sleek & slim dock can fit into most interior without being an eye sore.
The wireless charging back cover is only slightly thicker than the original Samsung GALAXY S4 back cover. So you will barely notice the difference in thickness unless you put two devices side by side to compare.
If you prefer the "traditional" Samsung GALAXY flip case, the new flip cases for Samsung GALAXY S4 will be offering a good selection of candy pop colour for that extra attention you can get for the new smartphone.
So other than the cool & innovative features that the Samsung GALAXY S4 is offering, Samsung is ready to change the way you choose your smartphone accessories with these new cases & back covers.
Related articles