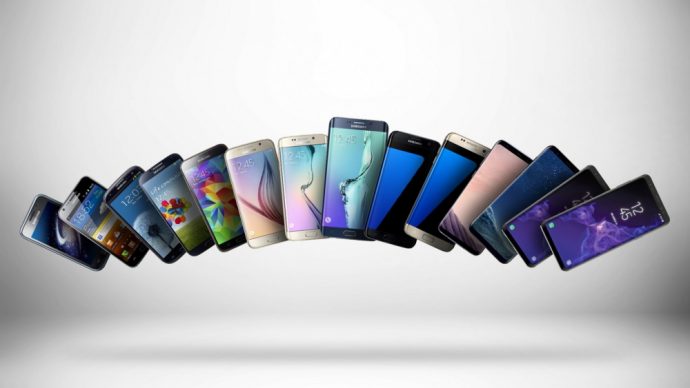 Since the first Samsung Galaxy S was unveiled in March 2010, the Samsung Galaxy S series of smartphones has come a long way to reach a new milestone with the new Samsung Galaxy S10 series of smartphones. Unlike any Galaxy S launch, this is the first time four variants were announced at the same time. To make things easier for you here's a quick guide on which of the S10 smartphones best suits you.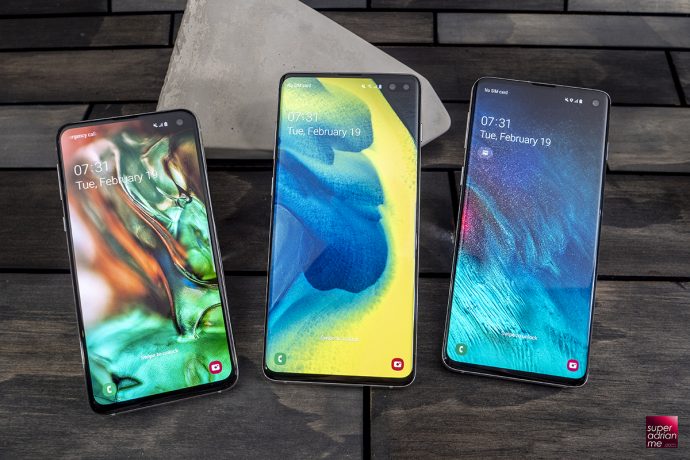 Galaxy S10 – designed for those who want a premium smartphone with powerful performance and sets the stage for the next generation of mobile experiences. First Galaxy S smartphone to have a triple camera system that covers from 0.5x ultra wide angle to 2x optical zoom to 10x digital zoom. Also comes with on-screen finger print scanner for a sleeker look to match the Infinity-O Display.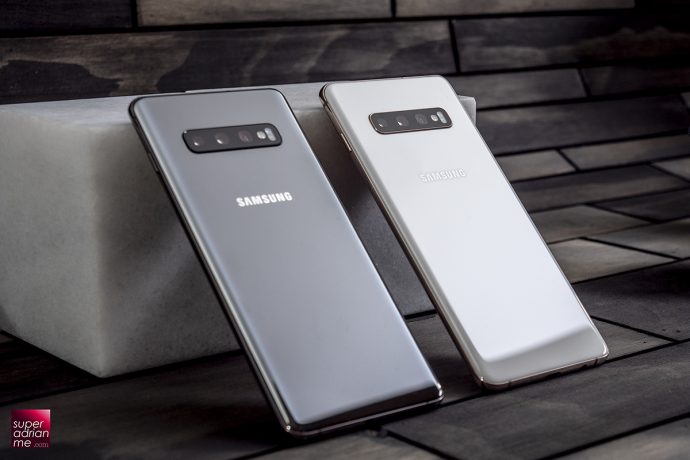 Galaxy S10+ – looking for a supercharged device, Galaxy S10+ from display to camera or performance is the next level S10. The only device with dual front facing camera. Hence the bigger hole punch on the Infinity Display. There's also the new premium Ceramic variant which is exclusive to the Galaxy S10+. We love the Ceramic White S10+ because of the rose gold metal trimmings around the phone chassis. CHIO MAX!!!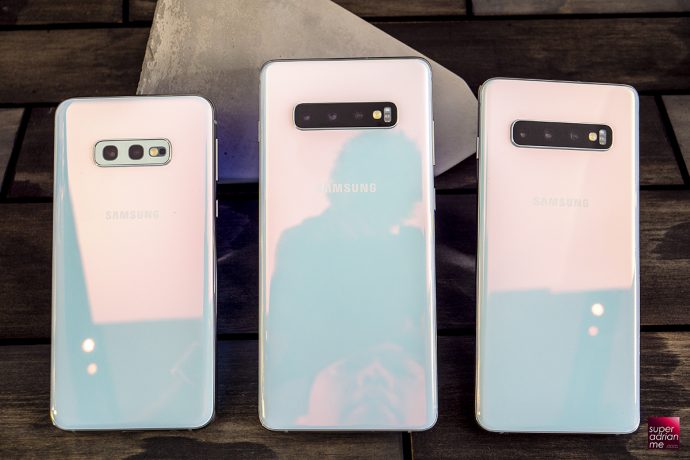 Galaxy S10e – built for those who want all the premium essentials in a compact package on a flat screen. Being the more competitively priced model, the S10e will only have a dual rear camera system that gives you an ultra-wide angle, less the telephoto camera on the S10. The fingerprint sensor has also been moved to the power button on the side.
Galaxy S10 5G – created for those who want more of everything and are ready for the fastest available data speed with 5G network and the most powerful features, just like the Galaxy S10. It comes with the biggest battery capacity out of all the S10 series variant at 4,500mAh and the largest display at 6.7″.

What are the main upgrades from Galaxy S9?
The key upgrades you will expect from the S10 series of smartphones will be the Display, Camera and Overall Performance.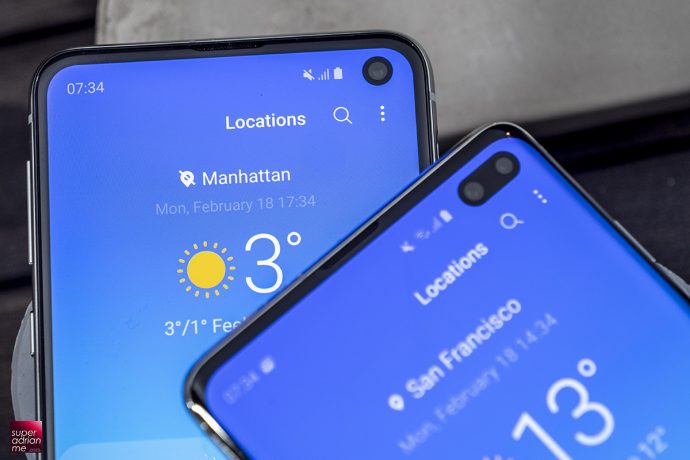 New Infinity-O Display
The world's first HDR10+ certified smartphone, the display delivers vivid digital content, and with dynamic tone mapping, you'll see a wider range of colour for a brilliant, realistic picture.
New hole punch edge-to-edge Infinity-O Display, with up to 93.1% screen to window ratio.
The Dynamic AMOLED display is also VDE-certified for vibrant bright colours and the industry's best contrast ratio on a mobile device for even deeper blacks and brighter whites.
Dynamic AMOLED display also reduces blue light through its TÜV Rheinland-certified Eye Comfort display without compromising picture quality or adding a filter.
First-ever display to embed Ultrasonic Fingerprint Scanner that reads the 3D contours of your physical thumbprint – not a 2D image of it – for improved anti-spoofing.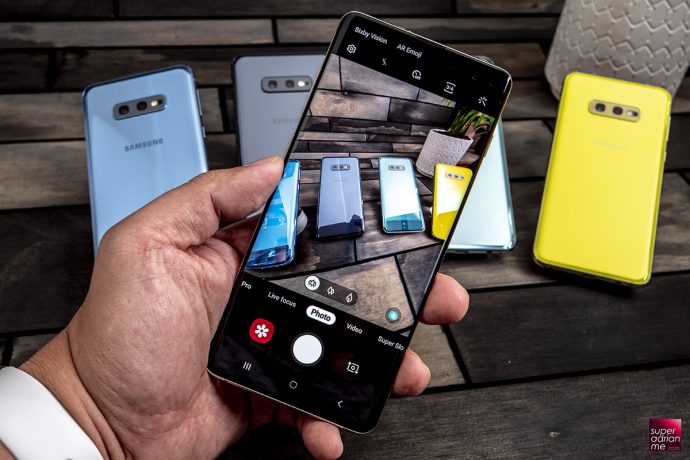 Pro Grade Camera
First Ultra-Wide Lens for the S Series, Galaxy S10 offers a 123-degree field of view, like the human eye, so what you see is what's in frame to capture that impressive landscape shots
Super Steady recording with digital stabilization technology which allows you to capture the moment without the shake. Both front and rear cameras can shoot in up-to UHD quality, and in an industry first, the rear camera gives you the flexibility to record in HDR10+.
With upgrades to the AI camera, the automatic scene detection now can optimise your shots for up to 30 scenarios, that's 10 more scene detection than the Note 9.
The all new Shot Suggestion offers automatic composition recommendations so you can frame your photo better than ever.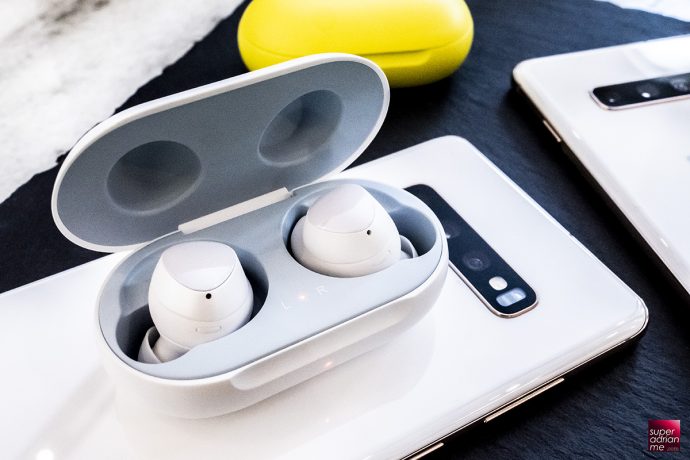 Intelligent Performance with AI
Machine-learning-based software that works hard, so you don't have to. AI software on the Galaxy S10 automatically optimizes battery, CPU, RAM, and even device temperature based on how you use your phone, and continues to learn and get better over time.
As an industry-first, Galaxy S10's Wireless PowerShare will charge compatible wearable devices. In addition, Galaxy S10 is capable of charging itself and a second device simultaneously via Wireless PowerShare, while connected to a regular charger, enabling you to leave your second charger at home while on a trip.
Up to 30% faster wireless charging on Qi certified devices.
Intelligent Wi-Fi that allows for an uninterrupted and safe connection by seamlessly switching between Wi-Fi and LTE, as well as alerting you of potentially risky Wi-Fi connections. Galaxy S10 also supports the new Wi-Fi 6 standard, making it possible for better Wi-Fi performance when connected to a compatible router.
Bixby automates your routines and provides personalized recommendations to make your life easier. With pre-set and personalized routines, such as Driving and Before Bed routines, which are customized based on your habits, Galaxy S10 makes things simpler by automatically reducing device touches and cutting steps out of your day.
Dolby Atmos for immersive audio during gaming mode, as well as a vapor chamber cooling system for faster and more stable game play experience.
It just gets BETTER
The Galaxy S10 line offers everything you have come to expect from the Galaxy S series and more— including Fast Wireless Charging 2.0, IP68 water and dust resistance, a next-generation processor and Samsung services like Bixby, Samsung Health, Samsung Pay and Samsung DeX. You will get the largest storage capacity available on a Galaxy device with 1TB of built-in storage and the ability to add an additional 512GB microSD card for up to 1.5TB.

Galaxy S10 Availability & Pre-Ordering
Galaxy S10, Galaxy S10+ and Galaxy S10e will be available in Prism White, Prism Black, Prism Green, Prism Blue, Canary Yellow and Flamingo Pink. Galaxy S10+ will also be available in two, all-new, premium Ceramic models: Ceramic Black and Ceramic White.
The Galaxy S10, Galaxy S10+ and Galaxy S10e will be available in stores and online beginning March 8, 2019 in select markets. Pricing starts at US$899.99 for Galaxy S10, US$999.00 for Galaxy S10+ and US$749.99 for Galaxy S10e.
Preorders for the Galaxy S10, Galaxy S10+ and Galaxy S10e begin tomorrow, February 21, 2019. For a limited time in select markets, consumers who pre-order a Galaxy S10 or Galaxy S10+ will receive a pair of Galaxy Buds (US$129.99 value) for free.
Singapore local pricing can be found in this article.