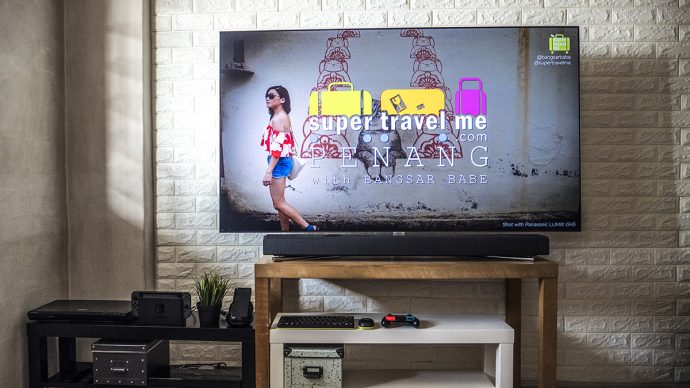 When I told my friends that I was going to get a 65″ TV fitted into my small HDB bedroom they all said I was crazy. The asked why I needed such a GIGANTIC television in my room. Well in actual fact, this was the only solution I had, when I was approached to review the latest Samsung QLED 4K TV. Since I bought an iPad 2 in 2011, the TV had almost completely become non-essential in my life. I mean, I only watch my favourite shows and movies right off the iPad. I suspect that's what most of us do as it is more convenient to bring your "TV" with you wherever you roam in the house or when you are out.
https://www.youtube.com/watch?v=Ct6-N4IfIAI
But ever since I started my review on the QLED TV, I reconnected my bond with a real TV. And when I am away from home, I somewhat miss it. I have to disclaim that this is NOT AN ADVERTORIAL and I am not paid to say good things. I am merely stating the facts after bonding with the TV for two months or so.
Maybe it is that huge 65″ screen that makes me feels like I am in a cinema whenever I turn on the TV. Afterall, I am viewing at such close proximity of about 1.5 metres. I usually put my laptop screen closer to my face when watching a Youtube video. Even though it was somewhat bigger, it just did not give that same cinematic feeling when comparing it with a 65″ TV that comes with 100% colour reproduction, Ultra Black technology and HDR (High Dynamic Range). The videos just looked so much better and life-like on this TV with that sharpness and vivid colours. It made me aware of those inferior quality differences on my mobile devices and those LCD TVs in hotel rooms. I am now poisoned for quality video reproduction on my devices. Thanks ah… Samsung. *What is my life is going to be like when the review period is OVER, and Samsung takes it back~~~!!! Back to the view of an empty wall I guess. 
Why Videos Look Great On QLED TV?
https://www.youtube.com/watch?v=q_PzZAb5ZIA
One crucial feature that Samsung QLED TV won over its competitions' OLED TVs is the brightness. QLED TV can achieve a range of 1,500 to 2,000 nits compared to 600-750 nits on OLED TV. With that amount of brightness, it makes the colours pop even when viewing under bright ambient light. Together with the Ultra Black technology which will minimise light reflection on the TV surface, the colour and viewing experience on the QLED TV will be pretty much the same punchy colours on a bright sunny day or in the dark at night. And when it comes to HDR content, QLED also maintains its colour saturation at bright spectrum, bringing true to life colours even when there are glaring highlights on the images.
Easy To Set Up & Super Smart
For a 65″ TV, it is considered quite light. I can easily shift it around the room on my own without much sweat, which I did a few times to find the best spot in the room. Setting up is as easy as plug and play. I love that clean look without any cluttering of cables from devices connected to the TV. All devices are connected to the TV via the One Connect Box which can be stowed up to 15 metres away from the TV. The One Connect Box and QLED is connected via a fiber optic cable which makes the connections pretty much invisible. That's a plus point for me. But do note there there will still be a power cable connected to the QLED TV, so that will be one you need to hide to achieve that clear & chic look.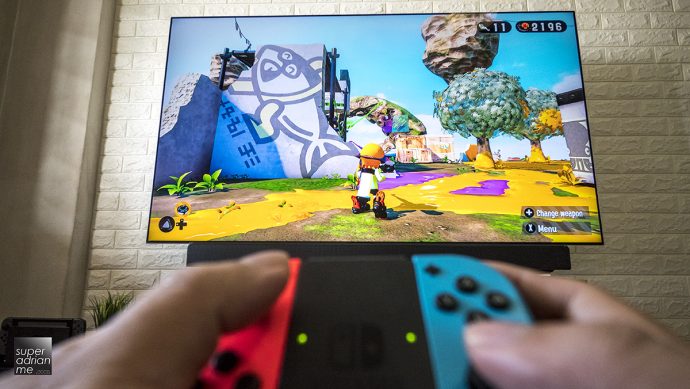 When I plugged in the Samsung Blu-Ray Player and Sound Bar into the One Connect Box, they were all instantly detected and setup automatically with the TV. So with just the Smart Remote from the QLED TV, I was able to control all the connected devices. So I kept the Blu-ray and soundbar remote back into the box. So easy!
And I am also loving the new Smart User Interface, where all my favourite TV apps will instantly pop with programme suggestions when I scroll across the menu. So I do not need to open individual apps to get suggestions. BINGE TV, TIME IS PRECIOUS!!!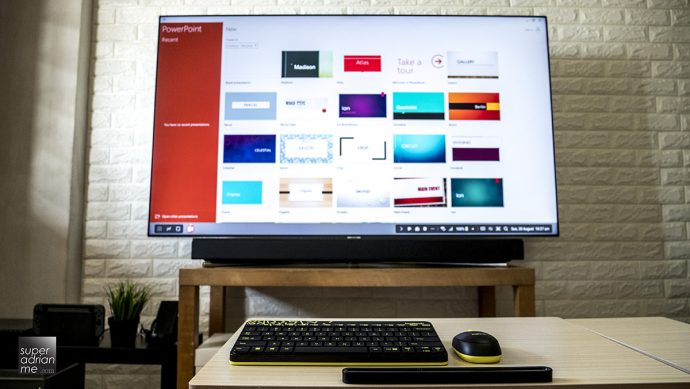 I love that when the QLED TV is connected to the same wireless network with my laptop, I can throw my laptop projection onto the TV. That is how I make full use of the 65″ TV and I am loving it. And console gaming will get so immersive with such a huge screen. I cannot wait to try it out in full 4K resolution with the new Xbox One X.
4K Content On Netflix
And if you are worried that there will not be any 4K resolution content for the new TV, WORRY NOT! As a Netflix connoisseur, I can assure you that there will be loads on 4K and HDR series on Netflix that will keep you occupied for months and more are coming. Pretty much most of the Netflix Original Series released in the last couple of years are all 4K or HDR ready. And once you go 4K, it is going to be hard turning back to Full HD.
Just imagine watching action flicks like Marvel's The Defenders and sci-fi series like Stranger Things 2 in 4K and HDR. That to me is like watching all these wonderful series in the cinema, but in the comfort of my bedroom. AMAZING.
Maybe it is time for me to save up and invest in the future of tv technology with a new QLED TV. And that I quote from an article from Forbes – QLED Not OLED Is The Future Of TV Technology, Says Analyst