If you are looking for a new laptop, Microsoft has something for everyone. Whether you want a light and colorful laptop that you can carry around easily, or a gaming beast that can handle any challenge, Microsoft has you covered the all new Surface Laptop Go 3 and the Surface Laptop Studio 2. It's now ready for preorder in Singapore with prices starting from S$1,199 for the Go 3 and S$3,569 for the Studio 2.
Surface Laptop Studio 2

The Surface Laptop Studio 2 is not just a device, it's a transformer. It can change from a laptop to a display to a canvas in a snap. It has a 14.4" touchscreen that can dazzle your eyes with vivid colors and smooth motion, an AI-enhanced camera that can make you look like a star with Dolby Vision IQ® and HDR, and Omnisonic® speakers that can fill your ears with immersive sound with Dolby Atmos®.
The device is powered by 13th Gen Intel® Core™ H-class processors and NVIDIA® GeForce RTX™ 4050 or 4060 graphics, which can handle anything you throw at them, whether it's creating amazing content or playing the latest games. It also has a long-lasting battery that can keep up with you for up to 18 hours, a huge memory that can store all your files and apps, and a fast SSD that can load everything in a flash.
The device has three modes that can suit your needs and moods: laptop mode, studio mode, and stage mode. In laptop mode, it has a full keyboard and a new haptic touchpad that can make typing and navigating a breeze. In studio mode, it can be used as a canvas for drawing and sketching with Surface Slim Pen 2, which can stick to the device like magic and charge itself while you're not using it. In stage mode, it can be pulled forward and placed at an angle for streaming, presenting, or collaborating with others. The device has a flexible and dynamic woven hinge that can bend and twist without breaking.
The Surface Laptop Studio 2 is the most powerful Surface ever built, designed to power your biggest ideas.
Surface Laptop Go 3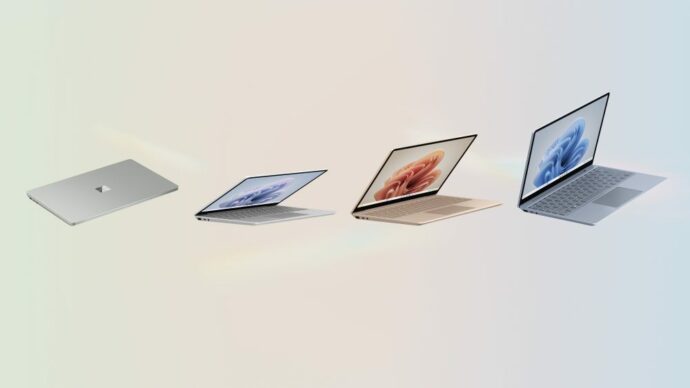 The Surface Laptop Go 3 is a light and lovely laptop that you can take anywhere. It weighs less than a bag of apples and has a colorful 12.4'' touchscreen that can make your eyes happy. It comes in four cool colors – Ice Blue, Sage, Sandstone, and Platinum – and has a full-size keyboard and a big touchpad.
The device is fast and powerful, with an Intel® Core™ i5 processor, a long-lasting battery that can charge quickly, and plenty of memory and storage for your files and apps. It is great for work and play, whether you want to call, stream, or game. It has awesome speakers and mics, and a HD camera that can make you look good in any light.
The device also has some amazing AI-powered tools that can help you create and edit videos, images, and texts with ease. You can use Clipchamp to make awesome videos with touch controls, Paint to remove backgrounds and generate images from text, and Photos to enhance your pictures with AI. You can also use Copilot, the smart assistant that can help you with your tasks, documents, and voice commands. Copilot works with Bing Chat, the friendly chatbot that can give you guidance and tips.
The Surface Laptop Go 3 is a laptop that can do it all, with the help of Windows 11 and AI. It is the perfect companion for your everyday adventures.