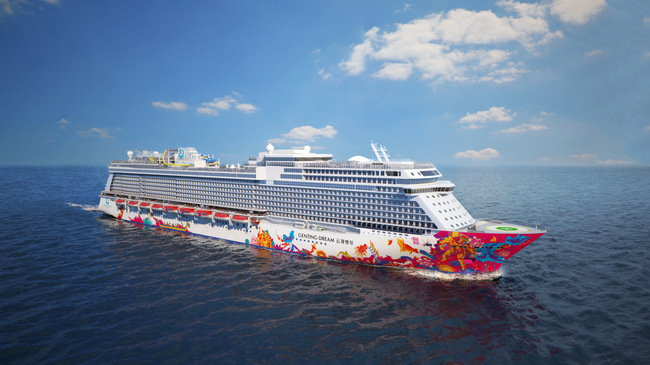 The Astronaut and the Mermaid. An unlikely alliance you say? Oh ye of little faith!
Anything and everything can – and will – happen, if only you'd let romance into your heart. You too can join in the coupling (and I use this word loosely) of the spaceman and the aquatic creature. By joining a Dream Cruise on an inspirational luxury vacation.
Genting Dream is the inaugural ship catering to Asia's ever-growing market of cruisers in search of luxury holidays at sea. You can't miss her, she's the luxurious liner with the creatively painted hull, telling the story of the astronaut and the water beauty, by Chinese pop-artist Jacky Tsai.
It's east meets west, and the heartbeat of Genting Hongkong Dream Cruises, Asian at heart and international in spirit.
Whether a 2-nighter, 5 or 7 nights, Genting Dream will pamper you with the highest level of guest service, and spacious comfort.
Its ports-of-call include China, Hongkong, India, Singapore, Vietnam. What a storybook itinerary!
And on board, 35 F&B, a spectrum of entertainment, a plethora of retail shopping, and 24/7 sporting activities. How will you find the time?!
Genting Dream's maiden debut is 13 November 2016.
Visit dreamcruiseline.com or call 68082288 NOW and see you onboard, with spacesuit man and and Leira (Ariel spelled backwards)!