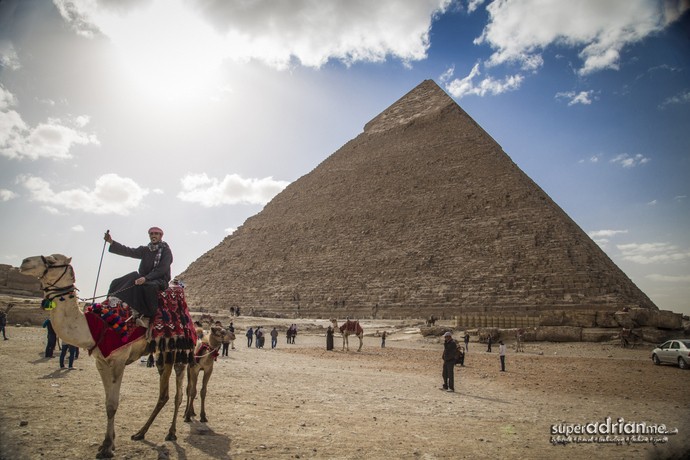 Travelling to Egypt was a big milestone on my travel checklist, which I had managed to clear in January with Insight Vacations. Knowing about the political unrest in Egypt for the last few years, I was skeptical about the trip right till the moment when I had reached Cairo Marriott Hotel. But after having a Welcome Drink reception with the rest of the travellers for Insight Vacations Wonders of Egypt tour group, I learnt from those who arrived a couple days earlier that Egypt is now safe and bustling with tourists wandering in Cairo. That helped set my mind ready for a scenic adventure with Insight Vacations for the next nine days.
LUXURY IT IS
For the first leg of our trip, we flew from Cairo to Luxor via an hour long Egypt Air domestic flight and headed straight to MS River Tosca by Uniworld Cruise to check-in to our gorgeous rooms that we would be putting up for the next five days while cruising down the River Nile to Aswan.
The cruise down The Nile was simply prodigious and breathtaking with ever changing landscapes down the long and narrow river. From small villages with kids running out to say 'Hi', random islands in the middle of  The Nile filled with herds of cattle, rocky cliffs with hot air balloons and ship wrecks, it was like a moving painting that got me mesmerised when viewing from the top deck or even through the window in my room while I laid on my bed.
The food served on board MS River Tosca were delectable and exquisite. Occasional nights we will have fine dining and most of the time a sumptuous buffet spread with live stations to serve up some of the most delicious meals I had tasted during my stay in Egypt.
Wonderful & Relaxing Itinerary
As we cruised towards Aswan, we made a few stopovers to visit the famous temples of Egypt including the Valley of the Kings in Luxor which houses 63 tombs and chambers for the Pharaohs and powerful nobles of the New Kingdom. At Valley of the Kings, we also got to visit the Tomb of Tutankhamum aka King Tut and view the remains of his mummified body that is so vulnerable it cannot be removed from the tomb till today.
FYI: At Valley of the Kings, photography is strictly prohibited to protect the coloured hieroglyphic scripts on the tomb walls.
Amazing Guide aka Tour Director
From the mystic Karnak Temple by the night to the marvellous Temple of Horus at Edfu, the visits to these ancient temples have become extremely entertaining with the story telling from our tour director (aka Habibi which means Dear Friend or My Love in Egyptian). As a tour director for Insight Vacations, they are required to have a minimum of Degree or Masters in Egyptology. When they speak about the history of the ancient sites, it is always filled with so much passion that you will be instantaneously charmed to the stories via the Whisper (a radio headset provided to all tour members of Indight Vacations). No more screaming commentaries, just a gentle whisper and I can stand at a comfortable distance within the group to hear everything he was saying.

360 interactive video taken at Abu Simbel, Egypt. SPIN the camera by dragging the screen and take a virtual tour with me. #theta360 –

Spherical Image – RICOH THETA



After every introduction and story telling at the sites, Habibi will let the group decide how much time we need to take pictures and explore the sites, as long as the time permits. It simply makes the tour more relaxing at an enjoyable pace. No rush at all.
Travel with Comfort & Style
Most of the time through the trip we travelled via a huge 40 seater bus for the 20 of us, so everyone can comfortably occupy two seats on their own. When visiting the Temple of Horus, we had horse carriages waiting for us by the wharf at sunrise and we took a 15 minute ride on the carriage passing through the bustling town to the temple. Our cruise even berthed along Kom Ombo Temple by the Nile, so we were only steps away from the site. How wonderful.
When we finally reached Aswan, we are treated to a sunset high tea at Sofitel Legend Old Cataract Aswan where author Agatha Christie is said to have penned "Death on the Nile" over drinks at the cafe. The view and ambiance was amazing that I could also be inspired to write a novel.
Optional Tours
So there are a few optional tours that Habibi had introduced to us at the beginning of the tour. One not to missed optional tour is the visit to Temples of Rameses II at Abu Simbel, which will cost an additional US$300. You would need to take a 45 minute Egypt Air domestic flight direct to the site. That is why Insight Vacations offers this as optional, as not everyone like to take a flight just to see a site. But everyone in my group went on this optional tour and we were not disappointed.
For all that hassle and extra cost to travel to Abu Simbel, it was totally worth it. The hieroglyphic scripts on the temple walls at Temples of Rameses II are the most dramatic and life like that I have seen through my journey in Egypt. And how extraordinary for UNESCO to shift the temples 230km to their current site in order to save it from submerging in the river before the Aswan High Dam was built. Even though it was a short visit, it will be one of the top highlights for my trip in Egypt.
Remember to request for a left side window seat on your flight if you want to view the temple from your flight from Aswan to Abu Simbel.
City Life In Egypt
Beautifully Located
After our five days scenic & relaxing cruise down the Nile, we flew back to bustling Cairo and checked back into Cairo Marriott Hotel. In Cairo we had more free and easy time and we have to settle some of our meals on our own. Where Cairo Marriott Hotel is located, it is safe to roam the streets at night and I could easily find a few great authentic Egyptian restaurants within minutes by foot. The price wad pretty reasonable costing about 70 – 150 Egyptian Pounds (S$13 -26) per person because we usually over ordered.
And if you like to roam to the shopping malls, it will cost about 50 Egyptian pounds to get around town.
Having covered so many sites down south of Egypt, it is time to mark our visits to the sites and museums in the north. Having visited many empty tombs and temples, at Cairo, The Museum of Egyptian Antiquities featured the treasures and offerings that have been uncovered from some of the sites which includes those from Tomb of Tutankhamum.
Pyramids Here We Come
Only one hour journey by coach, the Pyramids of Giza is so different by day and by night. During our day visit, we got up close to the Pyramid and also got a chance to crawl through the narrow & long tunnel to get to the middle of the Pyramid. By night, we got back to Giza to see the one hour long Sound & Light Show at The Pyramids where the Sphinx came to live and brought us through the historical eras of Egypt.
The walk through the tunnel of the Pyramid is not recommended if you have claustrophobia. For the Light & Sound Show please bring a thick & warm coat, as the wind can get very strong and chilly. 
Verdict
For destinations like Egypt where a guided tour is highly recommended, going with Insight Vacations seems to be the best choice for people like me who loves making new friends from around the world and also enjoy having a relaxing & pampered trip.
With professional & knowledgeable tour directors, my trip to Egypt has been a fruitful one in terms of the history of Egypt and entertaining with like minded travellers from across the globe who share & create our unique experience in exotic Egypt trip.
This was my first time on a tour group, I have heard so much bad experiences travelling with tour groups like bad punctuality among travellers, forced trips to shop at tourist traps, rushing through sites with packed itinerary and bad meals & accommodation. Travelling with Insight Vacations have eliminated all these fears for me to travel with a bunch of strangers. I would definitely recommend and travel with Insight Vacations to such exotic locations again.