From 1 July 2023, Singapore Airlines started offering all Krisflyer members complimentary unlimited wifi regardless of class of travel. Yes, you also get unlimited free Wi-Fi even if you paid the lowest fare in Economy Class.
Singapore's national airline takes pride in being the industry's trailblazer, being the first to provide complimentary and free unlimited Wi-Fi access to passengers in every cabin class. The only condition for free unlimited Wi-Fi on Singapore Airlines is to link your Krisflyer membership number to your booking before your flight. Simply provide your PPS Club or KrisFlyer information during the flight booking process, through Manage Booking, at the airport check-in kiosk, or at the check-in counter. You should see your Krisflyer membership number printed on your boarding pass.
Free Internet Connectivity or Free App Messaging while Flying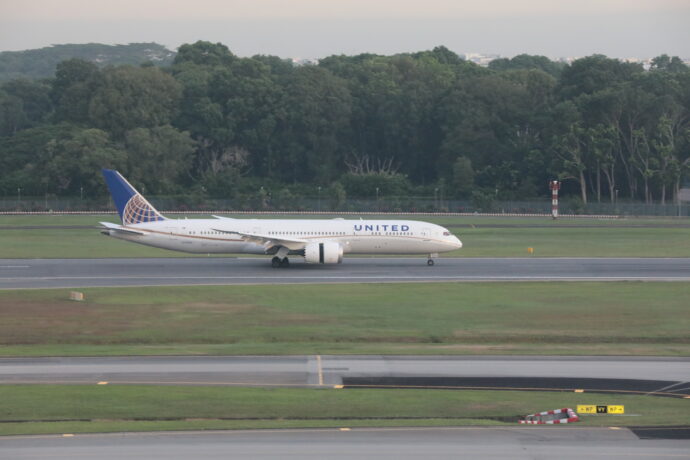 In our prior experience with United Airlines last October, we were delighted to maintain seamless communication with our friends and family via messaging apps like WhatsApp, Apple iMessage, and Facebook Messenger throughout the flight, which left us truly impressed. It's worth noting that this initiative by the North American carrier was introduced in December 2021, following in the footsteps of Delta Airlines, Southwest Airlines, and Alaska Airlines, who already offered fleet-wide free messaging services in the United States. Additionally, JetBlue sets itself apart by providing complimentary onboard internet on all of its flights.
Emirates made an announcement on May 19, 2023, unveiling the availability of complimentary Wi-Fi for its Skywards members. Regardless of their Skywards tier (Blue, Silver, Gold, or Platinum) and the class they are travelling in (Economy, Premium Economy, Business, or First Class), Skywards members will have access to free app messaging. Moreover, First Class passengers who are Skywards members will enjoy unlimited complimentary internet, allowing them to shop or work online during their flight. Similarly, Silver, Gold, and Platinum Skywards members travelling in Business Class will also receive free internet access. Platinum Skywards members will have complimentary internet access in all classes.
Flying In Economy Class on Singapore Airlines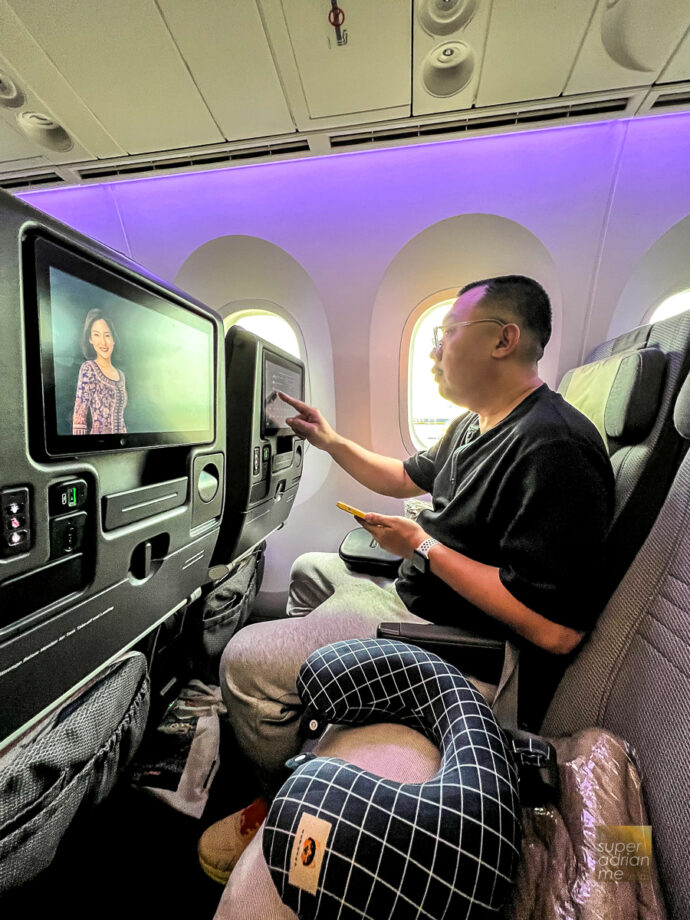 We put the inflight Wi-Fi to the test during our recent journey on SQ 876 from Singapore to Taipei on the third day since the service was launched, as well as on our return flight, SQ 879. Singapore Airlines operates the sleek Boeing 787-10 aircraft for both routes, providing a pleasant travel experience for flights under five hours. Logging on and getting connected was easy.
How to Log On to Inflight Connectivity onboard Singapore Airlines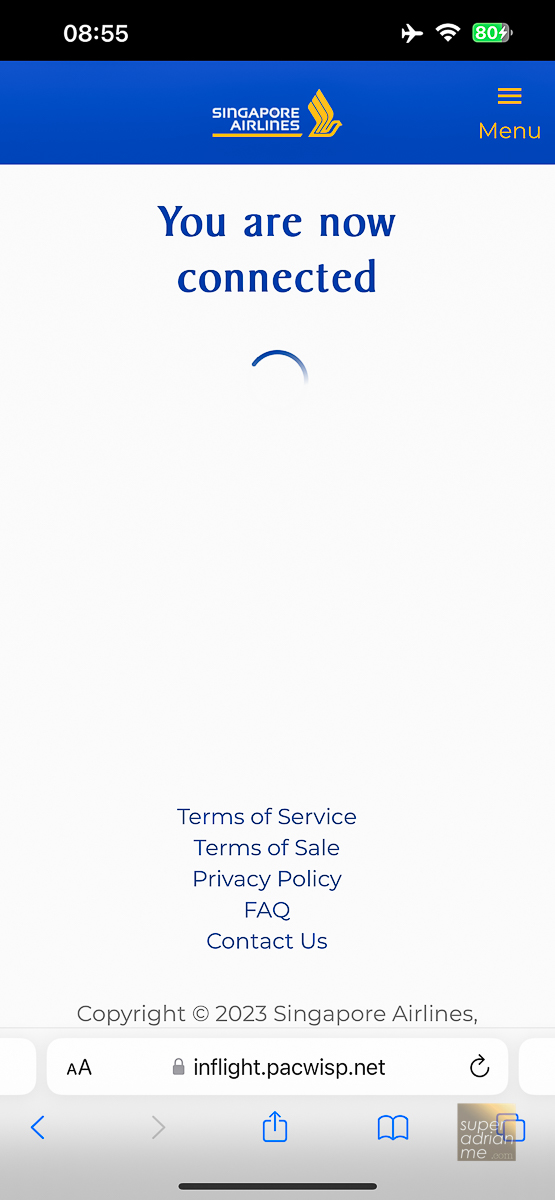 To access the Wi-Fi network 'KrisWorld' on a Singapore Airlines aircraft with Wi-Fi capabilities, follow these steps.
On the log-in screen, enter your Krisflyer number or the email associated with your Krisflyer account, along with your seat number and last name. If in-flight connectivity is accessible, the next screen will display the message "You are connected." Additionally, any updates or notifications will be displayed on the KrisWorld interface on your in-flight entertainment screen.
Once the aircraft has taken off and reached a cruising altitude of 10,000 feet or approximately 30 minutes after takeoff (and up to 30 minutes before arrival), internet service will be available.
Once connected, you can perform various tasks such as checking your emails, accessing popular social media platforms including Instagram, TikTok, and Facebook, and even uploading Instagram stories or sharing small videos on social media. I managed to update an article on WordPress while using the in-flight Wi-Fi.
You can't stream movies or music, but there's always KrisWorld.
Watch our Reel on the Unlimited Inflight Wi-Fi Experience
Why you should connect your device to your seat through SingaporeAir App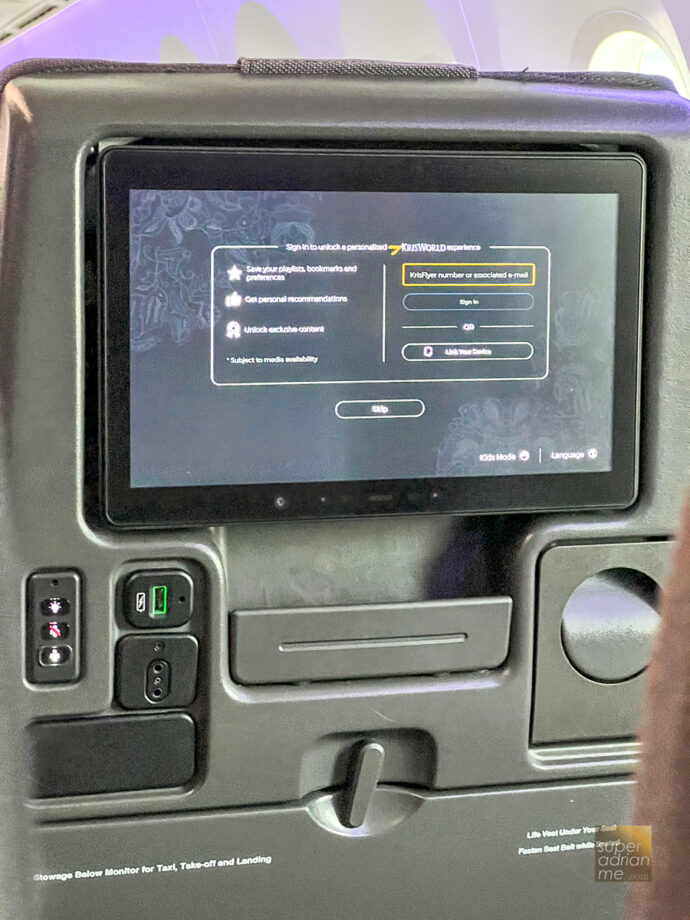 KrisWorld presents an extensive array of movies, including popular blockbusters and a diverse selection of international films and TV series. With the option to browse the internet, respond to emails, and enjoy movies, there are plenty of entertainment choices available on board. However, for those seeking uninterrupted solace, nothing beats the pleasure of immersing oneself in a book during long flights.I also managed to take a nap while tuning into a selection of relaxing music from the audio selection.
With the SingaporeAir mobile app, you have the ability to sync your personal device with your seat on the aircraft. Prior to boarding, you can explore the KrisWorld entertainment options, curate your own playlist featuring your preferred movies, TV shows, or music, and take charge of media playback directly from your device.
Once your device is connected, you can access up-to-date flight information, browse available content, and start organising your playlist. You can also save your favourite content to a personal playlist on your device for easy access and playback. Furthermore, you can remotely launch and control KrisWorld content on the inflight entertainment screen, seamlessly continuing your movie or TV program from where you left off by simply selecting the bookmark icon on your personal device.