In April, during my recent journey to Australia, I embarked on an exploration of the captivating Outback Queensland and the vibrant city of Canberra. It was during my attendance at the IMM and ATE 2023 events held in the stunning Gold Coast that I had the pleasure of encountering a diverse array of accommodation owners and tour operators, who introduced me to the world of eccentric and extraordinary lodging options.
The highlight of my trip was undoubtedly the remarkable Malayan Sunbear Bungalow, nestled within the Jamala Wildlife Resort at Canberra's National Zoo and Aquarium. The opportunity to stay there was truly priceless, and I wholeheartedly recommend it to fellow travellers seeking an unforgettable experience. Additionally, my glamping escapade in Winton provided me with breathtaking vistas of mesmerising sunrises and sunsets, leaving me in awe of nature's beauty. With these remarkable encounters in mind, I have handpicked a selection of other captivating accommodations that await your exploration on your next vacation to Australia.
Roar and Rest: Sleep Among Malayan Sun Bears, Tigers, and Lions at Jamala Wildlife Resort in Canberra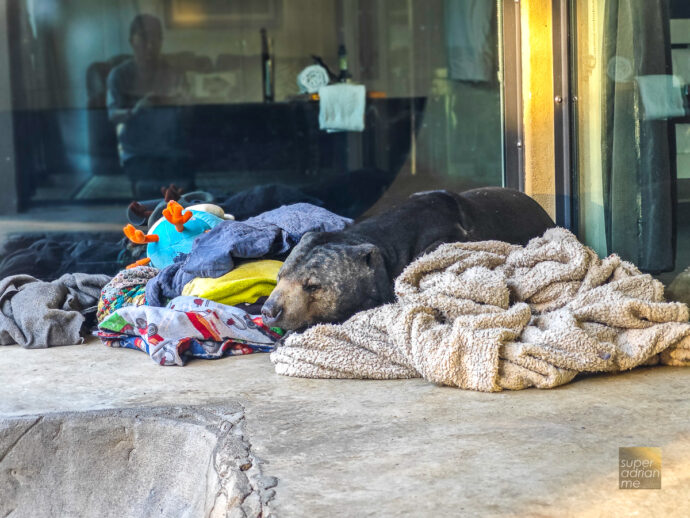 To spend a unique and unforgettable night in the jungle, you can stay at Jamala Wildlife Lodge located in Canberra's National Zoo and Aquarium. The lodge offers a range of accommodations, including Giraffe Treehouses, uShaka Lodge Rooms, and Jungle Bungalows, where you can relax, sleep, and even bathe with a sunbear, lion, tiger, or cheetah only separated from you by adjoining glass.
Established in 1998 by a local family, the zoo aims to provide animals with the most comfortable living conditions possible. The enclosures are generally larger than those found in other urban zoos, and the zoo practices world-class husbandry and welfare to maintain the well-being of the animals. Funds generated by Jamala Wildlife Lodge help the zoo continue to support its breeding programs and expand its operations.
The uShaka Lodge at Jamala Wildlife Lodge has seven rooms, a lounge, dining area, pool, spa, and tropical gardens. Each room is unique and themed, such as the Capuchin room, Shark Grand Suite, Meerkat Suite or Room, Wild Encounter Room, and Reef Room. The Giraffe Treehouses offer the chance to mingle with a friendly herd of animals in a private enclosure while enjoying a breathtaking view from your balcony.
The Jungle Bungalows are the highlight of the lodge, as you can get closer than ever before to the world's most extraordinary animals. The animals outside the bungalow window may vary depending on breeding or enrichment programs. You can admire them from a living area overlooking the animal enclosure, or even from the bathtub in the spacious jungle bungalow. Be sure to participate in some of the animal experiences as well as a guided tour or explore on your own and learn more about the inhabitants of the zoo.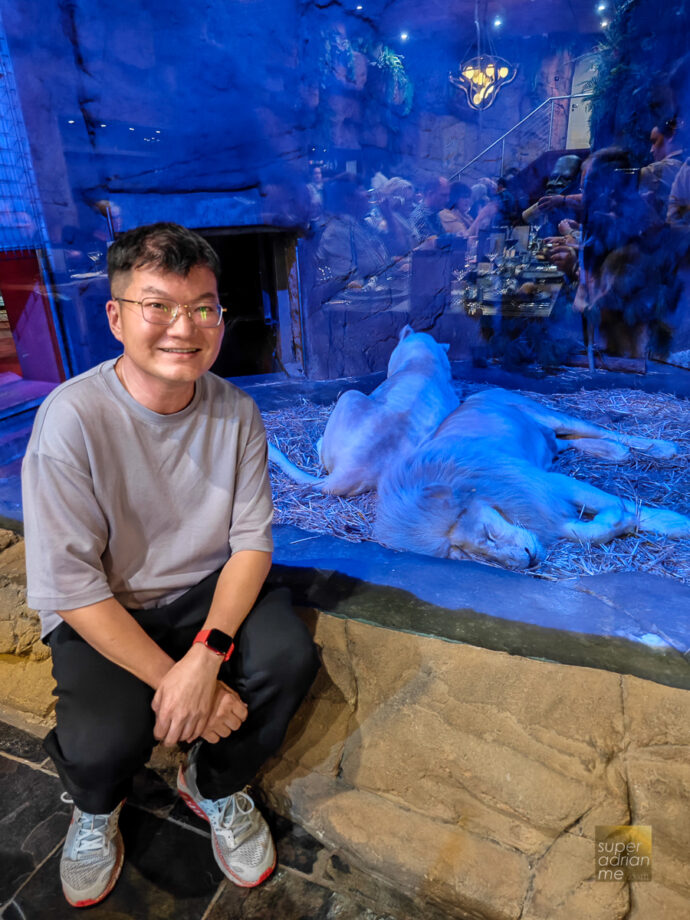 Your all-inclusive stay at Jamala Wildlife Lodge includes breakfast and a multi-course dinner amongst one or two lions with free-flowing wine and beverages, making it the perfect place to relax and unwind in a truly unique environment.
Rustic Luxury: Embrace Glamping at Rangelands Outback Camp in Winton, Queensland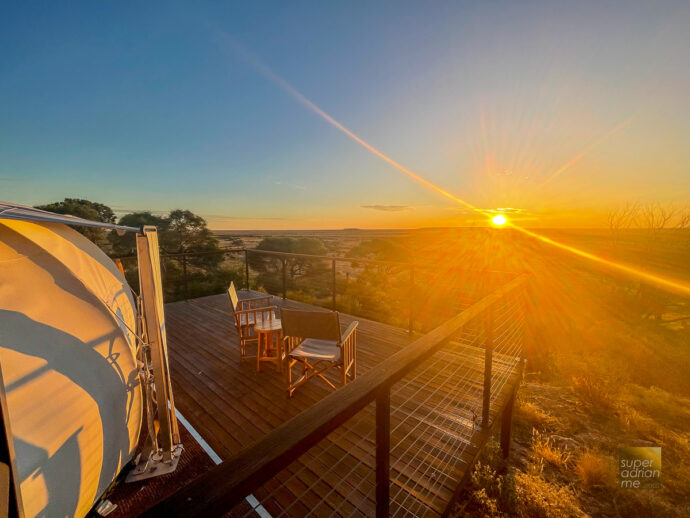 Escape to the ultimate luxury glamping adventure at Rangelands Outback Camp, ideally situated just a short 15-minute drive from the delightful town of Winton. Immerse yourself in a self-contained sanctuary designed exclusively for your utmost satisfaction, where every aspect is meticulously tailored to perfection. Surrender to the tranquility of the outback as you retreat to one of only six generously appointed tents, thoughtfully crafted to accommodate two people. Leave behind the clamor of city life and surrender to a serene sojourn amid the rugged splendor of the Australian wilderness.
Perched atop a remarkable geological formation called a jump-up, akin to a flat-topped mesa, on a fully operational cattle property just beyond the enchanting township of Winton, Rangelands Outback Camp unveils an upscale glamping haven that guarantees an extraordinary outback experience. Immerse yourself in the marvels of dinosaur country, with notable attractions such as the Age of Dinosaurs and Waltzing Matilda Centre in close proximity.
The campsite offers a remote and off-grid setting, providing an opportunity to disconnect from the demands of everyday life. With prices starting at approximately A$690 per person per night for twin or solo occupancy, Rangelands Outback Camp presents a premium escape that showcases the unspoiled beauty of the outback.
For a comprehensive experience, the campsite features enticing three-night packages, including a special offering coinciding with the upcoming Opera in the Outback event hosted by Opera Queensland from May 16th to 20th, 2023. These packages seamlessly blend captivating operatic performances with the camp's exceptional amenities, promising an enriching getaway.
The tents at Rangelands Outback Camp are carefully sourced from the United States, ensuring the highest standard of quality for discerning guests. Beyond the meticulous accommodations, the campsite boasts a remarkable ownership connection, as it is owned by John Stainton, a renowned TV producer and close confidant of the late Steve Irwin, affectionately known as "The Crocodile Hunter." John Stainton's love affair with the location began during a visit with Steve Irwin in 1992, where he instantly fell under its spell. Fueled by his profound admiration for the area, he was driven to create a luxurious fly-in, fly-out experience that captures the very essence of this extraordinary destination.
Indulge in Queensland's Wine Country Bliss at Barrel View Luxury Cabins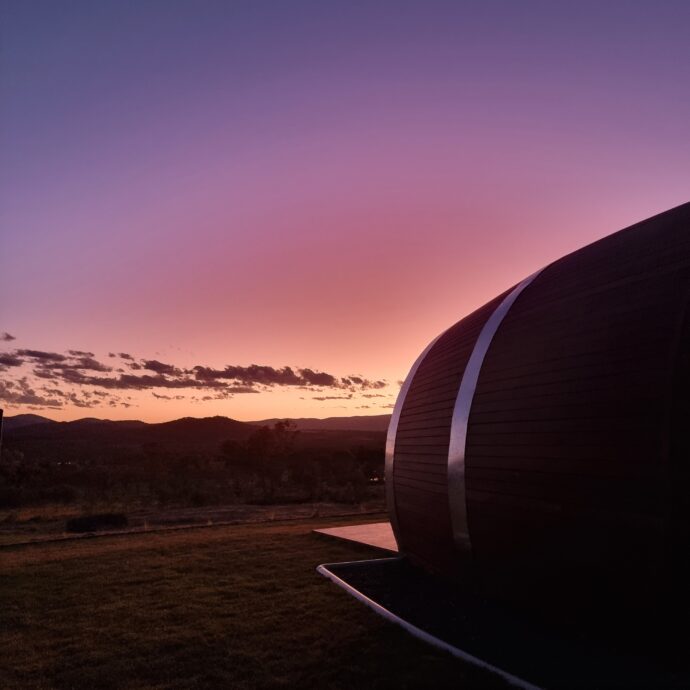 Nestled in the picturesque Granite Belt region, Barrel View Luxury Cabins in Ballandean present an idyllic escape just a three-hour drive southwest from Brisbane. Recently unveiled in October 2022, these three lavish cabins, spanning an expansive 48 square meters each, bear the names of the region's renowned 'Strangebird' wine varieties: Tempranillo, Saperavi, and Barbera. Perched atop the hillside, guests are treated to awe-inspiring 180-degree panoramas that stretch towards Girraween and Sundown National Parks.
No matter the season of your visit, whether it's relishing in a glass of wine on the front porch or cuddling up in front of the cozy heater during winter, or even basking in the warmth of the starlit sky from the comfort of your king-sized bed in the balmy months, the experience is one of pure bliss.
Designed exclusively for couples, this retreat offers an exquisite assortment of local wines and a delightful breakfast hamper upon arrival, carefully curated to showcase the region's finest produce. The cabins are equipped with cutting-edge amenities, including smart room technology for contactless check-in, a convenient kitchenette, a well-stocked bar fridge, a microwave, a coffee machine, and a private en-suite bathroom. Additionally, plans are underway for hiking trails and the neighbouring vineyard will be brought back to life and replanted with Strangebird varieties. The Saparavi Barrel will be transformed into the honeymoon suite with a private outdoor spa by late 2023.
With rates starting from A$400 per night, Barrel View Luxury Cabins promise an unforgettable sojourn immersed in opulence, surrounded by the captivating allure of the Granite Belt.
Immerse Yourself in Nature: Eco Accommodation at Yellow Water Villas, Cooinda Lodge in Kakadu National Park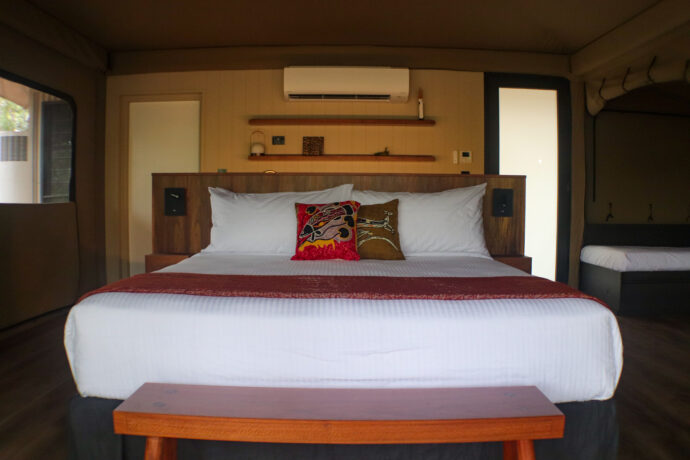 A luxurious, eco-sensitive accommodation in the heart of Kakuda National Park opens in May 2023. Located 3.5 hours drive south-east of Darwin, the Yellow Water Villas features five luxury retreats nestled under a rich canopy of trees in Cooinda, adjacent to the region's most famous natural water habitat, the Yellow Water Billabong (Ngurrungurrudjba).
Each of the five villas is built on stilts to minimise any impact on the land. No tree was cut down to accommodate the retreats. Every item used in the construction and operation has been procured sensitively. They are fully air-conditioned and feature a BBQ and private bathtub on the large veranda, high-quality hand-made king-size bed, ensuite bathroom, dining area and lounge area with daybeds. Each retreat is named after an indigenous animal of the Kakadu area themed throughout with personal stories of the local community. Art and craft decorations have been sourced from local Cooinda artists and the famed Marrawuddi Art Gallery in Jabiru.
Two restaurants and a bar are located within the Cooinda Lodge. There are also two resort-style swimming pools, a tour desk, retail shop, fuel service and a children's playground. Mimi's Restaurant offers guess an indigenous-themed dining with a menu of top end staples such as barramundi, crocodile, buffalo and local bush food. A full Moon Feast is held to celebrate each of Kakadu's six distinctive seasons, with Murumburr local and founder of Kakadu Kitchen, Ben Tyler, foraging for seasonal products.
Guests can go on a Yellow Water Cruises adventure with a curated view of Kakadu's wildlife and flora. Kakadu has the larges population of crocodiles in Australia, as well as a third of Australia's bird species and an exotic collection of other wildlife. Spirit of Kakadu Adventure Tours take visitors to many sites such as waterfalls, rock pools and landmarks including those showcased in the legendary Crocodile Dundee films. Cooinda Lodge has its own airstrip. Scenic flights can be arranged along with transfers to Darwin Airport.
A special introductory offer of A$750 per villa per night with a minimum three-night stay offers breakfast for two at Mimi's Restaurant for bookings until 31 May 2023 for selected stays till end of 2023 excluding peak seasons. Usual rates are from A$950 per night, inclusive of breakfast for two.